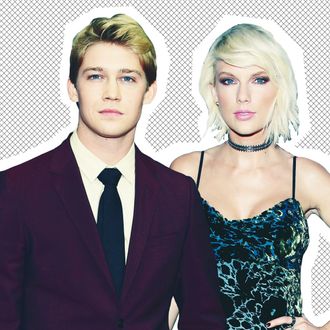 Taylor Swift and Joe Alwyn.
Welcome to You Know What I Heard, the Cut's weekly celebrity gossip column about the peregrinations of the rich and famous. Have gossip? Email me at allie.jones@nymag.com, send me a message on Twitter, or contact me on Signal (ask for the number).
Taylor Swift released her sixth album, Reputation, this past weekend. She's encouraged fans to buy multiple copies at once, and now, she's on track to break all kinds of sales records in the first week. After a little run-in with the ACLU before the release, her promotional schedule has been fine and sort of boring: She performed during ABC's "TGIT" programming Thursday, on Saturday Night Live, and on Monday's episode of The Tonight Show with Jimmy Fallon. In the interim, she took innumerable selfies with Swifties at a reputation "pop-up shop" in downtown Manhattan. What's been missing, I think, is a good, old-fashioned Swift-boyfriend paparazzi shoot.
Swift has been telling her fans that all the romantic songs on the album are about her newish boyfriend, the 26-year-old British actor Joe Alwyn. But we have yet to see any clear paparazzi photos of them together. It doesn't look like Alwyn attended any of Swift's TV performances, unless he arrived wearing a disguise (or, perhaps, in a box). Where is this guy?
According to a People report timed to the album's release, Alwyn "could definitely be the one" for Swift. An "insider" told the tabloid that this relationship is sooo different from Swift's previous ones, because she has finally found someone who wants to be private, like she does. Heh. "They much prefer having dinner parties at home with friends than going out," the source said. "Just like Taylor, Joe is a homebody. He loves being an actor but doesn't like the celebrity part of it. It's pretty special to find someone you're on the same page with."
There is simply no way this will last. I would like to see some photos before it's over, however.
While Swift was promoting her album this weekend, Kim Kardashian went to a Katy Perry concert. (Swift's album is about loving Alwyn, yes, but it is also about hating Kardashian and her mean husband Kanye West.) Bonded forever by their status as Swift nemeses, Kardashian and Perry took photos together with Kardashian's 4-year-old daughter North West on Friday. Then, on Saturday, Kardashian had a baby shower, which ended up being dramatic.
If you have been reading this column or any other articles recently published in English, you know that three Kardashians are currently expecting: Kim and Kanye will have their third child, via surrogate, in January; Khloé Kardashian is pregnant with her first child with boyfriend Tristan Thompson; and 20-year-old Kylie Jenner is pregnant with her first child with boyfriend (maybe fiancé?) Travis Scott. Kim got to have her baby shower first — the theme was "Tea for 3" — but Kylie had her baby shower the very next day. This solidifies my theory that Kim and Kylie's babies are due to march into this world within the same week. Maybe for Krismas!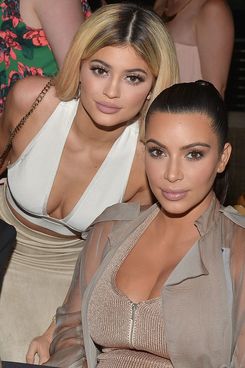 Kim publicized her shower, which featured a truly sinful number of indoor cherry blossoms, on Instagram. Kylie's shower, however, was a private event — we only got to see paparazzi drone photos of the "pajama party"–themed brunch. Why did these two elaborate showers happen in the same weekend?
According to People, Kylie actually planned her party first. A source told the tabloid that Kim decided "last minute" to throw her shower the day before Kylie's. Previously, Kim denied rumors that she is upset about her 20-year-old sister being pregnant while she is also expecting a child, but this sort of maneuvering suggests, to me at least, that something is amiss.
Khloé, who is reportedly due early next year, attended both showers and smiled.
The Weeknd is dating Justin Bieber's ex-girlfriend, Yovanna Ventura. According to Us Weekly, the Weeknd brought Ventura, a 21-year-old model who briefly dated Bieber three years ago, to French Montana's birthday party this past weekend. But then he brought Emily Ratajkowski to Leo DiCaprio's birthday party two nights later, so who knows? Dating Ventura would be an obvious dig at Bieber, who is again dating the Weeknd's recent ex-girlfriend Selena Gomez. Bieber and Gomez have been keeping things more "low key" since their paparazzi blitz two weeks ago, but perhaps this Ventura thing will prompt them to parade around in each other's clothes again.
In other complicated relationship news, Ewan McGregor is officially dating Mary Elizabeth Winstead. McGregor may or may not have started up with Winstead while he was still with his wife of 22 years, Eve Marakis. (Winstead split from her husband of seven years, Riley Stearns, in May.) Now, McGregor and Winstead are walking hand in hand in front of the paparazzi, so … everything's fine?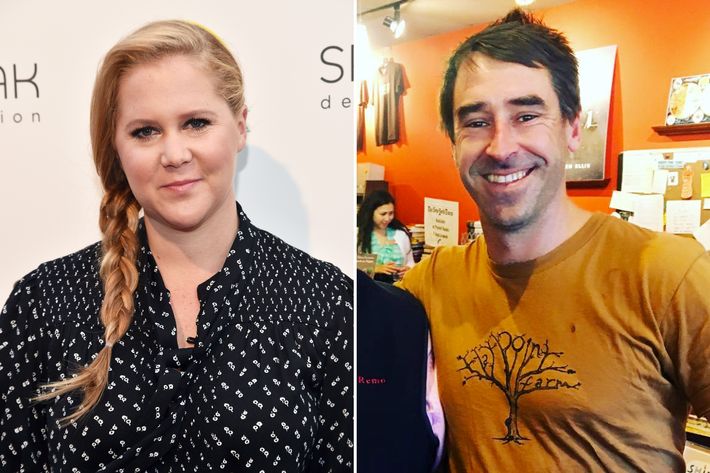 Amy Schumer, meanwhile, has another boyfriend with a job that only exists in romantic comedies. After breaking up with furniture designer Ben Hanisch, she is now dating farm-to-table chef Chris Fischer. According to E! News, they met through Fischer's sister, who is Schumer's personal assistant.
As for stable relationship updates, 27-year-old Jennifer Lawrence is still dating 48-year-old Darren Aronofsky, Emma Stone is still dating SNL segment director Dave McCary, and Modern Family actress Sarah Hyland is still dating Bachelor franchise star Wells Adams. Thank you to those who wrote in last week to say that they met after Hyland sent Adams a Twitter DM. Apparently, this improbable couple has already had some kind of provocative photo drama. I look forward to following them on Instagram for the next three weeks or so.
One small blessing from this week:
Nicky Hilton revealed that her "spirit animal" is a house cat.
Finally, I recommend you spend a little time reading about legendary gossip columnist Liz Smith, who died Sunday at the age of 94. The New York Times' John Leland had the good fortune to interview her in July, and she talked about her reputation for having cozy relationships with celebrities, and what it was like to lose her hard-won status and influence as she aged.
"I am in search of Liz Smith," she told Leland. "After a lifetime of fun and excitement and money and feeling important and being in the thick of it, I am just shocked every day that I'm not the same person. I think that happens to all old people. They're searching for a glimmer of what they call their real self."
You can read the profile here, and another piece about her relationship with the Trump family here. Thank you all for gossiping this week, and don't forget to email me at allie.jones@nymag.com, send me a message on Twitter, or contact me on Signal if you'd like to chat.