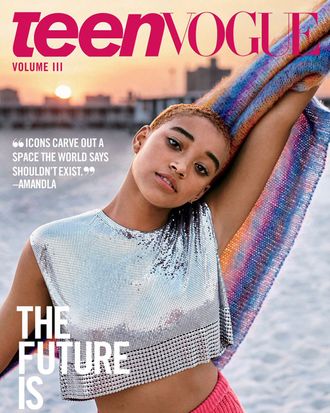 Amandla Stenberg covers Volume III.
Photo: Courtesy of Teen Vogue
There are plenty of differences between Generations X, Y, and Z, but the fact remains that if you give a teenager a magazine subscription, they will cut out the pages, plaster them on their walls, and hoard the rest in dusty stacks.
Emily Odesser, 17, is one such teenager, and she was pretty bummed to find out Thursday morning that Teen Vogue would reportedly be shuttering its print circulation, operating instead as a digital-only magazine. Luckily, the New York-based teen still has her own startup fashion magazine to focus on, Teen Eye.
"Teen Vogue was the holy grail," Odesser told me over the phone Thursday afternoon. (She had a half-day.) "I told people in school and they were like, 'Wait, what do you mean? I've been collecting it for years!'"
Also yesterday, I happened to find myself FaceTiming with a classroom full of high-school students in rural Pennsylvania who were equally shocked by the news. (It was Communications career day, and my cousin was their teacher.) Seven out of 14 students said they subscribed to the magazine; three boys shook their heads, although one clarified he cared a lot about getting dressed in the morning. One girl, whose mother got her a subscription, said she would miss the quizzes and would probably just read more Seventeen now instead. Like Odesser, she had a collage of magazine photos on her wall.
Of course, there's often a difference between what teenagers say they want and what they actually want. (They also tend to repeat what their parents say.) The handful of self-selecting teenagers I talked to may truly love magazines, but many adults have been quick to blame recent print shake-ups and layoffs on a lack of interest from young "digital natives."
The evidence overwhelmingly supports them. In 2016, Teen Vogue announced it would only publish four issues a year, down from nine. In September, Nylon folded its print edition. Meanwhile, as of October, Teen Vogue had an average 8.27 million online monthly unique visitors, according to ComScore, compared to 1.4 million in April 2015. In comparison, the magazine's record-high circulation number was 1.5 million in 2005.
But if you look at Teen Vogue's subscription numbers, they've reportedly remained pretty steady over the years, dropping only marginally. (Average single-sale numbers, however, are steadily declining, according to another report. The same goes for magazines in general.) So perhaps it's not that teenagers are dramatically less engaged with print — they're just much more likely to read online. This would fit with national trends as a whole: Americans spend only four percent of their media consumption hours with print, compared to 20 percent on personal computers and 28 percent on mobile, according to BoF. As a result, budgets are shifting, and print is giving up on "digital natives" first.
Online isn't just popular with teens (and the rest of us); it's where many advertisers seem to want to be in the future, too. While print ad spending still surpasses digital, digital is the only side showing growth. Online, advertisers can also reach a wider (and older, and richer) audience than they can in a teen-targeted magazine. We knew that. We also know that, at the end of the day, Condé Nast is a business. But this Teen Vogue news, and the responses it got, raises the question: Are young people really the ones to blame for the downfall of print? How do we reconcile data with emotional interest?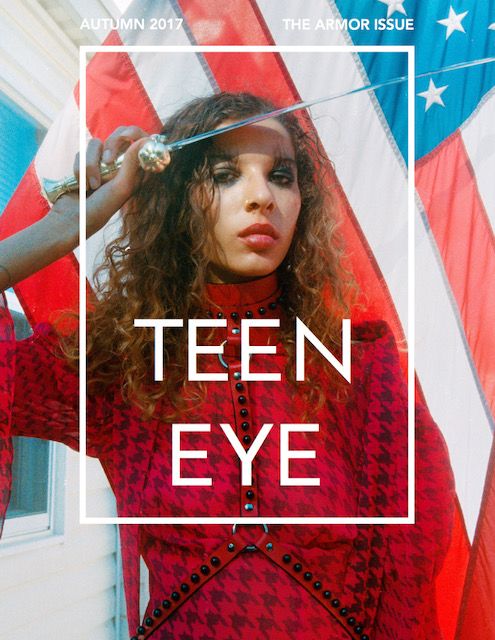 "I'm seeing people make more and more decisions based on money, instead of art," said Odesser of the news on Thursday, adding that things felt "capitalist-y."
Odesser admits she got her fashion education on Tumblr and is a huge fan of Elaine Welteroth, Phillip Picardi, and Teen Vogue dot com, but she still isn't sure if online content will ever have the same power as a tangible fashion magazine. "I think an editorial fashion spread is one of the most fantastic things to see," she said without hesitation.
The unique political leanings of the physical magazine also impacted teenagers, who say that messages of empowerment sink in more effectively via the printed page. "It's a different experience to read and hold a magazine that isn't white-washed, that actually features girls like Yara Shahidi and Tavi Gevinson; talks openly about sex, and politics; and teaches us about intersectional feminism!!" wrote Ila Kumar, a 14-year-old in Poughkeepsie, NY, in a text message from her mother's phone yesterday. (Let the record show: Her own phone broke because her Urban Outfitters case is "shit.")
"My room is covered with ripped out Teen Vogue pages of Yara and Rowan Blanchard, and those images are so inspiring and powerful," Kumar continued. "My mom always tells me that I don't read REAL books enough and reading on the computer isn't the same, and she's kind of right."
For a 14-year-old girl to say her mother is right, or even "kind of" right, is really something. But this is 2017: Teenagers know what's up, and Teen Vogue treats them like they do. Folding the print magazine feels like a lack of faith in its most loyal fans, and a harsh reminder that unfortunately, inspiring wall posters don't pay the bills.
Despite it all, Odesser remains hopeful. (Another good reason to listen to teenagers.) "I'm imagining so many different ways to fix the magazine industry: We can have online magazines, we can spend time and energy and money creating recyclable paper that is also high quality … " she said, trailing off. For now, though: "Firing creative just people doesn't really seem like the best way to go about it."