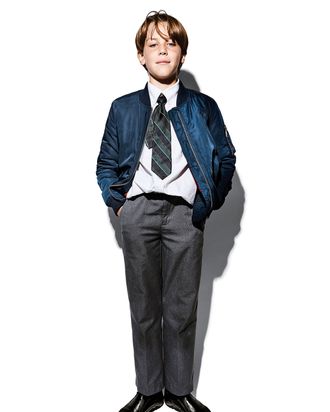 "I like to see who's up and who's down."
Photo: Bobby Doherty/New York Magazine
Nolan Paul, Student
Did you have a good day at school?
I had a few tests, got to see my friends. It was a good day.
What's your biggest fear?
Good question; let me think about that. What am I most afraid of? Um … airplanes. And I really am so scared of horror movies. I cannot. I even got scared when we tried to watch The Mummy; I got scared of the credits in the beginning. I can't, I can't.
Do you follow the news at all?
Yes, I watch NY1 mainly, I guess. I like to stay local. It may sound weird, but I like the stocks. I like to see who's up and who's down. I like to keep track of it. It's a hobby.
What would you invest in if you could?
It would most likely be the S&P 500 because it has gone up by thousands of dollars in the last year and shows much promise.
Lightning Round
Age: 11.
Neighborhood: East Village.
School: Epiphany. "We have to wear a uniform. I don't mind it, actually."
Favorite TV show: MacGyver with Richard Dean Anderson. "I've seen every episode."
Favorite movie: "Hands down, Pirates of the Caribbean."
What he wants for Christmas: "A trick scooter and a Star Wars Lego set."
*This article appears in the November 13, 2017, issue of New York Magazine.