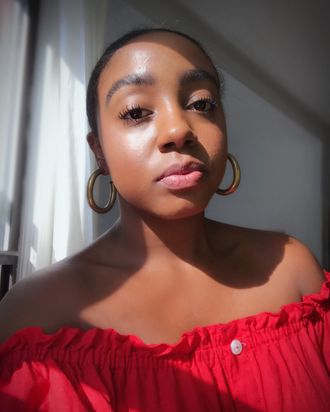 As Angela Bassett proves, there's some truth to the old saying "black don't crack." But what if your beautiful melanin-filled skin has acne? There's no useful proverb for that. So when I got engaged last year, I went into full panic mode.
Until I got engaged, my skin-care routine was pretty minimal. Skin care always seemed so complicated, and I didn't want to make the investment if the results weren't going to be instant. Besides, couldn't I just cover up any flaws with makeup? But once my wedding day loomed, I realized that if I wanted that impossibly dewy, no-makeup makeup look, I'd have to work for it.
So I dove deep into Reddit's Skincare Addiction board. I spent more money on skin-care products than I'd care to admit. And I bugged my work wife, the Cut's senior beauty editor Ashley Weatherford, for her best advice. In the end, I nailed down a skin-care routine that has sustained my clear skin without costing a fortune. Here's what I used.
When I first freaked out to Ashley about my wedding-day skin, she asked me the most basic question: Are you really cleaning your face? I don't know why I thought my three-second washing routine was working, but ever since I adopted the double-cleanse method, my skin has been significantly clearer. First, I use Sephora's affordable oil cleanser. Then, I follow up with with Glossier's conditioning cleanser, which gets off every smudge of makeup without drying my skin.
I use Paula's Choice AHA every morning and Cosrx BHA at night for their skin-smoothing abilities. Now, I can't speak eloquently about the science behind them (though Ashley can), but I can tell you that whenever I stop using either one, my skin breaks out. Most online reviews recommend using one or the other every other day, but I've found that daily use works for me.
Anti-Acne Lotions and Potions
Since I have combination skin, I get serious breakouts, the kind that come without warning and leave dark marks on my skin that take months to fade. So when I got a pimple in the center of my nose two weeks before my wedding, it felt like a disaster. It was only through a great miracle from above — and the four products below — that I escaped looking like Rudolph the Red-Nosed Reindeer on my wedding day.
Cane & Austin makes glycolic pads that come in different strengths depending on your skin's sensitivity. I used them in the morning and Drunk Elephant's glycolic serum at night, and lo and behold, my pores shrunk. I could visibly see a difference in the texture of my skin. I also slept in Cosrx pimple patches, which get all the nasty gunk out of pimples without leaving a scar when you pop them.
There are many fancy moisturizers that target dark acne marks, and I sampled them all, among them Murad's Lightening Serum and Paula's Choice Resist Booster. Ironically, a not-so-fancy brand called Ambi is what worked best on me and my friends with darker skin tones. You have to use it every single day to see results, but it has sunscreen and it only costs $8, so you can't beat that.
For a long time, I thought serums were something the beauty industry had invented to make you spend more money. But then I tried Vintner's Daughter. The skin-care addicts on Reddit like to call it "an Instagram filter for your face." It is, to put it gently, not cheap. A close runner-up is Mario Badescu's Vitamin C serum, which is more affordable and also works pretty well for brightening and fading scars.
A Moisturizing, Hydrating Duo
It wasn't until I started using Dr. Jart's Hydro Gel duo that I understood what beauty editors (hi Ashley!) mean when they say hydrating and moisturizing aren't the same thing. Moisturizers seal in moisture and prevent dry skin, while hydrating products amp up the water content of your skin to improve the overall tone.
Dr. Jart's Hydro Gel is a slimy, lightweight gel that moisturizes. After you let that soak in, apply the Hydro Sleep Mask to hydrate. The extra step in my routine is kind of annoying, but my skin looks practically poreless when I use these.
If I were a billionaire, I'd sit at home all day with a sheet mask on. My love of face masks has gotten so real that when I travel, I slap one of these suckers on as soon as I board the plane. Peach & Lily's set set is my go-to since it comes with three different masks that target dullness, breakouts, and sagging. But if I'm having a serious hormonal acne breakout, nothing works as well as a snail cream mask. It sounds nasty, but it works (The Strategist's beauty writer Rio, also swears by snail cream for clearing up blemishes).
Celebrities are always raving about their facialists, but what about those of us who can't afford to go to the spa every other day? Ashley introduced me to Rescue Spa, which has been a godsend. It's reasonably priced, and owner Danuta Mieloch knows her shit. (Oh, and Naomi Campbell was casually checking out the first time I walked in.)
Mieloch has a realistic approach that's easy to manage on your own. Her team recommended that I invest in steamer to cleanse and hydrate my skin, so I bought one from Dr. Dennis Gross. I set the 15-minute timer and leave it running when I cleanse my skin on weekends. Since I started using it, I've seen a real improvement in my pore size and skin texture.
The steamer opens my pores up for the Biologique Recherche Masque Vivant, which I leave on for 20 minutes. Read any reviews on this mask and you'll know it's got a cult following — for good reason. Within a month of steaming, my face stopped breaking out as much. I'd even lost all the pimples hidden underneath my skin's surface, which I'd been trying to shed for months. When I wash this stuff off and immediately follow it with Vintner's Daughter Oil, I look like I got a facial for half the price.
If you buy something through our links, New York may earn an affiliate commission.