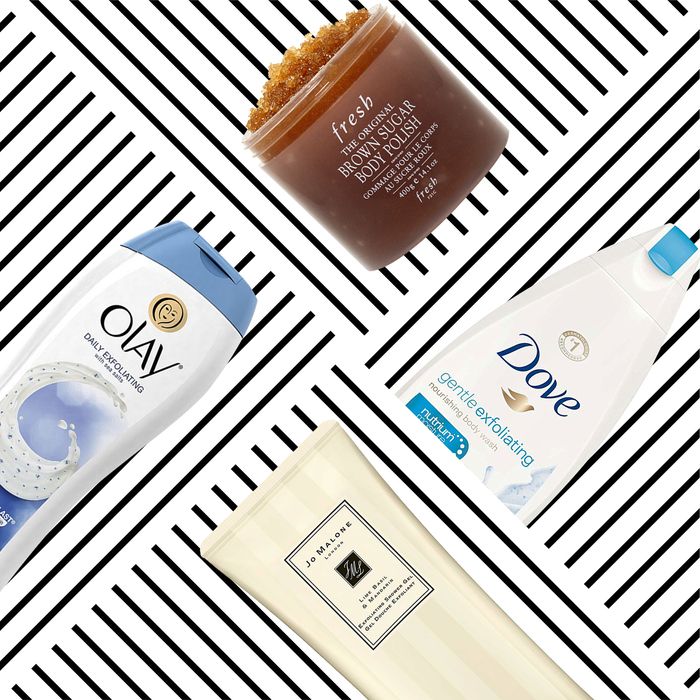 Welcome to the season of scaly skin. In winter, exfoliating scrubs are a godsend for getting rid of dryness, rough patches, and flaking. With regular use, they also prevent ingrown hairs and help achieve a smoother shave.
To find the best exfoliators, I sloughed skin like it was my job (or Jared Kushner's approach to his friends), with bottle after bottle. After weeks of scrubbing, I discovered the best drugstore and luxury body exfoliators for all skin types. (Note that I limited my testing to physical exfoliators, rather than chemical ones like acids.) Scroll down to find which one is most suited for you, because dry skin is annoying to everyone.
Recommended With Reservations
There's no doubt that Dove's aptly named body wash is both "gentle" and "nourishing" — but therein lies the issue. The beads are suspended in a rich, creamy, and hydrating formula (all good things), but they're not concentrated, so buffing any one area is a challenge. The bottle does instruct to use a washcloth or loofah while lathering, but doesn't any wash become exfoliating when you use it with a cloth or pouf?
Like Dove, Olay's exfoliator also moisturizes, and the written instructions say that you need the help of a cloth or loofah if you want to shed any flakes. This one relies on tiny blue sea salts that float through what feels more like a body lotion than a body wash. The good thing is that it left my skin supple enough to skip the moisturizer post-shower.
Jo Malone's aromatic exfoliator is by far the most luxurious of the bunch, turning my usual five-minute rinse into a pampering experience. The clear gel has a mild stickiness with a fine, gritty texture courtesy of jojoba beads and bamboo stem. The combination did a thorough job of buffing parched areas like my elbows, knees, and ankles without redness or irritation. I used this one before bed and the notes of lime, basil, and mandarin scent hung around until the next morning.
I gave this pricey "spa-grade" scrub a run for its money, testing it on the dullest, most parched spot I could find: my feet. After a few minutes of massaging, I found the area softer, smoother, and brighter, albeit a bit red. The paste contains an argan-oil base so the moisturizing benefits are instant. The paraben- and sulfate-free recipe of five exfoliators (Pink Himalayan, Hawaiian Sea Salts, Cranberry Fibers, Organic Raw Sugar, and Apricot Seed Powder) are biodegradable too, so I didn't feel as guilty when clumps ran down my drain.
The natural jasmine scent bordered medicinal in my opinion — not bad, just not my favorite. While the quality of this product did not go unnoticed, $75 seems steep for something I have to rub on myself.
This Dead Sea scrub is the quintessential exfoliator: thick, gooey, and chockful of sugar, shells, and plant seed bits that leave no dead skin cell unturned. While it's technically not a body wash, I was satisfied with how clean I felt after using it. I selected this one to prep my skin before self-tanning and was pleased with the level of exfoliation it yielded without making my skin raw or red. It works well on feet too, keeping calluses at bay in-between pedicure appointments.
This scrub worked triple duty providing cleansing, exfoliating, and moisturizing benefits at once. One problem though: it's messy. The argan-oil base makes the tiny, fine sea salts slippery to scoop up (I lost a few clumps in the shower). At the same time, though, the marine-infused formula with sea kelp and blue green algae is intensely hydrating. I skipped body lotion afterwards and was impressed with the level of moisture that lasted 24 hours until my next shower. Additional points for the refreshing botanical scent.
The "Don't Underestimate Me" Scrub
Don't let this clear gel with pretty pink beads fool you: it offers up a serious scrub. The micro beads are tough without being rough, and the gel turns into a foamy cleanser when hit with water. The scent is a blend of bergamot, rose, peach, strawberry, jasmine, soft musk, and amber. It's on the stronger side but fades quickly (The foot cream is great, too).
The Hippie-Approved Scrub
The scrub component here is pretty standard — giant sugar grains — but a dose of coconut oil, shea butter, and olive oil transform this exfoliator into a major skin-softening engine. Together, the moisturizers deposited a thin veil of oil on my skin that replaced the need for lotion. And the smell! Coco Rose is scented with — you guessed it — rose oil, but it's not powdery, like some rose fragrances tend to lean. And you can attribute the scrub's millennial pink hue to rose clay, not dye; Coco Rose is entirely "natural" and hippie folk-approved.
Fresh's body polish isn't a scrub-and-go kind of product. Unlike other options that squeeze straight from a tube, this one is packaged in a tub container that requires mixing every time you open it. If you have a few extra minutes, though, the results (and the sweet citrus aroma) make it worthy of your time. The sugar granules gently buff skin (mine was brighter as soon as I stepped out of the shower) and the blend of four oils at the base hydrate dry areas instantly. I could still feel the smoothing effects the next day. It's pricey — but the container is large and a little goes a long way.
The Least Expensive and Best Overall
This $3 bottle goes head-to-head with every pricier pick on this list for scent, performance, and results. While the fine granules are gentle, they are effective exfoliators that left my legs soft and smooth. The citrusy scent has an awakening quality that fades quickly so as not to interfere with the lotion or fragrance I applied afterwards. All in all, this drugstore buy provides the most bang for your buck. It gets the job done without irritating even the most sensitive skin.
If you buy something through our links, New York may earn an affiliate commission.