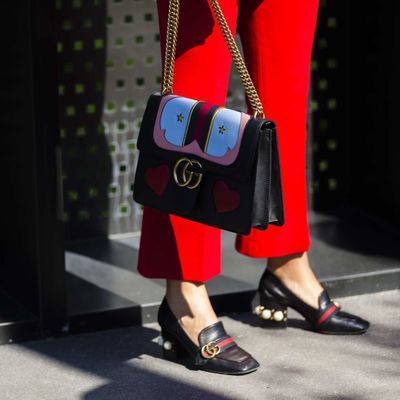 Cheap and Cheerful is a weekly column that highlights the chicest inexpensive finds. Because nothing's more satisfying than looking good while spending less.
Loafers are such a great, easy styling tool — more interesting than ballet flats, more polished than sneakers, and, of course, more comfortable than heels. Gucci's classic horse-bit loafers have been the go-to choice for the street-style folk, but there are plenty of options available even if you're not quite ready to drop $730 on a pair of shoes you'll have to baby for life. From preppy classics to trendy metallic pairs, scroll below to check out the Cut's favorites that are all $150 and under.
The Crazy-Affordable Find
If You Like Fancy Details
The circular hardware feels unexpected, elevated, and retro all at the same time.
Wear these instead of painful stilettos to your next office party.
Photo: Brown, Indya
If you're voluntarily choosing to step away from leather, try velvet instead. The cleated sole also feels edgier than the rest.
Gucci fans will notice the inspiration behind these very quickly: they're reminiscent of the brand's over-the-top pearl-embellished loafers (see above), but roughly one-tenth of their cost.
Metallic loafers are easier to wear than you might expect — just stick to a neutral palette elsewhere.
Wear the back folded down on warmer days for a muled effect, or leave it up when you want a fully enclosed loafer.
If you buy something through our links, New York may earn an affiliate commission.