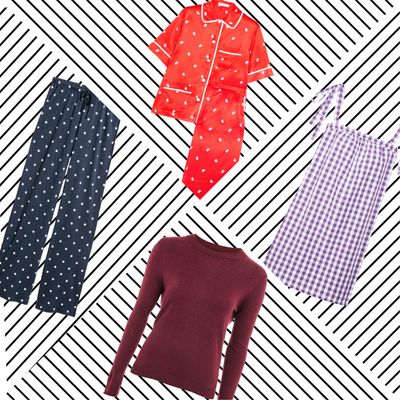 Holiday season is approaching, which means impending office parties and fancy cocktail events, but also the all-too-time-consuming task of shopping for gifts. A suggestion, if you stress over finding the latest gadgets or trends: Why not choose a fail-proof pair of cozy pajamas? They're an easy crowd-pleaser, plenty of styles abound, and hey, whoever's lucky enough to get this gift will think of you lovingly every time they binge-watch Netflix.
Scroll below to see our list of Cut-approved pajamas for gifting season (good for friends, or lazing around the apartment yourself).
For the No-Frills Sleeper
Photo: Brown, Indya
Sometimes you just want a straightforward pair of pajamas, the kind you can throw in the washer with little consequence. This pair checks all the essential boxes: under $20, made out of 100 percent cotton, and it flatters most body shapes.
If reindeer- or snowmen-printed pajamas aren't your speed, you'll appreciate the subtlety of the white stars on these pants; not too overzealous, but they still feel right for the holidays.
For Something Affordable and Fancy
Photo: Brown, Indya
For the person who cares as much about the quality of their PJs as their work wardrobe, the silky material and pink trim here are a step up from a simple cotton set.
Made from 100 percent silk, this set will keep you cool and feel more breathable if you tend to sweat in your sleep.
Because It's Not Winter Without Plaid Flannel
Is it really winter without a pair of lumberjack-plaid pajamas?
If You Still Don't Like Pants, at All
Photo: Brown, Indya
Need your legs to breathe? Go for a sleep dress.
For the Perpetually Cold People
If you're that one person who complains about how cold it is no matter what? We promise the fleece in this set will always keep you warm.
Photo: Brown, Indya
A combo of two pieces as one: wear them as a pajama set, or when it gets too hot, wear the robe alone.
Sleep clothes by Three J NYC are so chic you'll want to wear them outside, and thankfully you can.
Photo: Brown, Indya
A lush cashmere sweater is the sartorial equivalent of a hug. What else could be cozier to sleep in? Pro tip: If you get hot during the night, choose a cashmere blend instead to avoid overheating.
Need to impress your guests? These pajamas can pass for a chic athleisure set.
Retro Pajamas for Your Friends
All you need is a bowl of popcorn and a Sex in the City marathon.
For a Luxe Splurge on Sale
Oliva von Halle makes some of the best luxury pajamas out there, so here's your chance to get them at almost $200 off. If you're still apprehensive about dropping that much on a pair of PJs, think of the ways you can style each piece as everyday separates. For style inspiration: see Jenna Lyons.
If you buy something through our links, New York may earn an affiliate commission.