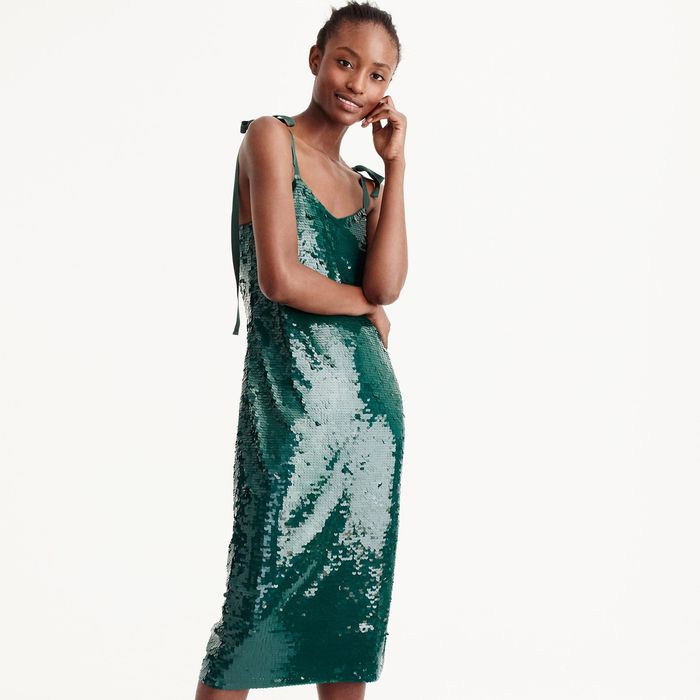 Glitter: It's everywhere, from holiday windows to Beyoncé's BeDazzled money clutch. If you're feeling the urge to dress like a disco ball for holiday parties this winter, you're not alone.
The challenge with sequins, of course, is that it's easy to tip into tacky territory. If you're looking for a grown-up way to wear shine, the trick is to find it in fresh silhouettes, like an oversize, almost-caftan-esque dress. You can also try layering it on in small doses, like a simple chain clutch.
Whether you need a blazer to throw on over your work clothes for the office party or an all-out fancy dress, we've got you covered. Scroll ahead to see our ideas for wearing sparkly this season.
Outfit-Transforming Earrings
A perfect way to add some last-minute interest to a workday outfit.
A Clutch That Will Go With Anything
So simple, and yet so sparkly!
A Top That Will Literally Dazzle Your Friends
Take a KiraKira+ selfie in this top, and you'll get all the Instagram likes.
A Skirt That Doesn't Overdo It
If you're into the holiday spirit but not into metallics.
A Top That Catches the Light
The puff sleeves are pretty, and it goes with anything from jeans to slacks.
If You're Looking for Shiny Boots
Photo: afront
Wear these with head-to-toe black, and your outfit is set.
A Dress You Can Wear to Every Party
Since this dress has a flattering straight cut and hits right above the knee, you can wear it to party with friends or co-workers.
This blazer is so subtle that you can keep wearing it even after New Year's.
The Runway-Inspired Dress
For ASOS, it's expensive, but that's because it's so fashion-y. This would be a surefire street-style hit.
This is a very convincing Tom Ford knockoff. The sparkles aren't too shiny, and the fabric has just the right amount of stretch so you're not suffocating.
J.Crew commenters agree: This dress is beautiful. Wear a bodysuit underneath or dress it down with denim to get more use out of it.
If you buy something through our links, New York may earn an affiliate commission.