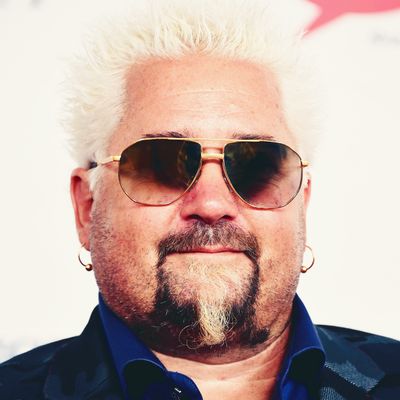 The Mayor of Flavortown himself.
Photo: Michael Loccisano/Getty Images for Churchill Downs
You may have been feeling the signs for weeks now: the faint, omnipresent scent of Donkey Sauce wherever you turn, a voice in the wind whispering "bomb-dot-com tasty." And you should've listened: FieriCon will descend upon New York City on Saturday, and no bite of cholesterol is safe.
It's the second year in the row for the Guy Fieri–themed pub crawl, during which hundreds of participants will wear their best bleached wigs, goatees, and Oakleys to celebrate and honor the Food Network personality. They'll eventually end up at Guy's American Kitchen & Bar, his Times Square restaurant.
On the one hand, it sounds like the only organized group activity worse than SantaCon. On the other, if you've always had a weird thing for Guy Fieri — hey, we don't judge — now's your chance to finally ride the bus to Flavortown.