Because no two paths to parenthood look the same, the Cut's How I Got This Baby invites parents to share their stories. Want to share yours? Email gotbaby@thecut.com and tell us a bit about how you became a parent.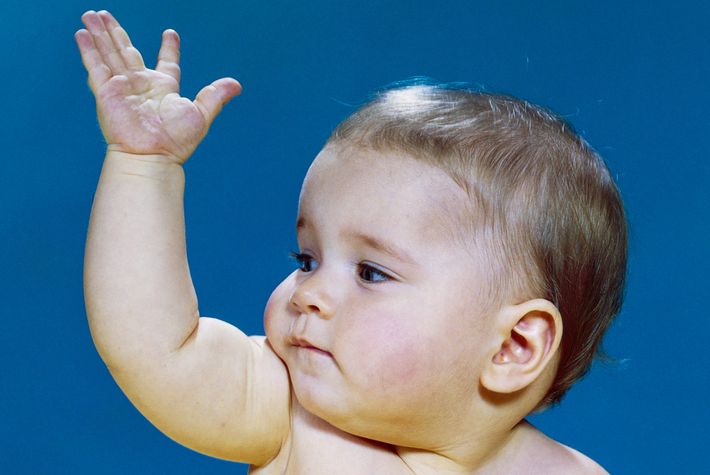 An experienced aunt, Enrica felt excited and prepared for pregnancy, childbirth, and parenthood. Having as little interference as possible was important to her; early in her pregnancy, she declined genetic tests and planned on a medication-free childbirth. But at 34 weeks pregnant, her midwife became concerned she might be carrying excess amniotic fluid; after that, Enrica says, her life turned upside down. She discusses a very different birth scenario, her husband's role in laboring without medication, reckoning with a Down syndrome diagnosis, adjusting to having two children, and how she feels like her family is a lot like other families.
On knowing what she wanted. I have two older sisters, both a few years older than me, who started having children in their early 20s. So I was pretty young when my sisters were having kids, and when my sisters had my nephews and niece I just adored them like they were my own. I knew right away that motherhood was something I definitely wanted when the time came.
When my now-husband and I first started dating he wasn't very familiar with children — they weren't really a part of his life. He'd enjoyed being single, and once we got married, he liked the idea of being a married couple without children. But I was very honest with him about what I wanted. And right off the bat, he was like, "If this is something you want, I'd love to have children with you — but I'd also be okay if we didn't." Now I think he probably can't imagine life without them.
On the factors that led her to start trying. I worked for several years at the same art gallery. I felt very secure in my job, and I loved the women I worked for — they had this amazing mom-work balance. It was very important to them that women were able to have that. I moved up in that job and it felt like a really good time — I had a great work schedule going. I was 28; my husband is the same age as me. We owned our apartment. It just felt like everything had lined up, so we started trying. I got pregnant a few months later.
On a swift change. At 34 weeks, my midwife was concerned with the size I was measuring. I'd opted out of all genetic testing and screening earlier in the pregnancy — I felt very healthy, I was young, and I wanted to be pregnant without any intervention. I'd been going along with my pregnancy very blissfully, but at the same time, very naïve of what might be happening.
My midwife suspected I had excess fluid, and thought it was time to go in for a sonogram. Through the sonogram, we discovered my son had duodenal atresia, a blockage in the stomach to the small intestine, also called a "double bubble." Everything changed after that — 34 weeks of a very happy pregnancy, then having my life turned upside down. I ended my care with the midwife and found an OB. I ended my care with the midwife and found an OB. I became a high-risk patient and started going to a maternal fetal medicine practice.
And I found out there was a pretty high chance of my baby being born with Down syndrome. But I still thought, You know, we've made it this far, let's just wait to meet our baby. We were already dealing with the fact that he'd need surgery, and were lining everything up to be prepared for his birth. My birthing center, midwife-assisted birth turned into a high-risk pregnancy with every neonatologist in the room with me while I was giving birth.
On giving birth. My husband acted as my doula — he was an amazing birth partner. There was talk early on of a C-section, which I was able to avoid, but they did want me to have an epidural, which I didn't want. The doctor who was on-call actually came in and introduced herself and said, "I just want to tell you that what you're doing is wrong." To have medical professionals pushing this on me while knowing that my son would immediately need care was hard — but my husband and I were a great team. It was hard to block out those voices and really feel confident that what I was doing was best for us in the end.
While I felt very empowered by natural childbirth, it wasn't the greatest experience, having him. When I was pushing, it went from a very intimate setting to a crew of about 30, ready to deal with a possible emergency. After he was born I got to hold him very momentarily, just a few seconds. As soon as I held him, I knew right away that he had Down syndrome. It was completely clear. But it felt like I was the only one in the room who knew — no one was talking about it. These early moments weren't the best introduction to motherhood, I would say. I was scared and extremely sad. Sometimes I wish I could go back in time and feel differently when he was placed in my arms.
He was rushed to the NICU immediately to have his blockage assessed to see if he needed immediate surgery or not. I was left with the nurse while my husband left to be with our son. I just sat there thinking, Okay, how am I the only one who knows? Why is no one saying it? Then my husband came back while our son went to go have some tests and I could tell he was afraid to break the news to me. He said, "You know, Enrica, they say he has Down syndrome." And I said, "I know. I knew right away. But it's okay."
I think a lot of people in the hospital assumed we knew going in, since prenatal tests are so common. At one point in the NICU, one of the doctors said, "Oh! All the babies with Down syndrome are the cutest." And my husband said, "We actually didn't know … " She apologized for bringing it up that way, but I do think that we came off as pretty positive. There wasn't a lot of sadness, for us, about that diagnosis while we were in the hospital.
On reckoning with a new reality. I did have trouble once we left, three weeks later. He'd had his surgery; he was healed. It was only the diagnosis of Down syndrome that we left the hospital with. This was our new reality.
As a high-school and a college student, I'd worked with children with special needs — it was nothing I was afraid of. But the shock still resonated. It took some time to heal from that — and to mourn the child I'd thought I was having. It wasn't that I didn't love my son or want him or accept him for who he was. It was more that I had to acknowledge the child I thought I was having. I struggled for a while — sometimes I still do.
Truthfully, being a new mom whose baby has Down syndrome is just like being any other mom. You have a baby who needs your love, who needs to be fed and rocked to sleep. But it was hard when my husband went back to work and I was home alone with a new baby with extra needs. I couldn't brush off the sadness sometimes. At moments of extreme happiness I'd suddenly get hit with grief and just cry.
On work-life balance. After my son was born, I thought I'd definitely go back to work. But it didn't really turn out that way. For a time, he was in day care a few days a week while I worked part-time, and I'd squeeze his therapies in the two weekdays that I was home. He was getting physical therapy, occupational therapy, eating therapy; we also had a special education teacher who came to our home. We all worked toward specific goals — in the beginning, holding his head up, sitting, crawling. Children with Down syndrome learn everything that other kids do; it just takes them longer and they need a little more hands-on assistance.
He wouldn't be very cooperative — and it made me feel very compelled to be at home with him. A lot was asked from him, for a baby. His physical therapist would do mini crunches with this little baby, helping him build core muscle strength. He'd cry and scream the whole time. I thought, If we are going to get the most out of these therapies and if I were to become his greatest advocate, I would have to be present as much as possible. So I decided to leave my job.
On having a second child. Once I was home I started to feel the pull of having a second baby; it felt like the time for us. With my second pregnancy, I did decide to have genetic testing done. While I wouldn't have done anything differently — the first time or the second — I didn't think it would be a good idea to go through that shock again. I was still healing from my first birth. This time, I would want to know. Overall, my pregnancy was great but also a blur— though I do think it's normal for the second pregnancy to be less involved than the first. It's hard to be present in the pregnancy when you're chasing after a toddler.
Now that our daughter is 10 months old, it feels like every time I turn around she's standing or crawling or babbling, and I feel like I have no hand in any of it. With my son, I actually had to teach him how to crawl by positioning myself behind him, moving one hand, one leg, to show him how it works. Our daughter just started doing it on her own. While I'm so in awe of our daughter's ability, I'm also so glad that I did have those other experiences with our first son.
When she was a newborn, I just wanted to make sure she knew we weren't having her to heal any wounds, or that we were doing it for our son. She's her own unique person who was meant to be with us. It wasn't a do-over — it was very intentional.
On life with two young kids. I've come to realize that I'm not as different as I thought I was, as a mom with a child who has special needs. I'm simply a mom with two children, with a toddler and a baby. I look disheveled most of the time, like I don't have my shit together. When I first started leaving the house when my son was a baby, I felt insecure — the physical markers of Down syndrome are so clear and it can feel like everyone knows but no one is talking about it. I did feel like I seemed different from other parents, or that other people pitied my family. But the more confident I get as a mom, the more I see my son as just my son, my daughter as my daughter. I am a special needs mom, but I'm also just like anyone else, in lots of ways — I'm going to the park, chasing after my kids.
I hope people don't ever feel sorry for us. I know some feel that way out of the goodness in their hearts, but it's actually a burden, a weight for my son to carry. In some way, we see our son's diagnosis as a way that makes our family more interesting and just that much cooler. We admire our son for his individuality. But he's just a little boy, and I want people to see him that way.