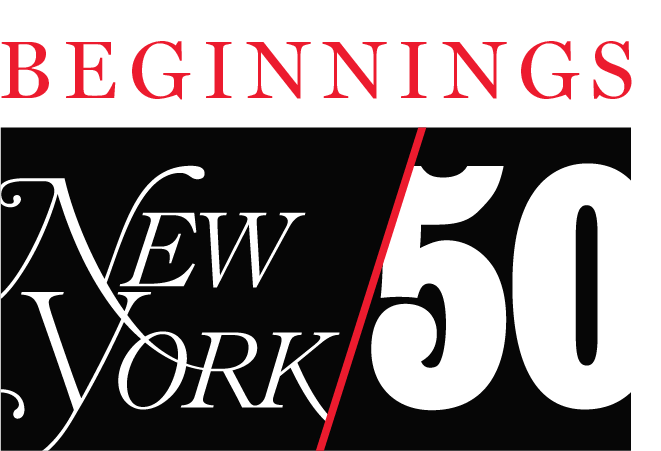 In celebration of New York Magazine's 50th anniversary, this weekly series, which will continue through October 2018, tells the stories behind key moments that shaped the city's culture.
On a recent afternoon at the vintage shop Search & Destroy, teens browsed plaid skirts, ripped jeans, and band T-shirts near a Bin Laden poster, Gremlin head, and pornographic props. Now that the ur-punk clothing shop Trash and Vaudeville has moved to Seventh Street, Search & Destroy is the last transgressive clothier on St. Marks; crusties gather at its steps like scouts around a campfire. But the shop is significant for another reason, too; it's also the last secondhand shop on St. Marks Place between Second and Third Avenues — the block where, 50 years ago, New York's vintage shopping scene was born.
In the flush years after World War II, most mainstream adults considered used clothes, sold by charity shops, something strictly for poor people. Then, in mid-'50s New York, fashionable young beatniks started buying second-hand furs from Ridge Trading Company to keep them warm on their way to the Cedar Tavern. Rich college kids picked up on the trend, prompting Lord & Taylor to begin offering used furs to meet the demand. But that was as far as hip vintage went. Adults of the 1950s and 1960s coveted sparkling homes and wardrobes, and parted hair.
"If a guy comes down the block dressed in leopard skin with a snake around his neck now, it doesn't seem like such a big deal," says Charles FitzGerald, who moved to St. Marks in 1959 and operated a series of secondhand and new shops there, including Grizzly Furs, Bowl & Board, and Hindu Kush. "But then it was. Remember, we were coming out of a period of extremely conventional middle-class-ness in this country … It was the throwaway era. I lived off the leavings."
FitzGerald made a killing, thanks to the fastidiousness of '50s grown-ups: "A mother would take a raccoon coat that had a little scuff on it and throw it out. I would get that raccoon coat for $2 and sell it as fast as I could for $20. I literally sold hundreds of fur coats in a day."
There were some vintage shops elsewhere in the city — notably Harriet Love in Soho — but they reached maximum concentration on St. Marks: "In the '60s," says FitzGerald, "you practically had to reserve space on the steps just to watch the parade of crazily dressed people passing by."
Part of the 1960s cultural rebellion, then, involved calculated grubbiness. Teenagers allowed tangles in their hair and old, frayed clothing on their bodies. They picked up old chairs on the street and bought worn-in jeans. This lifestyle was environmentally friendly, it was cheap, and it scandalized adults — win, win, win. The trend peaked in New York in the late 1960s, and the flagship store was a place called Limbo.
Like FitzGerald, Marty Freedman jumped on the vintage trend early. "I'd just gotten out of the service," he told me. "I had a store for five years in Brighton Beach, Brooklyn. We had the elevated subway running over the store. I was carrying what they called 'jivey Ivy' clothing: Brooks Brothers style, but much funkier. It was a strange neighborhood for a store like that, but Trump [Senior] was opening up a [middle-class, post-war housing] development."
Freedman thought he was going to hit it big when the new tenants arrived. Unfortunately, most of the people who moved into the area were senior citizens. They were neither Ivy nor jivey. That miscalculation, coupled with rampant crime in the area (he'd be robbed every time a leather jacket delivery was made; the over-ground trains drowned out the alarm), had him looking for a new store.
Partying in the East Village, he found it: "Coming out of the Dom [at 19-23 St. Marks] one night, I saw someone being evicted [from 24 St. Marks]. I tracked down the super. I signed a lease for $85 a month."
Freedman's new shop, Limbo, opened in 1965, back when "East Village" was a new-enough term that it appeared in the press surrounded by quotation marks. He'd noticed that his clientele of hippies — or, as they called themselves then, "freaks" — were partial to army surplus: 13-button pants, pea coats.
"I found out where I could get them," says Freedman. "We called them at the time rag dealers — big warehouses where they shipped old clothes mostly to places like Nigeria and Afghanistan. You'd give the foreman a bottle of cognac as a gift and they'd give us shears to use to open any bale in these five-floor warehouses … They were selling it for pennies a pound. We'd load up my Volkswagen. We called it 'carefully selected dead man's clothing.'"
Freedman got Levi's 501s from Utah. ("Mormons had big families, 10 kids, and when there was a jean that showed just a little bit of wear, they would hand it in to the local charity.") Of these, he'd hand some pairs over to local East Village artists along with sewing machines and leather scraps; regular jeans sold for $2.50, the artist-embellished ones could bring $200.
Overwhelmed by demand, in 1967 Limbo moved down the block to a much larger shop at number 4 (the 1831 building formerly home to Alexander Hamilton's widow, Eliza Schuyler), and really took off.
Luck played its part in the store's success: Freedman's partner Freddie Billingsley once scored a truckload of grenadier jackets on credit. "I thought it was a mistake," says Freedman. "The next week, the Sgt. Pepper album came out." Ka-ching.
Limbo wasn't the first hip vintage store in the world. According to Jennifer Le Zotte, author of From Goodwill to Grunge: A History of Secondhand Styles and Alternative Economies, that designation goes to London: "Many of the King's Row vintage boutiques — like I Was Lord Kitchener's Valet — started as stalls in Portobello Road, a flea market in London." Both San Francisco and New York imported the trend in their own ways.
Psychedelic San Francisco went for Western Victorian and buckskin Native American accents. New York re-popularized '20s and '30s looks. Cicely Hansen, owner of the Haight-Ashbury shop Decades of Fashion, says that back in the 1960s, she was able to find her tribe by looking for other people in used clothing (and without underpinnings; her mother had advised her that "nice girls don't jiggle").
The East Coast Limbo look was less ethereal than California's, more unisex and more reliant on repurposed uniforms. Nearly everyone who made the East Village scene in the late 1960s has a Limbo story. Judy Garrison, who now runs a store in the Catskills, told me: "One winter, everyone on St. Marks Place wore the exact same Afghani wool-lined coat from Limbo. I wore mine outside the city once and everyone looked at me like I was insane."
The writer Paul Krassner told me he bought a long coat and a derby hat at Limbo while on acid. Later, realizing the coat was a mistake, he went back and explained. The clerk said, "Oh, of course, if you were tripping you could return it." (Good thing: On St. Marks Place, "the customer is always right" mantra could have been, "the customer is always high.")
Around Limbo, boutiques thrived, offering various combinations of vintage and new hippie fashion: Queen of Diamonds, Khadejha, Something a Little Bit Different, the Owl and the Pussycat, Gussie and Becky, Cecil Rutherford, Arthur McGee, and (around the corner on Second), The Naked Grape. (There were also a number of hairdressers in the area, most famously Paul McGregor, who invented Jane Fonda's shag; and plenty of cheap restaurants, including B&H and Veselka, both of which are still going strong.)
Designer Kristina Gorby sold both her own looks (including this psychedelic eyeball dress, the custom-made stretch-velour outfit Janis Joplin wore at Woodstock, and a pre-DVF wrap dress), as well as select vintage pieces, like high-lace World War I–era women's shoes.
As a little girl, Kristina Gorby's daughter, Natasha, watched the street scene out the large front window of the family's home, upstairs from Limbo at No. 4.
"My babysitter would be trying to get me to come eat, but I couldn't stop looking out the window," Natasha Gorby Cebek told me by phone (her mother, recovering from a stroke, wasn't able to talk long). "It was so much fun to watch everybody. People were all wearing bell bottoms. It was just so colorful. Patchwork. Pantsuits. I remember one in particular — this guy had these little puffballs hanging off the bottom of his bell-bottoms, and a matching hat.
And I remember the guy next door who owned the first shop — I got my first fur coat from him, lamb's wool, black-and-white."
The "guy next door" was FitzGerald. He still lives on St. Marks Place. When I checked in with him recently, he said that people don't realize how controversial the vintage-clothing trend was when it started. "It became a real friction point," he said. "In our department of complaints, it was unbelievable how many irate mothers we had to deal with." Back in the late '60s, he was interviewed for a dismissive WWD article on the vintage trend entitled "Flea Bit."
Suburban mothers weren't the only ones who hated the vintage shops. The East Village's Ukrainian and Polish residents looked particularly askance at the military garb. Once a hippie exited Limbo wearing a German army jacket. Before he'd made it to the end of the block, an older woman attacked him with an umbrella.
As the 1970s began, the hippie scene faded and punk arrived. In 1975, Freedman passed Limbo's space to Trash & Vaudeville. St. Marks has seen a few successful post-Limbo vintage shops over the years. At secondhand store The Late Show in the 1970s, author Luc Sante set down his jacket to try something on and when he went to pick it up it was gone; someone had bought it.
A New York Times story from 1987 mentioning the 14 St. Marks incarnation of vintage shop Andy's Chee-Pees calls St. Marks the East Village's "spiritual heart or its corrupted, overtouristed center." Physical Graffiti closed a few years ago in its spot at the 96 St. Marks building that appears on the cover of Led Zeppelin's album of the same name (it's now a tea shop).
Today, vintage lingers in the surrounding blocks — Angela's Vintage, Cure Thrift, Tokio 7, Tokyo Joe, Eleven Consignment Boutique, L Train Vintage, Metropolis; chains like Buffalo Exchange; as well as a few longstanding shops on Ninth Street, like Cobblestones.
But it's changed since the days of Limbo.
As Laver's Law says, the clothes from about 30 years prior amuse us the most. What's not the same is that in the 1960s, 1930s clothes were unique and made from high-quality materials; in the 2010s, 1990s clothes are, like, Express baby doll dresses. The higher-quality old stuff is in shorter supply, and so it's become more precious and much more expensive. To a dance once in junior high school, I wore a perfect-condition 1950s pink tulle party dress, purchased on or near St. Marks for, as I recall, $5. I just looked on eBay for something similar; the price point was around $125.
What's more, the neighborhood's economics have changed. Rents have risen, pushing out nearby vintage shops like Love Saves the Day and Atomic Passion. And, like a parent repeatedly trying to smooth down a child's cowlick, corporate developers keep trying to clean up St. Marks. The latest battle: the corner of St. Marks and Third Avenue is getting a seven-story office building; neighborhood protests warn that the area could become a "Silicon Alley."
And yet, incredibly, St. Marks Place still feels, in its eternal bounty of drunk teenagers, sunglass hawkers, and vulgar T-shirts, reliably scuzzy. Yes, there's a Chipotle in the Dom's old building and a new Starbucks on Avenue A. But The Gap, 7-11, and Pinkberry have all closed. On the corner of St. Marks and Second, Chase will soon be replaced by The Swiss Institute, which will offer free exhibits and community events. Many of the street's landmarks — Gem Spa, Grassroots, St. Mark's Barber, St. Mark's Comics — endure. East Village Books on St. Marks and First still has incredibly cheap used books. The performer Penny Arcade, who used to live on St. Marks between Second and Third, told me a couple of years ago that she found it still "magnetic and chaotic": "Somehow you can't gentrify that block."
And there is still one vintage shop left there: Search & Destroy. When asked if the store, which opened 25 years ago, had any plans to leave, Maya, a laconic manager sitting on the steps out front, deadpanned, "I hope not." Back inside, she said the street isn't what it once was, but she didn't have time to elaborate. Kids were waiting in line to buy used jeans — just like their grandparents did across the street 50 years ago.
Order Highbrow, Lowbrow, Brilliant, Despicable: 50 Years of New York, a celebratory book chronicling the magazine's history with powerful images and behind-the-scenes stories from staff and subjects.