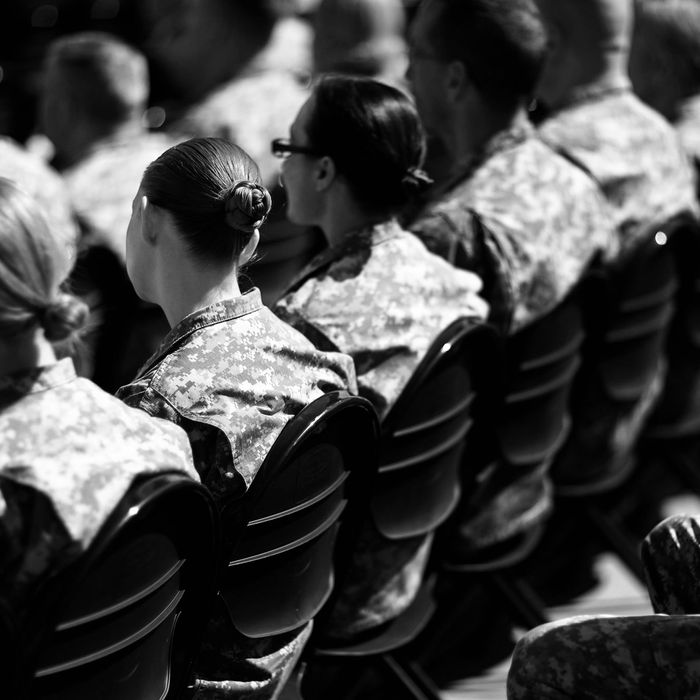 Photo: Chip Somodevilla/Getty Images
The Pentagon just disclosed the number of sexual assault reports it received between October 2012 and September 2016, breaking the number down by military base for the first time ever. According to a report they released earlier this year, they received a total of 6,172 reports of sexual assault in the 2016 fiscal year, as reported in Reuters.
While the newest study emphasizes that the location where a report is made is not necessarily where the sexual assault occurred, there were a few bases with a notably high number of reports. In the 2016 fiscal year, Norfolk had 270, Fort Hood had 199, the Naval Base in San Diego had 187, Camp Lejeune in North Carolina had 169, Camp Pendleton in California had 157, and Fort Bragg in North Carolina had 146 reports. Outside the country, the U.S. bases in South Korea had a combined 211 reports.
It's important to note that these are only the reported cases, though, because the Defense Department believes that fewer than a third of victims report. According to the their annual report published this May, amid the nude-photo scandal that rocked the Marine Corps, an estimated 14,900 members of the U.S. military experienced sexual assault in 2016.