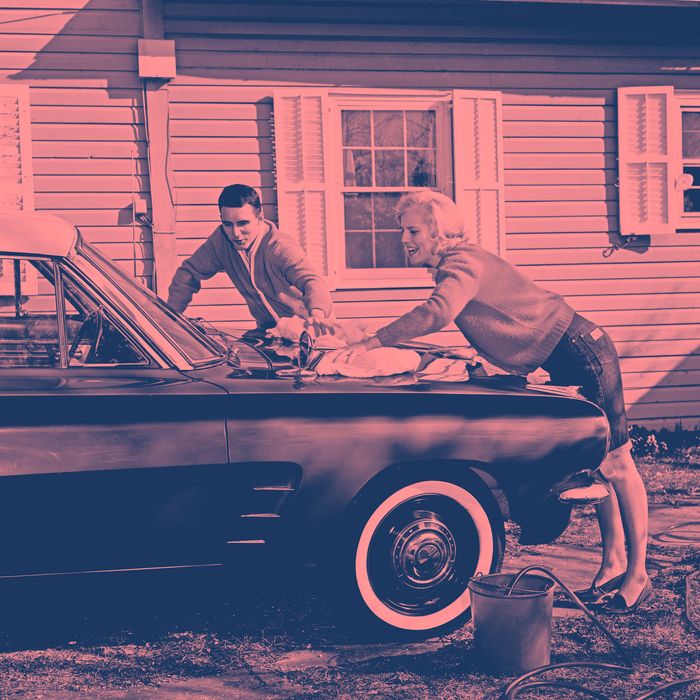 Photo: SuperStock/Getty Images
According to a 2013 poll from the insurance company Nationwide, around 25 percent of car owners have named their ride. Granted, the survey isn't exactly scientific, but while the statistic may not be a perfect reflection of reality, it does align with something you may have already seen in the wild: Plenty of people like to name the appliances in their lives — cars, laptops, bikes. Maybe you know someone who does it. Maybe it's you!
Think about it, though — run through the real-life examples you know, and you'll probably find that the phenomenon tends to follow a particular pattern. There are outliers (one Reddit user even named her breast pump), but generally speaking, some objects tend to get names much more often than others. Not many people, for example, have taken it upon themselves to name their toilet.
So what determines which things make the cut? Why do we bestow nicknames upon some objects, but not others? The answer, as it turns out, is a complicated mix of several different quirks of human psychology.
Because you're attributing a humanlike mind to that object.
"We think there are multiple reasons why this happens," says psychologist Nicholas Epley, a professor of behavioral science at the University of Chicago Booth School of Business. "Some of them have to do with just how similar some inanimate object or animal seems to a person. This can sometimes be an appearance, how it behaves or acts, or any other cues or similarities that lead us to treat nonhuman agents as humanlike."
For instance, one May 2014 study in the Journal of Experimental Social Psychology found that participants ended up trusting a vehicle more as it acquired more anthropomorphic features (such as self-driving steering and a voice). A separate 2016 study in the Journal of Experimental Psychology: General, co-authored by Epley, showed that people were more likely to believe that computer-generated text read to them by a human voice came from a human mind than they were when they read that same text themselves.
Such studies indicate that, when we're able to form some sort of connection with technology (or more specifically, project a connection onto it), we tend to view them as more humanlike — which may, in turn, make us more likely to give them a human name.
In his book Mindwise, Epley lays out a few factors that make us more likely to attribute humanlike minds to non-human things (a concept he also addresses in his 2007 paper in Psychological Review). First, we tend to anthropomorphize objects that look human — like false eyes on insect wings, or cars whose headlights look like eyes. That perception can extend to motion, too: Epley notes that a 2007 paper in the Journal of Personality and Social Psychology found that robots can actually seem more humanlike when their speed of movement is closer to our own.
Another trigger has to do with our need to explain things like machinery failure, Epley says. He references one survey of 900 listeners of NPR's Car Talk Show, which found that the more unreliable a car, the more people were likely to attribute a mind to it. Machines, unlike humans, are supposed to be reliable; when they aren't, we see more of ourselves in their unpredictability.
Because you're trying to convey ownership, or attachment.
Names may also help us delineate between personal and community property. For example, people initially named boats in a harbor to help specify which boat belonged to which person, explains David Peterson, a linguist who  created the Dothraki and Valyrian languages for the HBO series Game of Thrones, as well as multiple languages for the Syfy show Defiance. Over time, Peterson explains, this tendency to name boats became a self-perpetuating tradition.
"When it comes to personal objects, though, it really is a difference between the level of importance one places on it, and the level of potential emotional attachment one could place on it," Peterson says. In other words, the objects you use most often aren't necessarily the same ones you feel most connected to (have you ever heard of someone giving a nickname to their hairbrush?). An avid golfer might name just one of their clubs, for instance, if it has some special meaning that separates it from the others. Similarly, people tend not to name their pens and pencils, but if they do, you can expect that the utensil has some special importance to them.
So why don't we name a toilet, considering how important it is? The answer, Peterson said, lies partly in social status: "If you're going to name something, there's a chance someone is going to hear the name," he explained. Since you're probably not going to be chatting with friends about your porcelain throne, you're not likely to name it.
Because you're feeling lonely.
Some people may also be more likely than others to give names to the things they use. In a 2008 study published in Psychological Science, Epley notes that people who lack social connections may try to compensate by forming connections to animals and nonhuman objects. (Epley cites the well-known — if extreme — example of Tom Hanks's character in Cast Away naming his volleyball-turned-best-friend Wilson.)
We also have to consider, Peterson adds, that the effect doesn't just go one way: We name some things because they're important, but some things can also become more important to us because, in certain situations (like the boats in the harbor), we may be forced to name them.
The flip side of all of this: Epley notes that just as we're more likely to anthropomorphize and name certain objects, there are also certain conditions that make us more inclined to dehumanize something. In Epley's 2016 study on voice and anthropomorphizing, his team also found that when we strip a voice from a situation, like if reading a block of text versus listening to it being read by  a human voice, people are more likely to view the text as machine-generated rather than human-generated. In terms of real-life consequences, Epley says, the study does raise one important point: "When you understand when people think of other agents as mindful," he notes, "you can both try to explain why people treat nonhumans as humans, but also sometimes why people treat humans as objects."