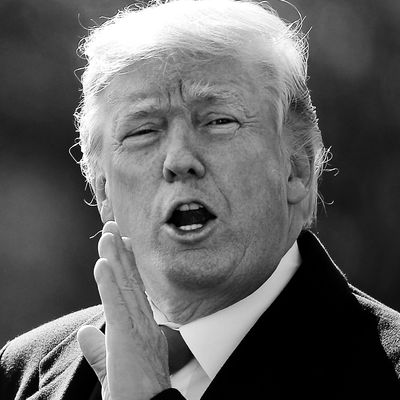 Donald Trump.
Photo: Chip Somodevilla/Getty Images
Wednesday was a big tweet day, even by President Trump's standards. Not only did he re-tweet three unverified, anti-Muslim videos from the leader of the far-right Britain First Party, he also called for a boycott of CNN, suggested MSNBC host Joe Scarborough once killed someone in Florida, and picked a fight with British Prime Minister Theresa May. Well, he tried to, at least. In a since-deleted tweet, Donald Trump responded to Prime Minister May's criticism of his anti-Muslim retweets, but instead of tagging May (@theresa_may) he tagged @theresamay, the private account of a woman named Theresa May Scrivener, who only has six followers. Now, Ms. Scrivener would like an apology.
In a phone call with the Mirror on Thursday, Scrivener said she has been inundated with calls and messages since the president's tweet, adding: "If I wanted to be famous I would have gone on X Factor."
"It's amazing to think that the world's most powerful man managed to press the wrong button," she said. "I'm just waiting for a call from the White House with an apology."
This is, of course, not the first time the president has sent a misfired tweet. Earlier this month he tweeted out his condolences for the wrong mass shooting, raising questions about whether or not he copy-pastes his condolence messages. Still, that's not the worst thing he could do on Twitter. As Scrivener said:
"I'm just glad he was not contacting me to say he was going to war with North Korea."
Aren't we all.