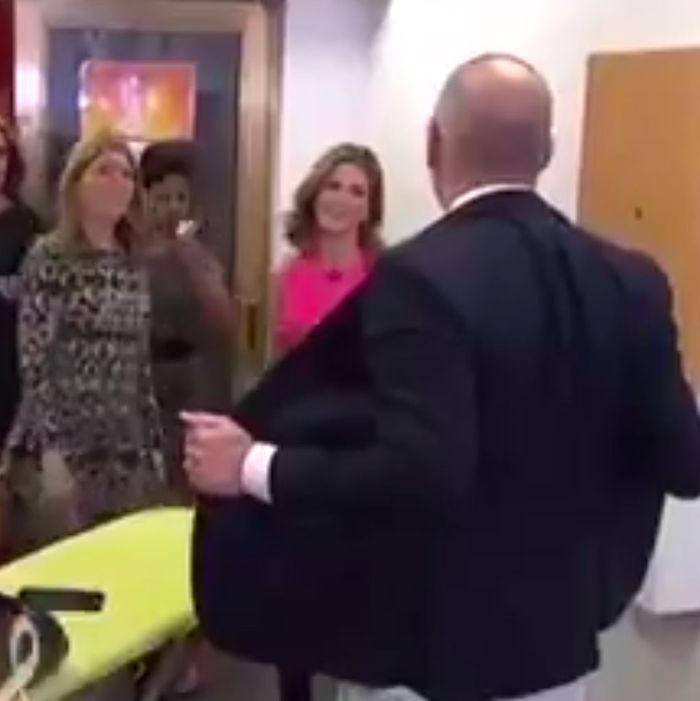 On Wednesday morning, NBC announced it was firing longtime Today show host Matt Lauer following a complaint of sexual harassment. In a statement read by co-host Savannah Guthrie, NBC News chairman Andy Lack said there is "reason to believe this may not have been an isolated incident." The news has prompted a reexamination of Lauer's past behavior, and led to the resurfacing of old Today show sketches in which Lauer and others joke about sexual harassment.
In the first segment, from 2012, reporter Jeff Rosen investigates Willie Geist smacking Lauer's butt — the "smack heard 'round the studio." Geist insists he only smacked Lauer's lower back.
"I didn't do anything differently, I wasn't wearing a different cologne, this was uninitiated," Lauer sniffs, playing the beleaguered victim.
In the second, from 2014, Lauer removes his pants after an assistant spills coffee on them. When Savannah Guthrie, Natalie Morales, Jenna Bush Hager and Tamron Hall walk in while he's standing in his boxers, Lauer turns to them with his jacket open and says "Drink it in, ladies." If that wasn't uncomfortable enough, the segment ends with Savannah Guthrie saying "Stop it, you're making me lactate!" and hurrying off-screen.
More stories about Lauer expected to emerge soon. According to CNN's Brian Stelter, both the New York Times and Variety were conducting investigations into the anchor's behavior before he was fired.