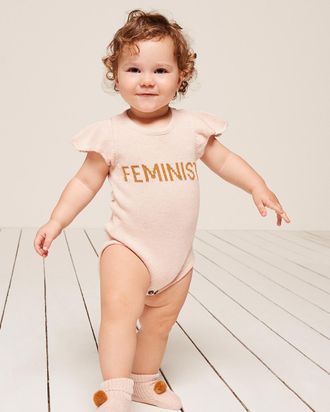 Photo: Courtesy of the Reformation
On Wednesday, cult party-dress brand the Reformation launched its first-ever sustainable gift shop, which includes a very-cute capsule collection for future feminist toddlers in partnership with the children's brand, Oeuf.
A press release describes the pieces as being "five best-selling silhouettes re-imagined in classic Ref style," which means that these empowered babies can now also experience the struggle of trying to pack their rolls into one of the brand's form-fitting jumpsuits … and be a feminist! We wholeheartedly relate, and would love some crotch buttons as well.
As Cosmopolitan's Hanna Smothers aptly tweeted in response: "Finally infant babies will know the pain that is trying to squeeze your ass into body con knits from Reformation."
Welcome to the body-con resistance, babies.