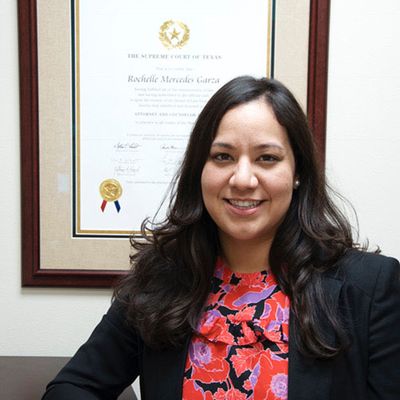 The first time attorney Rochelle Garza stood up to the federal government was in a Texas courthouse one day in late September.
A field representative for the Office of Refugee Resettlement, the section of the Department of Health and Human Services that looks after unaccompanied minors, had received word that Garza was there with "Jane Doe," an undocumented teen who was seeking judicial authorization to opt to have an abortion. A few days earlier, Garza had been court-appointed to represent the 17-year-old as her case made its way through the legal system.
"Hell, no," Garza recalls thinking when she learned of the ORR official's presence in the courthouse. The hearing proceeded without the official, even though federal law regards the government as a kind of foster parent for children in federal custody. In this instance, Texas family law stood in the way; strict confidentiality rules shroud these proceedings in secrecy, which meant that, at least in theory, the Trump administration official shouldn't even have known that the teen was in court that day. After all is said and done in cases like this, "the files get destroyed," Garza told New York.
But the administration knew, and did everything it could to place obstacles in Doe's path. Last week, capping a protracted legal battle that captured the nation's attention but lasted way longer than it should have, Doe was able to end her pregnancy. Looking back on the whirlwind weeks Doe was forced to endure on the ground in Texas, the young lawyer says her client's ordeal — which spanned courtrooms in Texas and California before heading to Washington, D.C. — "felt like a roller coaster that you can't make stop."
Garza, in her capacity as Doe's court-ordered guardian, is the named plaintiff in Garza v. Hargan, a class-action challenge to what the ACLU calls the Trump administration's exercise of a "veto power over unaccompanied immigrant minors' access to abortion in violation of their Fifth Amendment rights," among other constitutional claims.
The public only learned of Doe's plight when it made national headlines last month, but by then she had been waiting for nearly a month — since Garza and another local attorney, Marie Christine Cortez, convinced a Texas judge that it was in their client's "best interest" to let her decide for herself that an abortion was right for her. "She's in a country she doesn't know. She doesn't know the language. She's in detention. She has no family who can help her," Garza said, listing off the factors she presented in the chambers of a local judge who then determined Doe was mature enough to make her own decision.
It's not that Doe didn't know what she was getting into. Garza said that as soon as Doe learned she was pregnant — via a medical examination that every minor gets when they're apprehended at the border — she was resolute. "People need to understand that she requested an abortion as soon as she found out that she was pregnant — nine weeks pregnant," Garza says. That was in early September. That prompted Doe to seek a court order — a so-called "judicial bypass" that, in essence, allows a minor to obtain an abortion without having to inform or get consent from her parents. Or in this case, the Trump administration.
But that's not how Scott Lloyd rolls. As the Trump official who oversees the care of unaccompanied immigrant minors at HHS, he's taken a role in personally discouraging pregnant teens in government custody from seeking abortions. "Often these girls start to regret abortion," Lloyd wrote in March about a teen girl he'd met at a Texas detention center, according to an email obtained by The Wall Street Journal. "If this comes up, we need to connect her with resources for psychological and/or religious counseling." Local shelters — which subcontract with the federal government to house unaccompanied minors and are often religiously affiliated — don't seem to put up much of a fight.
And so Doe, against her wishes, was made to sit through religious counseling at an anti-abortion crisis pregnancy center. Doe's complaint in federal court also says the government contacted her mother back at her native country to let her know about her daughter's pregnancy and desire to obtain an abortion. Such an egregious violation of her privacy, which even Texas law protects, was an attempt to bring Doe in compliance with the administration's new policy, announced in March, to forbid all federally contracted shelters "from taking any actions that facilitate" an abortion by teenagers in detention — unless Lloyd himself signs off on it. "The shelter should've just released her to me," Garza said.
That kind of foot-dragging kicked off the fierce legal confrontation that ended up one step short of the Supreme Court: at the U.S. Court of Appeals for the D.C. Circuit, which took the unusual step of hearing an expedited appeal in which, in time, nine active judges on the court jumped into the controversy. Even the state of Texas, which should've been supportive of Doe's adherence to Texas law, threw in its two cents — arguing that the teen and other undocumented minors in detention aren't even "persons" worthy of constitutional protections.
In the end, a 6-to-3 majority on the federal appeals court affirmed a lower-court order barring the Trump administration from blocking Doe's attempt to obtain an abortion. The ruling was light on reasoning and details, but U.S. Circuit Judge Patricia Millett — who days earlier had gone to town on two conservative colleagues who determined Doe should be kept in administrative limbo until at least October 31 — offered a concurring opinion that illuminated the girl's struggle.
"The court today correctly recognizes that [Jane Doe]'s unchallenged right under the Due Process Clause affords this 17-year-old a modicum of the dignity, sense of self-worth, and control over her own destiny that life seems to have so far denied her," Millett wrote. (Over at Slate, Mark Joseph Stern all but crowned her heir apparent to Justice Ruth Bader Ginsburg's women's rights throne.)
Back in Texas, after Doe had her abortion, Garza expressed relief for her client and gratitude for the outpouring of support she and Doe have received — as well as for the legal backing of her brother and law partner Myles Garza, who fought right by her side, the ACLU, and Jane's Due Process, a local nonprofit that helps young women like Doe. Still, she can't help but remain angry at how long the case dragged on. "She was forced by government intervention to be pregnant for longer than she needed to be," Garza said.
For its part, the Trump administration is not done fighting. In a highly unusual play, DOJ filed a Supreme Court appeal just this Friday accusing the ACLU of moving too quickly to secure Jane's abortion, which had the effect of thwarting the government's intention to ask the justices, as a last-ditch effort, to stop the procedure. Reeling from its loss, the administration now wants the Supreme Court to wipe out the D.C. Circuit's ruling — and whatever value it may have as precedent for other teens in Jane's position — and maybe even consider "disciplinary action" against the ACLU for misleading the government. The ACLU isn't having it: "That government lawyers failed to seek judicial review quickly enough is their fault, not ours," said David Cole, the ACLU's legal director.
As an attorney, Garza is well aware that she shouldn't "take home" her client's problems. But she said she can't help it — she became a lawyer "to be and advocate for people and people who are vulnerable. And she's vulnerable." But that vulnerability ought not to be confused with Doe's own strength as a person: "I told her many times, 'Eres muy fuerte. Tienes un caracter muy fuerte,'" Garza said, repeating the Spanish word for strong. And then added: "I don't know if I would've been as strong if I were in her position."