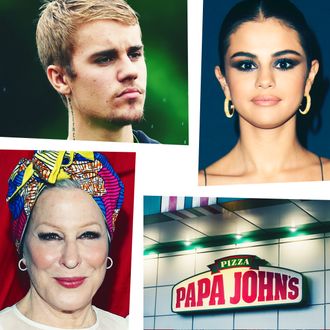 Every week brings such an overwhelming onslaught of news, that sometimes the most entertaining bits can fall through the cracks. Here, we'll recap the pettiest squabbles, juiciest feuds, and other niche drama you didn't know you were living for.
The Best 11 Minutes of 2017
For 11 minutes beautiful minutes on Thursday, Twitter became slightly less unbearable when a rogue contractor used the last day of his employment to temporarily ban Donald Trump from Twitter. It was not only the best thing to happen in 2017, but it was the only good thing.
Never forget where you were during The Only Good 11 Minutes of 2017 (in bed — it was late).
The Foul-Ball Family Feud
When the Dodgers hit a home run during game five of the World Series, one lucky Astros fan ended up with the ball. But because honoring your team is apparently more important than the happy memories of your family members, the woman's brother-in-law promptly snatched it out of her hand and threw it back on the field.
At least now they'll have something other than Trump to argue about at Thanksgiving.
Jelena 2.0
Have you heard? Selena Gomez and the Weeknd broke up, and she's already been seen with Justin Bieber. The heartbreak! The PDA! The disgustingly sweaty hockey jerseys. We're sure Abel will find another girl to hold hands with at Dave and Busters very soon.
Jill Kargman vs. Tory Burch
As a holiday, Halloween is the perfect breeding ground for drama: everyone's in uncomfortable costumes, they've been consuming enough refined sugar to make them manic, and fights are bound to break out. And leave it to "Page Six" to find out about them — they reported that Jill Kargman and Tory Burch recently dueled it out at a Marie Antoinette–themed Halloween party.
Burch reportedly took issue with a (cut) line in Kargman's Odd Mom Out depiction that described the designer's charity as something "to empower gold-diggers to stand up to their oppressors and divorce their husbands. It's called Melania's Tower." Sources say she confronted Kargman, calling it "rude" and "pathetic," while Kargman called it "a joke in a comedy show" and told her that her behavior was crazy. It's also said to have ended with Burch throwing out an all-time classic: "You should take a good look in the mirror, because you won't like what you see on the inside."
How did everyone else react? "The scene stunned partygoers dressed in wigs and baroque gowns." Mon dieu!
Papa John's Keeps Getting Owned
Papa John — né John Schnatter — weighed in on the NFL anthem protests, saying that his pizza sales have been hurt because the league's leadership haven't stopped athletes from kneeling. This is not the first time the official pizza of the NFL has blamed the NFL for declining sales, but it's definitely the dumbest.
He was mocked widely, from ordinary citizens saying that his pizza sucks, to other pizza chains using this as an opportunity to make fun of a competitor. Pizza Hut's CEO told investors "we're not seeing impact on any of that on our business," while DiGiorno's tweeted this:
Your move, Domino's.
Bette Midler Roasted the Hocus Pocus Remake
The scourge of remakes in Hollywood seemingly isn't going away anytime soon, but nobody needs a Hocus Pocus remake. We know it, you know it, and Bette Midler definitely knows it.
"I know it's cheap. It's going to be cheap!" the original Sanderson sister told People of the planned reboot. "I'm not sure what they're going to do with my character. My character is very, very broad and I don't know who they're going to find to play that."
Damn, Bette, tell us how you really feel.
Catch up on previous drama here.