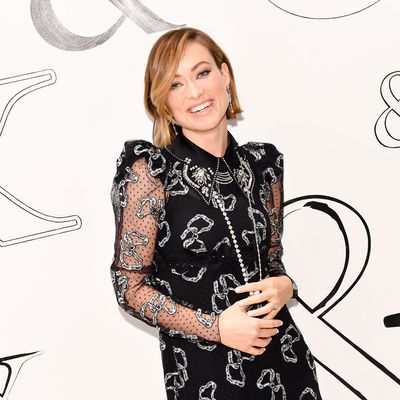 Olivia Wilde in Giambattista Valli and Tiffany jewels.
Photo: Zach Hilty/BFA.com/Zach Hilty/BFA.com
If there's ever a Breakfast at Tiffany's film reboot, actress Olivia Wilde should definitely audition. Not only does she have the look of Audrey Hepburn, who plays Holly Golightly in the 1961 version, but she's also got a profound adoration for the American jewelry brand.
"For me, the brand is very much connected to romantic nostalgia; family; gifts from my grandmother and my mother," Wilde gushed on Wednesday night at the grand opening of the new Tiffany's Blue Box Café. Actress Riley Keough — another strong Golightly contender — was also in attendance, along with influencers Garance Doré, Aimee Song, and Charlotte Groeneveld.
Today, unlike 56 years ago, a modern Ms. Golightly can actually enjoy a sit-down meal at the Fifth Avenue Tiffany store, as opposed to coffee and a croissant on the sidewalk in front of it. In addition to a fully functioning restaurant, the renovated fourth floor also houses Tiffany's new home and accessories collection by Reed Krakoff, which includes everything from a now-infamous $1,000 tin can to bronze silly straws and baby accessories. "A witty take on luxury" is how Mr. Krakoff described it.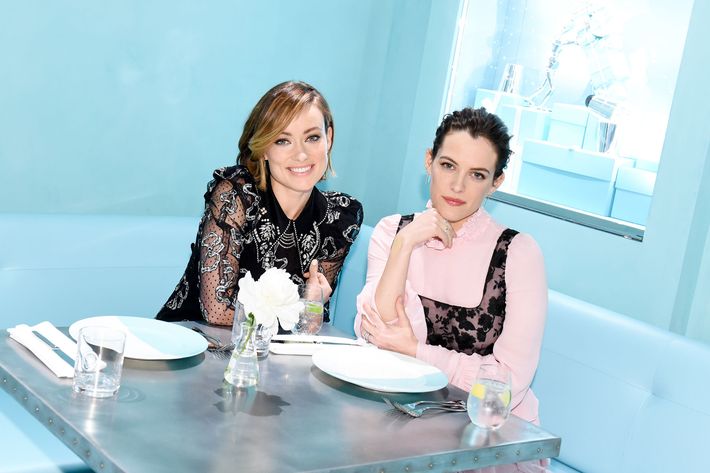 "I gave my daughter the Tiffany charm bracelet for her birthday," said Wilde, who's since gifted a Tiffany taxi charm to the young New Yorker as well. "I have this romantic idea that every year, I'll put another charm on. And when she's like, 5, she can wear it … and immediately lose it."
Joking aside, Wilde has thought a lot about gift-giving, and gets pretty existential on the subject. "Since becoming a mother, I've definitely reconnected to the idea of family heirlooms and history — tangible history — particularly in a time when everything is disposable and all photographs are digital," she said. "What evidence do we really have of the lives we're living? Hard, actual, tangible evidence?"
Wilde doesn't have all the answers. However, she does have some tips for thoughtful gift-giving as the holiday season approaches. "Don't give a book you haven't read yourself," she says, firmly. "Don't give a picture frame that doesn't contain a photo of some significance; don't give a baby gift that you wouldn't want your own child to have; don't give anything that squeaks or plays a song; and really, truly give things you want people to keep."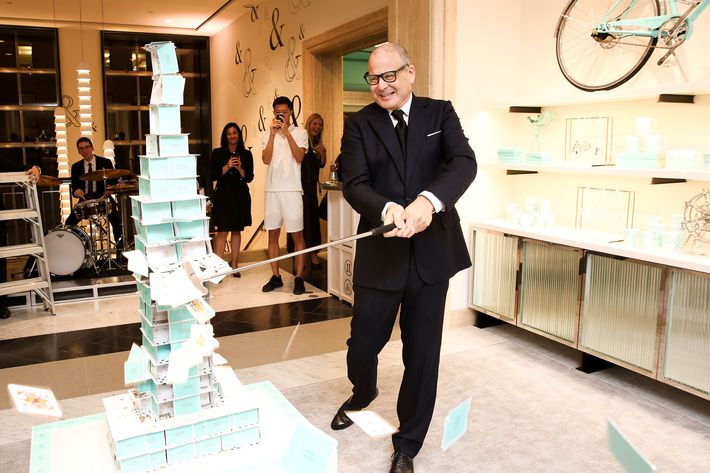 The fourth floor at Tiffany is filled to the brim with everlasting objects that comply with the Olivia Wilde Guide to Memorable Gift Giving. (As well as a chance to make some "real" memories over breakfast.) So many objects, in fact, that when I asked Wilde what was missing from the collection, she was genuinely stumped. As I got up to leave, however, Wilde came running over with an idea, tapping me on the shoulder.
"What we need are more necklaces that contain a flask," she said. "Any flask is great, but I want jewelry that can also be a flask. I want like, three shots of whiskey on me at all times."
And with that, she joined the party.