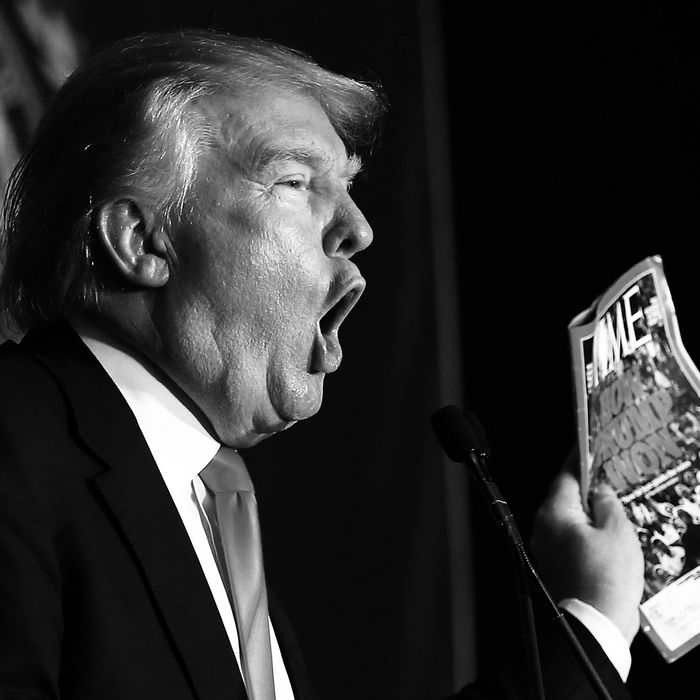 Trump holding up a copy of a real issue of
Time
in February 2016.
Photo: Joe Raedle/Getty Images
Apparently unsatisfied with his win last year, Trump is still obsessed with who Time magazine will name Person (or "Man") of the Year. Last night, Trump tweeted that he "took a pass" on being awarded the title for 2017 — a claim that the magazine swiftly denied, the Hill reports.
In December 2016, Time named Trump the 2016 Person of the Year for "reminding America that demagoguery feeds on despair and that truth is only as powerful as the trust in those who speak it," among other equally cynical reasons. This was undeniably a big moment for Trump, as he had tweeted out his frustration with the 2011, 2013, 2014, and 2015 Person of the Year selections (surprisingly, he did not tweet about 2012's winner, Barack Obama).
While most would be grateful for the rest of their lives upon receiving such an honor, Trump is not like most people. In his tweet last night, he claimed that he probably would've been Person of the Year again but he didn't want to "agree to an interview and a major photo shoot."
Three hours later, Time responded to Trump. Despite being so preoccupied with the award, the president does not understand the process of selecting the winner.
Alan Murray, Time Inc.'s chief content officer, also chimed in.
Earlier this year, a Washington Post report found that Trump had fake covers of the magazine hanging up in at least five of his golf clubs, which Time asked him to remove from his properties. In the words of Trump, that was some real fake news.