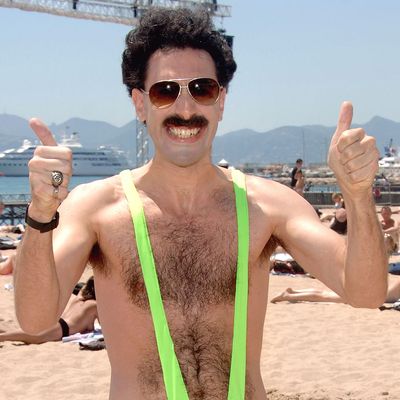 The original mankini.
Photo: Ian West - PA Images/PA Images via Getty Images
It's been 11 years since Borat was released, but that hasn't stopped dudes from doing the "mah wife" impression constantly, or from dressing in lime green mankinis and subsequently getting arrested in Kazakhstan.
The BBC reports that six Czech tourists wore Borat's signature swimwear in the capital, Astana, last week — where they were promptly arrested for "minor hooliganism" and each made to pay a fine of 22,500 Tenge ($67).
Many Kazakhs were famously displeased when Sacha Baron Cohen's movie came out in 2006, saying that it depicted their country as "a violent, primitive and oppressive place." It was initially banned, though years later it was credited with boosting tourism.
In conclusion, [Borat voice] mahhhh wiiiiiife.