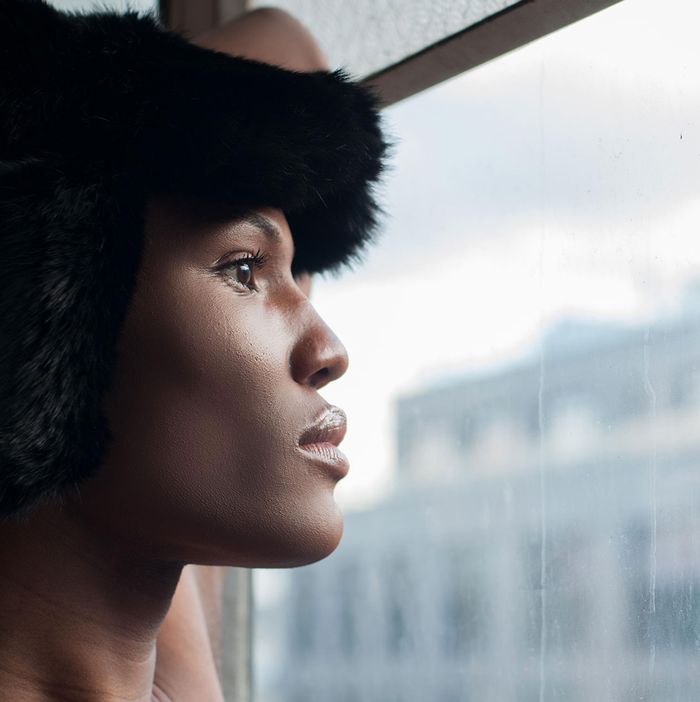 "I was making food at my friend's house when I saw my own face on crimestoppers," Merci Chrisette told me this past July, in the living room of a Bed-Stuy sublet. "It took me a moment to recognize myself. It was so surreal."
The crimestoppers segment aired on local news channels in December of 2015. Less than a week earlier, an onlooker on a Brooklyn A train had used their phone to record an altercation between Chrisette and two fellow passengers, and uploaded the video, which was soon reposted on the popular World Star Hip Hop website, under the title "She's Wildin: Transgender Woman Slashes 2 Men with a Box Cutter On A NYC Train." Tabloid attention followed quickly: the New York Daily News, Gothamist, and the Daily Mail. Chrisette was described as the "Transgender Subway Slasher," the "glamazon trans slasher," and a "flamboyant fashionista," among other misleading and sensational headlines.
The video opens midway through the altercation, with Chrisette brandishing a hair separator from a cosmetology school class and verbally confronting the two other passengers. Though she never touches them, she threatens to. At one point Chrisette turns towards the camera and, aware that she is being made a spectacle, says "Try and get my good side." Without evidence of what may have prompted her response, the clip frames Chrisette as a volatile provocateur.
When asked about the specifics of the incident, all Chrisette said was, "I'm used to being harassed constantly. And at the same time that I've learned to ignore it, there is this feeling of helplessness that accumulates over the years."
Merci Chrisette was born in Newark, New Jersey. At 14, she ran away from home. "I left with this dream of becoming a model," she said. "I'd imagined Gossip Girl glamour. Then in reality I'm living the Gossip Girl fantasy in a group home for LGBTQ youth."
Black, trans, and under legal age, finding steady employment proved virtually impossible, and she was forced to rely on the sex trade for income. Her first year in New York, she met an older man. It felt like love; soon, he was forcing her to see clients and demanding the money she made. When she tried to leave him, he pushed her down the stairs and injured her severely. She had just turned 16.
"I was naïve then. I thought I could trust people. But It's hard to find people you can trust in the world. Period. Then navigating the stigmas I do, as a Black trans woman, it's even harder. I was hanging out with people who weren't good for me, people I thought were my friends. I was desperate, you know? I shoplifted. I got caught. I went to jail. In and out. It wasn't good."
In her twenties, with a record behind her, Chrisette turned her focus toward going back to school. "I tried to focus on work," she said, "So I could get the money to go to cosmetology school. And eventually I was doing it, even if it meant having to be a withdrawn person and disassociating sometimes."
In 2015, she was working at a telemarketing agency. The environment in the office was transphobic but she knew other employment options were slim.  "It was very difficult working there," she told me, "The harassment started early, with both the men and the women. I tried to ignore it, but it kept getting worse." The morning of the incident on the Brooklyn A train, Chrisette was terminated from that job.
Chrisette turned herself into the NYPD soon after seeing the crimestoppers video. "I felt I had no other choice," she said. On New Year's Day, she was placed in a men's housing unit on Rikers Island. In every state in the U.S., trans women are routinely placed in male-designated facilities, then often additionally segregated from male prisoners, in a practice referred to as "protective custody." This means that if Chrisette is sentenced, she could end up spending much of her time in solitary confinement, simply because the New York state prison system has no other options available for trans feminine people.
At Rikers, with no one to pay her bail, all Chrisette could do was wait for information on an initial trial date. "I was in there terrified," Chrisette said. "There was a lot of harassment from the other inmates. The officers would harass me, too. Unnecessary statements, just to be rude and cruel." A couple weeks into her stay, she was pulled from her unit and informed by a guard that someone was there to visit her.
"I had no idea who it could have been. I thought it was probably my friend who I'd been crashing with. Then I went downstairs to see who it was, and this person tells me they fundraised my bail money. They asked if I wanted to be released. I thought it was a joke."
As it turned out, the visitor was part of an informal collective of queer and trans organizers of color who seized upon Chrisette's story as both a case study and a rallying cry — an illustration of just how often trans women, acting in self-defense, are told their behavior is criminal and, as a result, prosecuted.
These supporters saw Chrisette as representative in another way — as someone made "famous" by everyday anti-trans violence. On World Star, the video of her has been viewed over 800,000 times, and that's just one platform; the clip has been uploaded, viewed, deleted, and reposted on countless other sites since it first appeared.
This is, unfortunately, not surprising: footage of trans women, particularly trans feminine people of color, being attacked and verbally assaulted is an increasingly popular subset of viral digital content. In the 2016 report "Capturing Hate," published by Witness Media Lab, researchers analyzed 329 videos of violence against trans feminine and gender nonconforming people, all of which were recorded and uploaded by anonymous bystanders. The videos they analyzed were just a fraction of those that exist online, found using two search terms, "tranny fight" and "stud fight." In total, the 329 videos were viewed close to 90,000,000 times, with a 99 percent "like" rating.
The footage of Merci Chrisette is relatively nonviolent compared to some of the "tranny fight" videos with the most views and the highest like ratings. Generally, and perversely, brutality connotes popularity in this genre. Included among the videos analyzed by Witness Media: footage of a trans woman being beaten into seizure inside a Maryland McDonald's; two trans women being assaulted and stripped naked on Atlanta public transit; a gender nonconforming person, described as a "gay man in drag," being beaten in a Washington, D.C., pizzeria while onlookers cheer and applaud. Overwhelmingly, the beatings occur in very public spaces; almost all of the victims are people of color.
At this point, it is statistically indisputable that trans women and trans-feminine people of color face heightened risk of violence, and that, in addition to interpersonal violence, trans feminine people of color face disproportionately high rates of state-sanctioned violence, in the form of arrest and incarceration — as well as medical, employment, and housing discrimination. And while especially gruesome instances of violence against trans women of color occasionally appear in the news — namely, annual headcounts of Black trans feminine people lost to murder — the reality is that this violence is much more often not extraordinary, but quotidian. The moments captured in "tranny fight" videos are only a fraction of this constant assault.
Merci Chrisette had herself seen many of these videos, even discussed them with friends. In August of 2014, footage of another Black trans woman being assaulted in a Brooklyn subway station was posted on World Star, and quickly garnered hundreds of thousands of views. In the four-minute video, a man repeatedly slams the victim against the ground and nearby columns, rips her hair out, and punches her all over her body. No one intervenes.
In June of 2015, six months before the incident involving Chrisette, a trans woman was shoved in front of an oncoming train at the Bleecker Street subways station. It was 9 a.m., the peak of Monday rush hour. Chrisette knew about that attack, too.
"It feels like there's no way to get around in the world safely unless you don't go out at all," Chrisette said. "You always have to think, 'Okay, well what if I go outside and I don't make it back home?' Or, 'What if I go outside and something happens to me and I end up in the hospital?' It puts me in a constantly depressive state because I feel like it's never going to change."
Like many trans people, and trans women of color in particular, Merci Chrisette suffers from post-traumatic stress disorder — the result of the chronic violence and instability she has navigated since childhood. In the aftermath of the incident on the subway and the visibility that came with it, her PTSD has only gotten worse, she said. People still recognize her from the World Star video. "They point at me, they try and take pictures of me. People know who I am. And it's hard to bear, because it's not something I consented to," she told me. "Now I avoid leaving the house. Except for when I have to go to work. And then I try to only go outside when friends can accompany me."
Over a year and a half after the video went viral, Chrisette is still awaiting trial, currently scheduled for November 13. In the meantime, she's in therapy twice a week.
She's still committed to building a career for herself in the fashion industry.
Though nobody involved in the 2015 altercation requested medical care following the incident, Chrisette faces charges including assault in the second degree, menacing in the second degree, and criminal possession of a weapon (despite the supposed weapon being a hair-separating comb). She is now 29 years old and could face up to to seven years inside a men's prison. If convicted, her minimum sentence is five years.
"I'm very scared," Chrisette said. "I feel like everything that I've worked so hard for now, everything that I've accomplished, could be taken away in an instant. My career, my relationship, my friendships, my whole life is at the mercy of people who probably don't know what it's like to be me and go through everything I have."
Merci Chrisette's lawyer, Lauren Katzman of the Legal Aid Society, is pushing the Brooklyn district attorney's office to send her case to Brooklyn's Mental Health Court, known as MD1. Her legal representation has provided the DA with psychological evaluations diagnosing Chrisette with PTSD, agoraphobia, and panic disorder, indication that the reaction captured in the video may have been a triggered response rooted in cumulative trauma. If seen in Mental Health Court, Chrisette could avoid prison time and, instead, complete a mandated treatment program. As of mid-September, the DA has yet to agree to hear Merci's case in MD1. The best offer the DA has made is a plea deal for five years incarceration, followed by five years post-release supervision.
Some of the supporters who initially fundraised Merci Chrisette's bail have continued to informally organize on her behalf, in a collective they call #Fight4Merci. They pack the court when Chrisette has hearings, and help with legal strategy and research. If she is convicted, #Fight4Merci has pledged that they will continue to fight her sentence, and to financially support her while she is inside.
"It makes me feel so humbled to know that there are people who care enough to fight for me," Chrisette said in early September, a few weeks out from a September 25 hearing. "People like me feel like we're not important. We feel like we don't matter. This is about all of us: the way we're depicted, the way we're treated, the ways we're expected to deal with it or be dealt with."
"As a community, trans women of color — especially Black trans women — are forced to defend themselves, and punished for doing so," said one supporter of #Fight4Merci. "When we saw the video, we already knew how the police, courts, and prisons target Black trans women. If this was a white cisgender woman on the train screaming at someone, this would be a different story. We all know that."