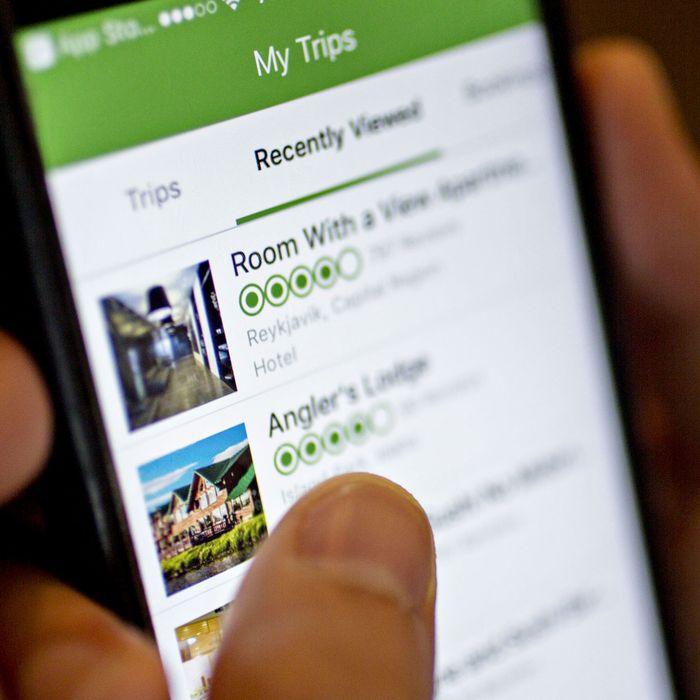 TripAdvisor.
Photo: Andrew Harrer/Bloomberg via Getty Images
TripAdvisor is placing icons next to hotels and resorts where sexual assaults have occurred, the New York Times reports. The warnings rely on news reports and user comments — but while the locations will be flagged, the listings won't actually be taken down from the travel website.
According to the Times, three highly ranked resorts in Playa del Carmen, Mexico, have been flagged so far by TripAdvisor. Each of the assault badges — which show up as red boxed warnings on the hotels' listings — will remain on the pages of the resorts for up to three months, at which point TripAdvisor will decide whether to extend or take down the warnings.
The decision comes after the website issued a public apology to a woman who claimed TripAdvisor repeatedly deleted her 2010 forum post about the Paraiso Maya resort in Mexico, where she alleges she was raped by a security guard. The Milwaukee Journal Sentinel reported TripAdvisor said the post went against its former policy of only allowing "family-friendly language." But another guest told the Journal Sentinel that the company wouldn't allow her to post about a 2015 assault that occurred at that same hotel — which TripAdvisor claimed included a medical diagnosis.
And so, the company is now making an effort to help users identify spots where assaults have been identified. "We want consumers to see good and bad reviews of businesses," spokesman Kevin Carter told the Times.