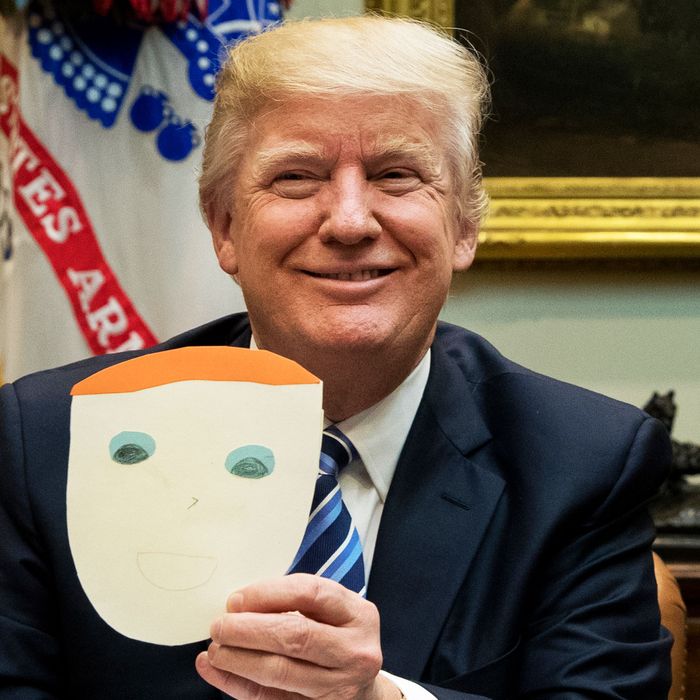 The artist appreciating a fellow child's art.
Photo: Pool/Getty Images
They may be no George W. Bush, but both John F. Kennedy and Donald Trump have dabbled in the arts. Kennedy, whose preferred medium was oil paint, loved a colorful landscape; Trump, inspired by buildings, appears to be more of a pen and markers man. On December 2, according to TMZ, their oeuvres will be on display and up for auction at Heritage Auctions' Americana & Political Memorabilia.
Our current president's doodle is a simple skyline of none other than the Big Apple, featuring bright yellow cabs, stick people, and lush trees, all sandwiched between two squiggly lines. It's unclear whether the trees are growing and people are walking in the middle of the street, or if cabs are driving on the sidewalk.
While another one of Trump's NYC skylines sold for nearly $30,000 earlier this year, one of his sketches of the Empire State building sold for $16,000 a month ago. At the upcoming auction, this early-aughts Trump vintage that he donated to charity in 2005 is expected to sell for at least $15,000.
At the same event, one of Kennedy's original oil paintings from 1955 will be up for auction. This piece — another skyline, though it's unclear which — has been hanging in Robert F. Kennedy's Hickory Hill home for years, and is expected to be bought for $50,000.
Both pieces are signed by the artists.