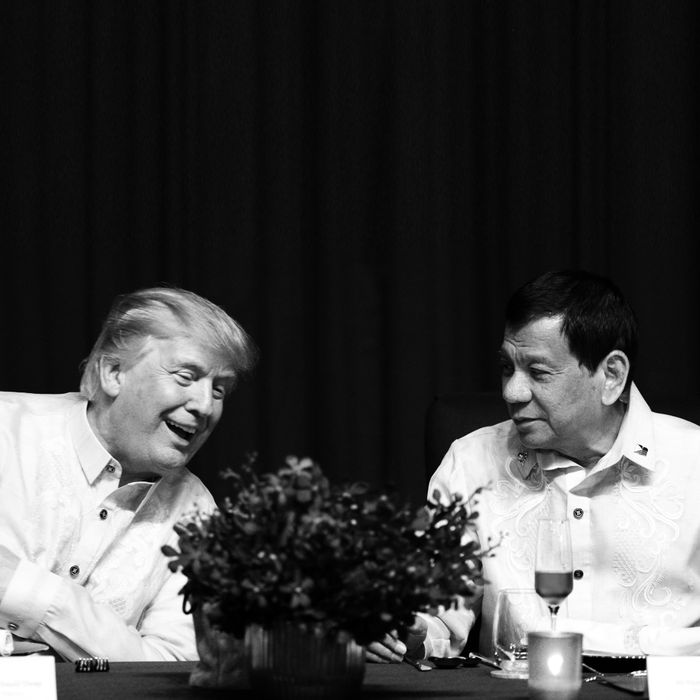 Look at those smiles.
Photo: ATHIT PERAWONGMETHA/AFP/Getty Images
Often in life, to get what you want, you must demand it. At the Association of Southeast Asian Nations summit gala dinner in Manila last night, CNN reports that Trump asked Rodrigo Duterte, the Philippines president who's notorious for his human-rights violations, to sing him the classic Pinoy love song, "Ikaw." According to a generic YouTube video of the song with English subtitles (that may or may not be accurate), the lyrics are extremely romantic.
The love that's all divine

I'm blessed you are now mine

The bliss that fill my emptiness

My love, my life

Now you are mine




And this love is what I prayed for

All my life is what I have longed for

Is to love you forevermore
While the passion of this proclamation would suggest otherwise, Trump and Duterte's bond is relatively fresh. It wasn't until this past May that their relationship first gained widespread attention when a leaked call transcript between the two circulated online.
"I just wanted to congratulate you because I am hearing of the unbelievable job on the drug problem," Trump told Duterte, whose ruthless anti-drug campaign has left more than 2,000 people dead. C'est romantique!
On the same call, the two also bonded by bad-mouthing Kim Jong-un (unstable) and Barack Obama (a failure), a major milestone in any relationship. Before saying goodbye, Trump was extremely forward with Duterte, telling him, "I will love to have you in the Oval Office, anytime you want to come." ;)
The anticipation of meeting in person has clearly been overpowering at times. According to a report by The Philippine Star, they have talked on the phone at least twice since Trump took office, and leading up to this week's summit, an official close to Duterte told The Star that Duterte was not just "excited" to meet Trump, but "overwhelmed." Finally, on November 11, the two locked eyes in person, a union that was captured in the background of a selfie.
The rest is history: at the dinner, the two were jovial, joking about how journalists are spies and condemning ISIS. Only briefly did the subject of human rights come up, as that's not a very sexy topic. As for the love song, one must watch the actual video to comprehend what words cannot convey.