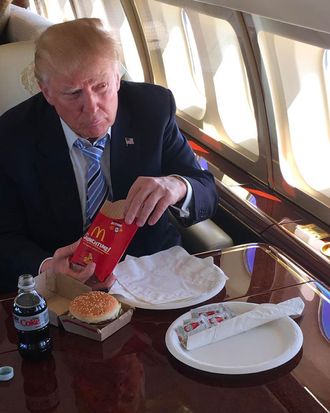 Trump enjoying a McDonald's meal on his private jet in May 2016.
Photo: @realdonaldtrump/Twitter
The office of president of the United States comes with numerous privileges, from being the leader of the most powerful nation on earth to having access to the nuclear codes. The most enjoyable for Donald Trump, however, appears to be the food situation. And what a situation it is.
Almost immediately after being sworn in, Trump had the White House kitchen stocked with Lay's potato chips. At dinners, he's said to get two scoops of ice cream instead of the requisite one given to everyone else. (Except for Mike Pence, who eats a fruit plate.) And he reportedly sent his bodyguard out to get McDonald's, which he preferred to the food specially made in the White House kitchen.
A new article in Politico looks at the tenure of former bodyguard turned aide Keith Schiller, as he's set to be interviewed by the House Intelligence Committee as part of its Russia investigation. In part, it mentions this bit about how Schiller indulged the president's gastronomical whims:
And when the White House kitchen staff couldn't match the satisfaction of a quarter-pounder with cheese (no pickles, extra ketchup) and a fried apple pie, it was Schiller, bodyguard and Trump whisperer, who would head down New York Avenue to McDonald's on a stealth fast food run.
Schiller left his position in September, at which point we can only assume someone else was tasked with making sure Trump continues to receive a steady-enough stream of McDonald's to keep him placated.