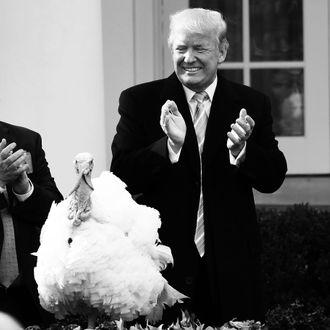 Donald Trump.
Photo: ANDREW CABALLERO-REYNOLDS/AFP/Getty Images
On Tuesday, Donald Trump appeared publicly with a large bird for the first time since he was attacked by a bald eagle. While preparing to "pardon" a turkey during the annual National Thanksgiving Turkey Presentation, the president couldn't resist joking about his constant efforts to overturn Obama-era policies.
"There they'll join Tater and Tot, the two turkeys pardoned last year by President Obama. As many of you know, I have been very active in overturning a number of executive actions by my predecessor," he said. "However, I have been informed by the White House Council's office that Tater and Tot's pardons cannot, under any circumstances, be revoked … so Tater and Tot, you can rest easy."
Tater and Tot have yet to comment publicly, but sources say they not only oppose overturning the Affordable Care Act, they support Medicare for All.