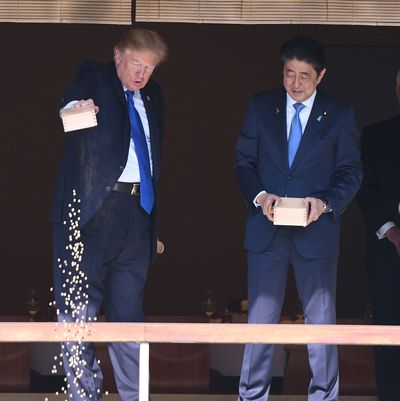 Trump losing the coveted koi-enthusiast vote.
Photo: JIM WATSON/AFP/Getty Images
If you long for a simpler time when people got upset about the color of the president's suit, his distaste for particular vegetables, or the First Lady briefly touching Queen Elizabeth II's back, there's finally a Trump scandal for you.
Trump just started his 12-day trip in Asia, which promises to be a difficult operation — and not just because one of the primary topics of discussion is North Korea's nuclear ambitions. There's all sorts of protocol that foreign leaders are expected to adhere to when visiting the region. Some examples, from the AP:
When in Asia, make sure handshakes aren't too long — or short. Don't bobble names or titles. Stifle the critical tweets. Don't question the food.
Also, don't overfeed the fish.
Trump became the latest U.S. president to display poor etiquette in Japan on Monday, when feeding the koi carp of Akasaka Palace with Prime Minister Shinzo Abe. It is traditional for world leaders to stop and view the fish, and Trump was given a bowl of fish food and invited to join Abe in delicately spooning pellets to the fish. Eventually, Trump lost patience and dumped out the rest of his bowl, making Secretary of State Rex Tillerson chuckle.
Fish lovers on Twitter were appalled, since overfeeding can make koi sick. As The Guardian notes, it's likely a palace employee was dispatched to remedy whatever issues were caused by Trump's indelicate feeding technique. Still, some welcomed the opportunity to take a break from the horrifying news in recent days and indulge in fish puns and Trump jokes.
Update: But, as much as the incident seemed to encapsulate Trump's unique brand of American brashness, it turns out there was more to the story. An AP photo (along with some reporters' accounts) that helped sparked the outrage came in the context of an extended fish-feeding — and the full video shows that Japanese prime minister Shinzo Abe dumped the entirety of his fish food into the water before Trump did. Trump was merely following suit.