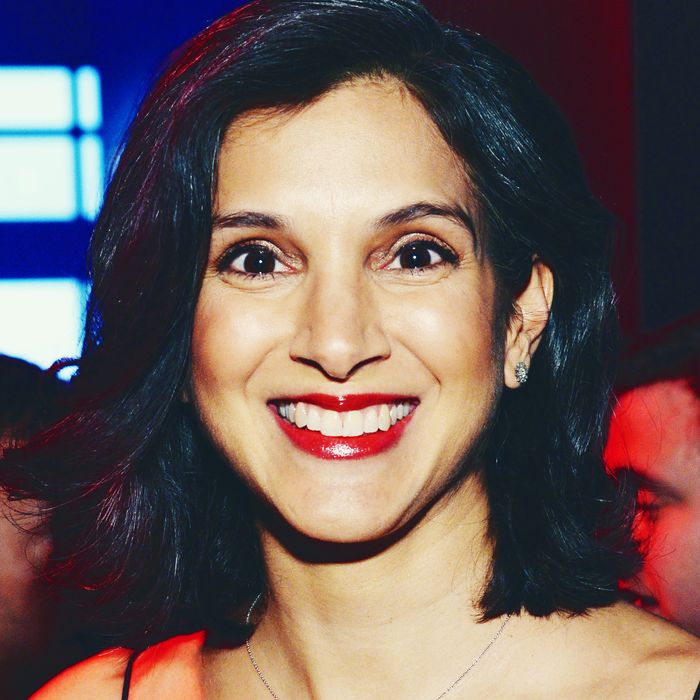 Radhika Jones.
Photo: Larry Busacca/Getty Images for TIME
The first day on the job is never easy, even when you're the Harvard-educated new editor-in-chief of Vanity Fair. According to WWD, the magazine's fashion editors were overheard critiquing Radhika Jones's outfit choices when she visited the Condé Nast offices this week at One World Trade.
"She seemed nervous. The outfit was interesting," said one staffer in a candid conversation. They went on to describe Jones's navy shift dress with zippers as being "iffy," but were particularly scandalized by her choice of tights, which were covered with illustrated, cartoon foxes. "I'm not sure if I should include a new pair of tights in her welcome basket," the staffer added, further twisting the knife.
According to WWD, Anna Wintour is also said to have "fixed one of her trademark stoic glares upon Jones's hosiery throughout the duration of the staff meeting."
While you might not want to wear cartoon fox tights for your next Condé Nast interview, editors at the Cut agree that Ms. Jones has great taste, and are curious to know where she got them. The cool thing about foxes is that they eat jerks for breakfast.