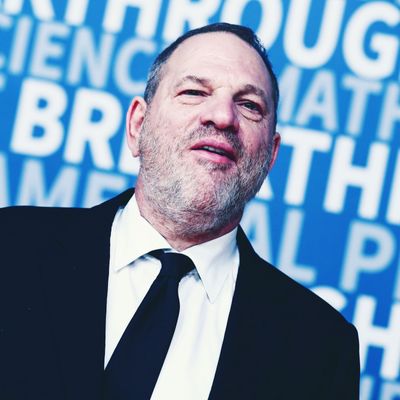 Harvey Weinstein.
Photo: John Salangsang/BFA.com
Harvey Weinstein and his former companies, the Weinstein Co. and Miramax, were hit with a proposed class action in California federal court on Wednesday, alleging they facilitated the Hollywood producer's pattern of harassment and sexual assaults, the Wrap reports.
The lead plaintiff in the lawsuit is a Jane Doe actress — who alleges Weinstein became belligerent after she refused to expose her breasts during an audition at his Miramax office — but the lawsuit is filed on behalf of hundreds of female actresses who were placed in harm's way by having to interact with Weinstein. The Wrap notes that the lawsuit is soon expected to expand to include "dozens" of other plaintiffs.
"Plaintiff, and hundreds of other female actors like her, found themselves with Weinstein … at offices, in hotel rooms, or at rooms at industry functions," the complaint reads.
It continues, "Under the guise of meetings ostensibly to help further Class Members' careers or hire them for roles, Weinstein isolated Plaintiff and the Class Members in an attempt to engage in unwanted sexual conduct that took many forms: flashing, groping, fondling, battering, sexually assault, attempted rape and/or completed rape."
The suit seeks financial damages for those who auditioned for Weinstein or were lured into harassing situations with the producer. It cites violations of the federal RICO statute, which one of the lead plaintiff's attorneys, Chris Armena, told the Wrap, "gives all woman across the country and the world the ability to bring their claims in as safe an environment we can create." The statute is used to bring down criminal enterprises.
News of the putative class action comes only one day after it was revealed that an unnamed actress was suing Weinstein in Los Angeles court for rape. Dozens of other women have also come forward in recent weeks to accuse the former Hollywood titan of sexual harassment and assault.