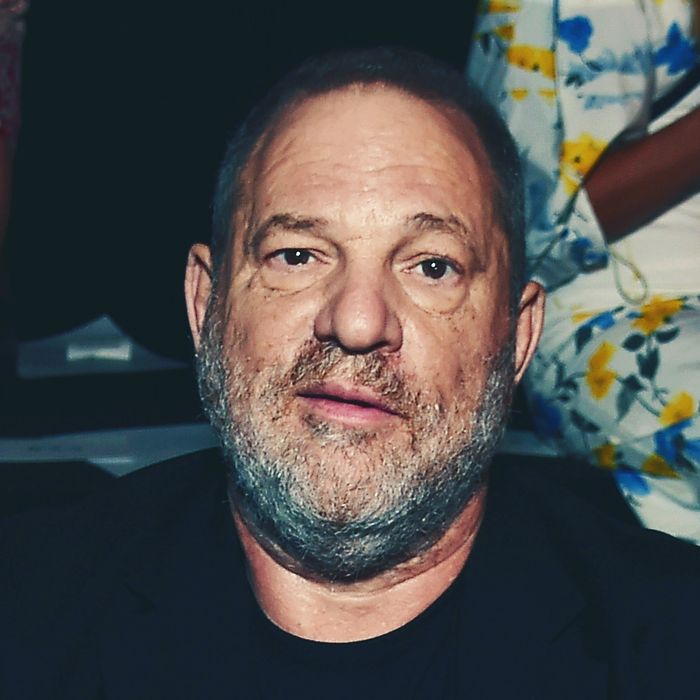 Harvey Weinstein.
Photo: Nicholas Hunt/Getty Images For NYFW: The Shows
The New Yorker has published a follow-up to its earlier story on allegations of sexual harassment made against Harvey Weinstein, and like the other bombshell accounts, it is damning.
The story, written by Ronan Farrow, documents that starting in the fall of 2016, Weinstein put an elaborate "army of spies" in place to suppress allegations of sexual harassment and assault from coming out in The New Yorker and New York Times. (He also targeted New York Magazine's editor-in-chief Adam Moss and reporter Ben Wallace who was working on a story about Weinstein at the time.)
Weinstein reportedly hired private security agencies, staffed by people who had previously worked in Israeli intelligence, to collect information both on women like Rose McGowan who had accused him of sexual assault and on the journalists who were trying to expose him.
Read the full story here. In the meantime, here are the biggest shockers.
Weinstein allegedly hired corporate security agencies to prevent the allegations from emerging.
"According to dozens of pages of documents, and seven people directly involved in the effort, the firms that Weinstein hired included Kroll, one of the world's largest corporate intelligence companies, and Black Cube, an enterprise run largely by former officers of Mossad and other Israeli intelligence agencies. Black Cube, which has branches in Tel Aviv, London, and Paris, offers its clients the skills of operatives "highly experienced and trained in Israel's elite military and governmental intelligence units," according to its literature."
One of the operatives met with some of the women who brought up allegations against Weinstein, as well as journalists pursuing stories on him.
"One of the investigators pretended to be a women's-rights advocate and secretly recorded at least four meetings with McGowan. The same operative, using a different false identity and implying that she had an allegation against Weinstein, met twice with a journalist to find out which women were talking to the press. In other cases, journalists directed by Weinstein or the private investigators interviewed women and reported back the details."
The operatives put together reports and dossiers on journalists reporting on Weinstein, including New York Magazine's editor-in-chief Adam Moss.
"All of the security firms that Weinstein hired were also involved in trying to ferret out reporters' sources and probe their backgrounds. In a series of e-mails…Dan Karson of Kroll sent Weinstein preliminary background information on Wallace and Moss. 'No adverse information about Adam Moss so far (no libel/defamation cases, no court records or judgments/liens/UCC, etc.),' Karson wrote in one e-mail. Two months later, Palladino, the PSOPS investigator, sent Weinstein a detailed profile of Moss. It stated, 'Our research did not yield any promising avenues for the personal impeachment of Moss.'"
Celebrated lawyer David Boies was allegedly aware of some of these tactics.
"In some cases, the investigative effort was run through Weinstein's lawyers, including David Boies, a celebrated attorney who represented Al Gore in the 2000 Presidential-election dispute and argued for marriage equality before the U.S. Supreme Court. Boies personally signed the contract directing Black Cube to attempt to uncover information that would stop the publication of a Times story about Weinstein's abuses, while his firm was also representing the Times, including in a libel case."
Weinstein's team reportedly hired a freelance investigative journalist to interview the women accusing him of sexual harassment and assault.
"Black Cube also agreed to hire 'an investigative journalist, as per the Client request,' who would be required to conduct ten interviews a month for four months and be paid forty thousand dollars. In January, 2017, a freelance journalist called McGowan and had a lengthy conversation with her that he recorded without telling her; he subsequently communicated with Black Cube about the interviews, though he denied he was reporting back to them in a formal capacity. He contacted at least two other women with allegations against Weinstein, including the actress Annabella Sciorra, who later went public in The New Yorker with a rape allegation against Weinstein."
The team reportedly gathered information on women accusing Weinstein of sexual assault that could later be used to discredit these women.
"Another firm, the Los Angeles-based PSOPS, and its lead private investigator, Jack Palladino as well as another one of its investigators, Sara Ness, produced detailed profiles of various individuals in the saga, sometimes of a personal nature, that included information that could be used to undermine their credibility. One report on McGowan that Ness sent to Weinstein last December ran for more than a hundred pages and featured McGowan's address and other personal information, along with sections labelled "Lies/Exaggerations/Contradictions," "Hypocrisy," and "Potential Negative Character Wits," an apparent abbreviation of "witnesses." One subhead read "Past Lovers." The section included details of acrimonious breakups, mentioning Avellan, and discussed Facebook posts expressing negative sentiments about McGowan."