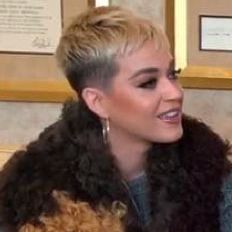 Katy Perry and Warren Buffett.
Photo: katyperry/Instagram
Warren Buffett, the CEO and chairman of Berkshire Hathaway, is the fourth-richest man in the world. Katy Perry is a Taylor Swift nemesis and American Idol judge who once livestreamed herself for an entire weekend. What could these two possibly have to talk about? According to a recent Instagram post by Perry, the answer is cryptocurrency.
"nbd asking Warren Buffett his thoughts on cryptocurrency," she wrote in the caption.
Perry visited Buffett at the Berkshire Hathaway offices in Omaha, Nebraska, this week, and in addition to discussing the pros and cons of bitcoin, the pair got some sodas together ("This is a richer Coke," Buffett bragged in Perry's Instagram Story. "We make it a little stronger on the syrup."), and Perry asked him for stock tips.
Maybe she also asked the 81-year-old Buffett for some more dad-jokes to use at her next hosting gig.