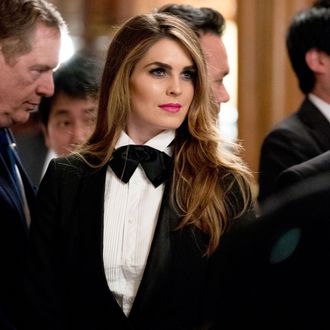 Hope Hicks.
Photo: Andrew Harnik/AP
On Monday night, White House communications director Hope Hicks stole the show at Japanese prime minister Shinzo Abe's state banquet, dazzling everyone in her gender-bending ensemble of black tuxedo, pleated white dress shirt, and satin bow tie. Although she's been largely a discreet presence on the Trump team, the 29-year-old Hicks — a former model — proved she knows how to train a spotlight on herself, and she chose the grand Akasaka Palace as backdrop for her breakout moment of full-blown cinematic glam.
As Marlene Dietrich and Lauren Bacall knew, mannish attire can actually highlight feminine beauty. It works via contrast. We expect a man's suit jacket to be filled with a masculine torso. If instead the jacket limns a curving waist or hints at a bosom, we are startled and refocus our attention on the femaleness of the wearer.
To this, Hicks added still more vamped-up details: lapel-sweeping glossy brown waves, dramatic contouring and eye makeup, and "a pink lip," as some reporters described it — understandably lapsing into fashion-magazine lingo. Photos from the event seem lifted from a Ralph Lauren ad — all golden light, wood paneling, a sea of dark-suited men, and the Greenwich, Connecticut-born Hicks as dandified femme fatale at the center.
How can we interpret Hope Hicks's choice of this occasion to remodelize herself? And why forgo her usual feminine dresses for a tuxedo, flouting the president's reputed dictate that his female employees "dress like women"?
As so often happens, many interpreted Hick's striking beauty as, well, "striking" someone — taking on an aggressor or competitor of some kind. Vanity Fair imagined Hicks's "target" to be the boss's wife, noting that Hicks had "never stood out more — even upstaging First Lady Melania Trump, who wore a red Valentino gown." On Twitter, Rachel Tashjian suggested a battle between Hicks and her male colleagues, writing, "Whoa, Hope Hicks in a tux … teasing Trump's inner circle by looking better in their clothes?"
It's true that Melania looked uncharacteristically demure in a capelike Valentino that skimmed rather than hugged her figure. And it's inarguable that Hope looked way better in her tux than any of the men. But let's think beyond the usual assumption that all women exist in a perpetual beauty pageant with everyone around them. Let's consider Hope's star turn in Japan in the broader, political context of what awaits upon her return.
About a week ago, we learned that special counsel Robert Mueller had summoned Hicks to be interviewed by his committee. She has retained an attorney and is slated to appear in mid-November, directly after returning from Asia. We have also learned that Hicks had at least some knowledge of ongoing communications between the Trump campaign team and Russia, that she was apprised (along with Corey Lewandowski) in June of 2016 of Carter Page's trip to meet with Russian legislators.
Very soon, then, Hope Hicks is likely to morph from background staffer into front-page story, joining the lineup currently led by Manafort, Papadapoulous, and Page. In other words, Hope Hicks is about to become one of "the suits" — and not in a good way.
Given this, it starts to make sense why Hicks suddenly donned a suit to seize center stage with a news story she could control, making headlines for defusing the phallic power of the suit and turning it into an alluringly feminine (read: harmless), even sexy costume. And "costume" is the operative word here. In her cutely androgynous tux, Hicks can seem to be only "playing" at power, charmingly borrowing its garments, for just as a man's suit can make a woman seem extra-feminine — highlighting her distance from masculinity — so can it make her seem innocuous, highlighting her distance from the authentic power wielded by men in suits.
Ironically then, by wearing a version of a man's power uniform, Hope Hicks underscored only her girlish innocence, asking to be viewed more as a young model and less as a fully mature and responsible White House aide. Obligingly, the press responded with coverage focused more on cosmetics than on collusion.
Hope has stolen a page from the playbook of Ivanka Trump, the other model turned presidential adviser who seems to float above the fray on her own perfumed cloud. Ivanka, of course, rarely resorts to menswear, tending instead to emphasize her own blameless (and daughterly) youth and femininity with lots of pretty pink things, sometimes adorned with ribbons, bows, or flowers.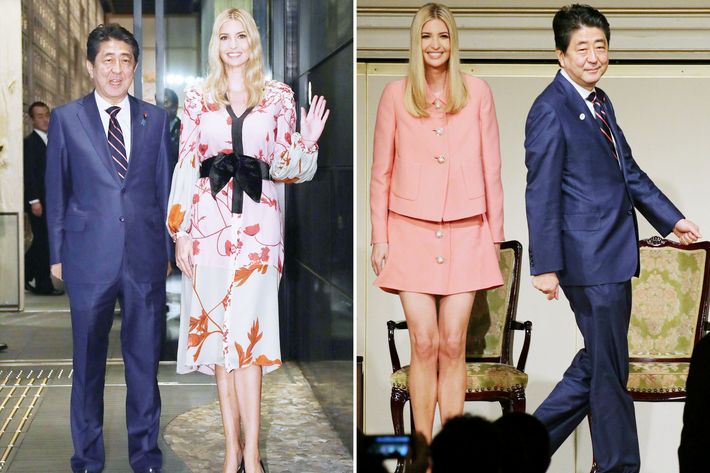 This strategy was on display during her visit to Japan, days in advance of her father's. For her Tokyo speech on "female entrepreneurship," Ivanka wore a pale pink Miu Miu suit with boxy jacket and tiny miniskirt. While many found the skirt inappropriately short, the suit's babyish color, big, flower-design buttons, and oversize shape somewhat offset the sexiness factor, evoking a schoolgirl's uniform. The overall effect was leggy-bombshell-meets-darling-child — a hybrid of feminine stereotypes, all of which defang a woman's authority (and reveal the utter disingenuousness of Ivanka Trump's serving as a spokesperson for female empowerment).
Later that same day, Ivanka swapped one costume for another. For dinner with Prime Minister Abe, she changed into a form-fitting, floral-print gown in pink, rose, and cream, with obi-like belt tightly cinched to emphasize the bosom, designed by Johanna Ortiz. In this get-up, she looked both sexy and disrespectful — a Halloween geisha. The dress suggested a clichéd reduction of a traditional Japanese kimono. (Given her various looks in Japan, we might wonder whether Ivanka prepared for her trip by watching The Mikado.) It was the sartorial equivalent of President Trump's own cartoonishly Orientalist remark about Japan being "a country of Samurai warriors."
Japan seemed to entice some of the Trump administration women into even more vivid fashion theater than usual, drawing them into some especially costumey choices: Ivanka in her baby-doll/geisha looks and Hope in Victor/Victoria mode. As we've seen on other occasions, the White House women seemed to be more about modeling looks than about representing a presidential agenda.
In a way though, their stylized, stereotypically feminine looks are the agenda. First, because they communicate perfectly Trump's retrograde gender politics. But also because they remind us of the pasteboard quality of this White House in general, its heavily staged quality. It's easy to look at Hope and Ivanka — both lovely but so slightly qualified for their positions — and see they are posing, since posing is a skill found on both their résumés. More important is to note that their model-y magnetism and the press it attracts are inversely related to their actual power. They function more as smoke and mirrors than they do as government officials.
If these women seem to be wearing costumes, it is also because they are being used as costumes — as decorative human disguises that deflect attention from chaos and scandal. Perhaps then we should consider them the fashion barometers of this White House. The more overtly costumey they look, the higher we should assume the pressure is building backstage.