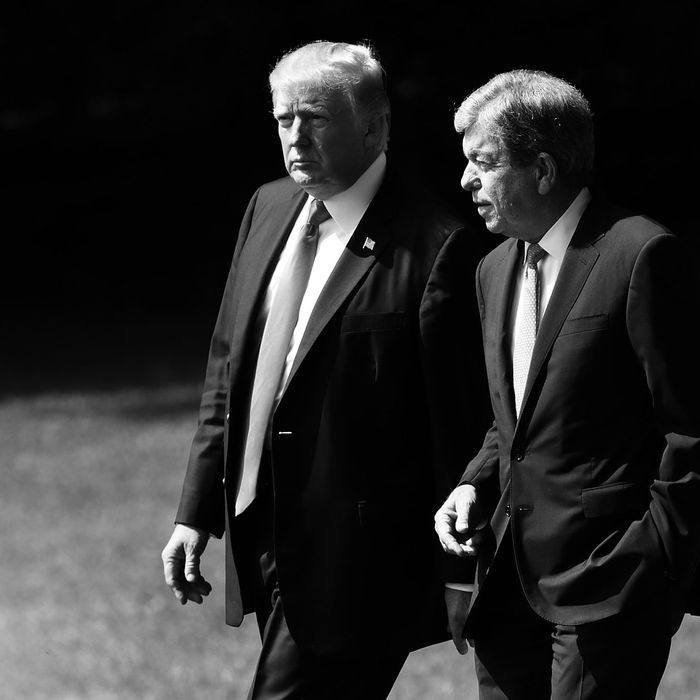 Donald Trump and Senator Roy Blunt.
Photo: Chip Somodevilla/Getty Images
When asked about Roy Moore's alleged sexual misconduct on this morning's Meet the Press, a White House official said that voters should get to decide whether or not the allegations against him should immediately disqualify the Republican Senate candidate, NBC reports.
White House Office of Management and Budget director Mick Mulvaney started off by defending Trump's silence surrounding the accusations against Moore, saying the president "doesn't know who to believe," and therefore "thinks that the voters of Alabama should decide."
"I think that's the most common sense way to look at it," he said.
Roy Blunt, Republican senator of Missouri, echoed a message similar to Mulvaney's. While Blunt said that the accusations against Moore are "more credible than [Moore's] response," he said the voters of Alabama ultimately get to decide whom they believe. When the conversation shifted to the accusations of sexual assault against Trump, which have come from more than a dozen women, Blunt reiterated his stance.
"Whatever [the accusers] had to say, people heard that and they elected President Trump president of the United States," Blunt said. "At some point I think you ought to let the voters have a say here."