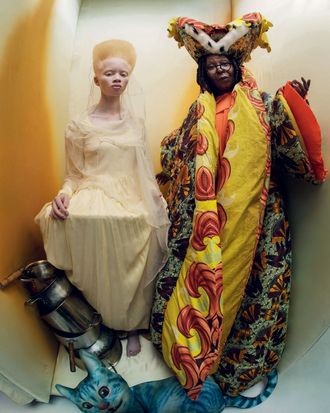 Whoopi Goldberg (at right) and Thando Hopa.
Photo: Tim Walker
Since its 1963 inception, the Pirelli calendar has cornered the market on a glamorous porn aesthetic — Pirelli is a tire company, after all. In recent years, however, the calendar's purpose has seemingly shifted. Under Annie Leibovitz's direction in 2016, an all-women cast was shot under the thoughtful construction of the female gaze. Then, 2017's calendar stars were all fully clothed and meant to deliver a truthful sense of beauty, as photographer Peter Lindbergh described. And 2018's calendar, shot by Tim Walker, reimagines Alice in Wonderland with an all-black cast. Alice is represented by model Duckie Thot, Whoopi Goldberg plays the Duchess, and Thando Hopa, a lawyer turned model, is the Princess of Hearts.
The Cut chatted with Walker, Thot, Goldberg, and Hopa about what this calendar means to them, why some were hesitant to agree to participate, and how this shoot will shape the future of modeling.
What went through your mind when you were initially approached by Pirelli?
Whoopi Goldberg: They called and asked if I would participate. You think I would have ever imagined that the Pirelli calendar would have called me for anything? I told Tom, who runs my company with me, to double-check if they really wanted me. The calendars, as I've known them, have sort of all been glamorous, and I'm a little rough around the edges. I said, "Are you absolutely sure, because this doesn't make sense to me," and that's when he said it's an all-black calendar, so then I said: "Okay, I'm in."
Thando Hopa: I wasn't immediately excited. When they said it was the Pirelli calendar and Whoopi Goldberg and Naomi … that was exciting within itself, but I didn't want to get excited until I fully knew what they were doing. I've picked my projects very carefully. I've gone into this particular industry with a certain purpose. I went through, I don't know if you can say an audition process, but they asked me to do a tape and tell them everything about what I've been doing. That alone meant that they wanted a particular substance to it. They needed to know me. They weren't just going to take pretty pictures.
The Pirelli calendar requires a certain level of vulnerability, and I actually asked them if I had to become vulnerable in terms of my body, and they said no. When I was looking at the history of the calendar, I considered it a form of vulnerability. But when I realized what they were doing, and that it was a retelling of Alice in Wonderland with an all-black cast, I felt such a sense of purpose.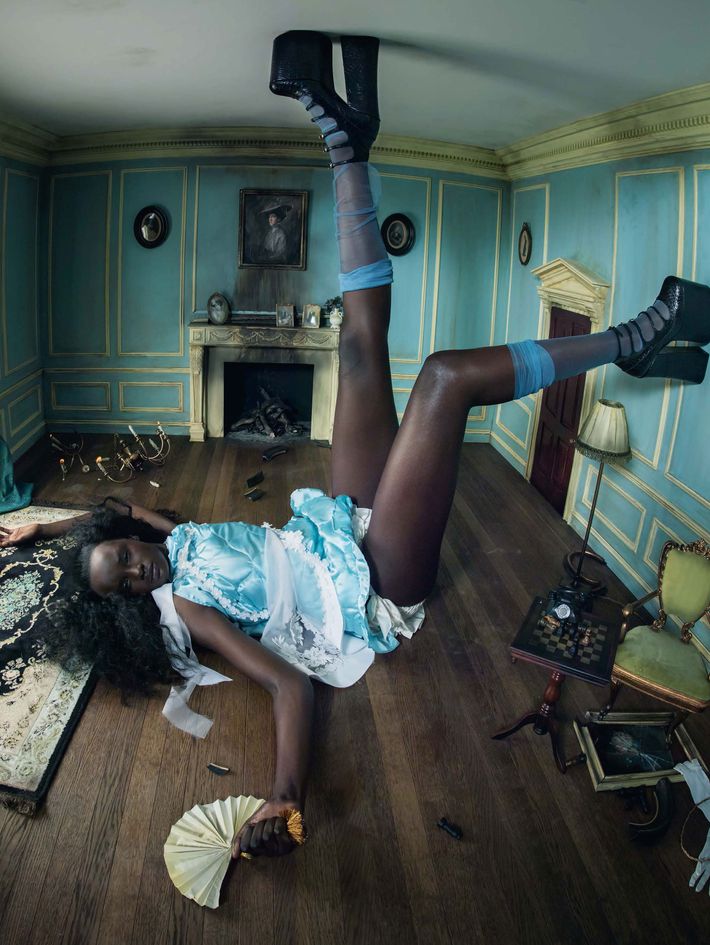 Can you describe what the vibe was like on set?
WG: We went into the room with the wardrobe, and it was racks of amazing shit. They told me I could choose what I wanted to wear. It was just spectacular.
Duckie Thot: I love Naomi. She's been the No. 1 person I've looked up to since forever. I was looking for Edward [Enninful] on set and planned to ask him to take me to Naomi, but then I saw that he was already with her in her room. I think she's the best because she is unapologetically herself. I aspire to be like that. And just being able to work with her is a dream come true. She is that woman in this game, in this business, and I just have so much love and respect for her.
WG: Because I'm old, I've probably gone through four or five periods of craziness in the country. I've always known how people see women of color and how they think of women of color. I get lots of comments. To be on the set with all colors of brown was extraordinary.
What was the decision-making process in formulating this year's calendar with an all-black cast?
Tim Walker: I wanted it to be a very definite comment on black beauty, which I think is sometimes forgotten about. I didn't want it to be watered-down. It's just something I find inspiring and I wanted to share that, so that's what we did. It's a celebration of beauty, simple as that.
For me, photography is a vocalization of the utopia. In a way, reality is difficult and sad, sometimes, and to a certain extent photography can be a projection of how life could be. Alice has been a mood that's always been around me. I've tapped into it many times as a photographer, the notion of the girl on a journey. When Pirelli asked me to do this, they were very keen that the pictures I took were led by fantasy. I went back to that.
TH: We spoke about representation, diversity, inclusion. It became one of those projects where you knew this particular thing would set such a precedent. It felt like something significant.
DT: I wanted it to be our version of Alice and not get lost in other people's interpretations of it. I made the decision to not divert my energy anywhere else and focus on the [Lewis Carroll] illustrations.
WG: Alice in Wonderland represents everything we're living right now. This is the human story. We're all down the rabbit hole at some point in our lives, and we all want somebody who is really smart [to guide us]. It's like when you go to dinner with family and they're all crazy. This is life as we live it.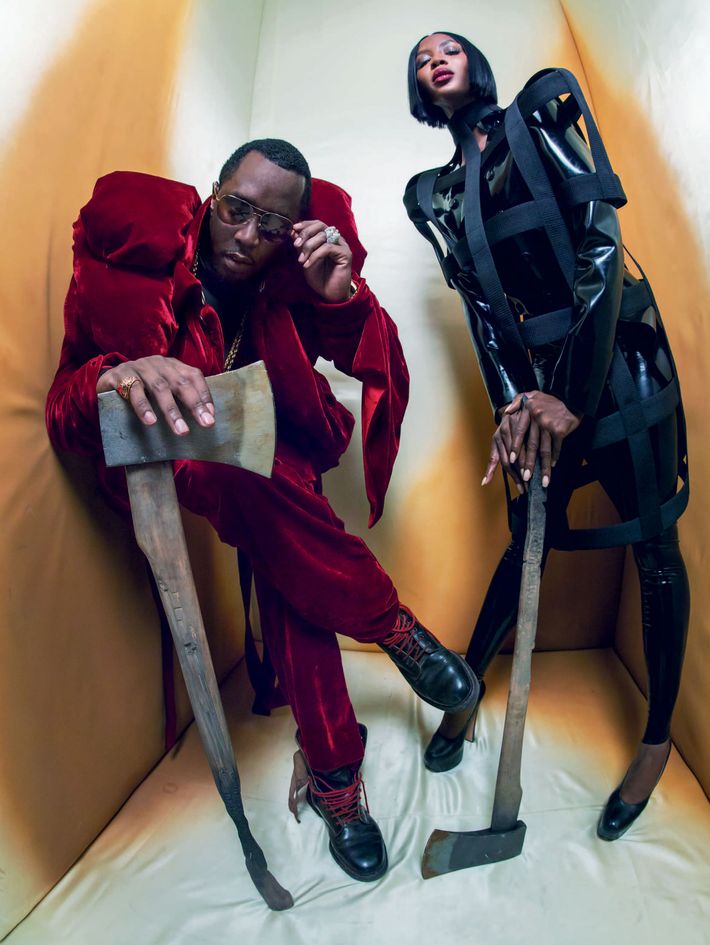 You talk about the importance of representation, and how you wished you had seen more people who looked like you in media growing up. What's it like becoming the person you wished you'd seen?
WG: I wrote a book called Alice because there were no characters that looked like my daughter when she was little. [In this shoot] none of us looks like anybody else. Each of us is unique looking. So whoever is looking at us … boy, girl, gender fluid … they are saying: "Maybe there is a place for me somewhere." And that's a great thing. When I got here there was no one. It's nice to see that when I'm moving in another direction, that they are welcoming the newbies.
DT: It's everything and more. I was born and raised in Australia, so I didn't have peers who looked like me. I never saw them on the covers of anything. I never saw them on my screen. It means so much to me because I know it's going to impact some girl's life in a way that I wish I had when I was younger. I knew there was something missing when I was growing up, but I didn't know what it was. To be able to have shot this and be Alice is so important to me.
TH: A lot of the time when you are looking at images, when you are growing up, it cultivates a lack of "enoughness." You start feeling inadequate because maybe you don't look a particular way. The more you have these kinds of projects showing diversity, it cultivates a sense of "enoughness" for everybody. You start seeing yourself in a way that you are allowed to be yourself. It says that you are valid. It's invaluable what that does for a young woman or a young man or anybody who isn't represented.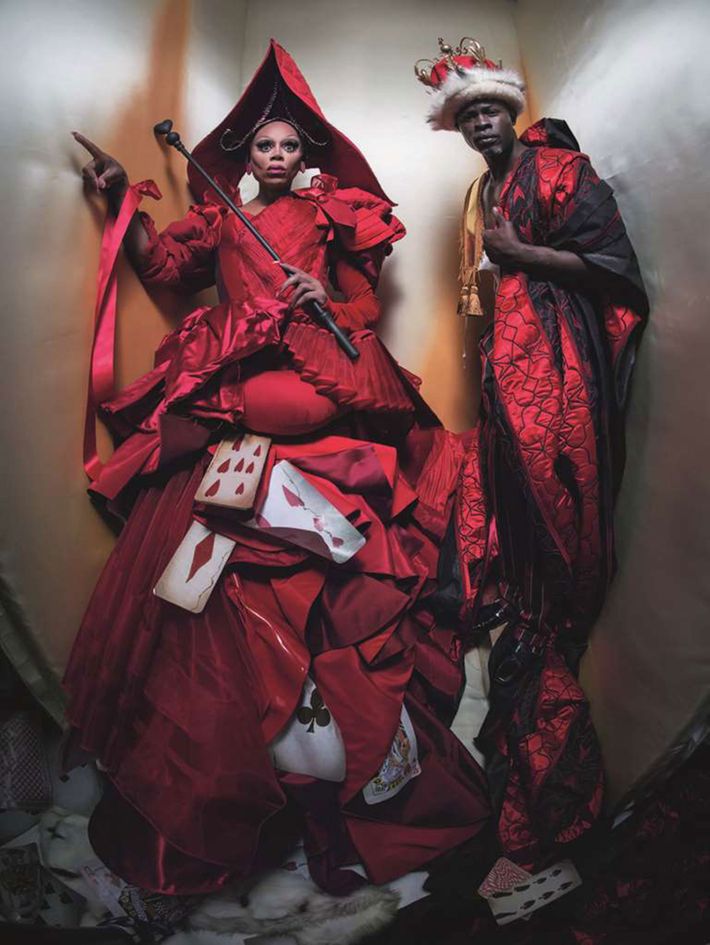 What gives you hope about diversity in modeling and fashion moving forward?
TH: Things like fashion are influential because they are identity-forming mediums. We look at something that tells us how we should be, who we should be, what we should look like. When you understand the influence of these mediums, there is a really high level of responsibility in how they need to be handled. When you talk about diversity and inclusion, they aren't just words. When we show certain things we hope that they materialize in society and how we treat each other. We start humanizing difference. We start to understand that there is far more that unites us. Visual mediums are very strong educational pillars in terms of how we see each other. It helps us access one another.
This interview has been edited and condensed.