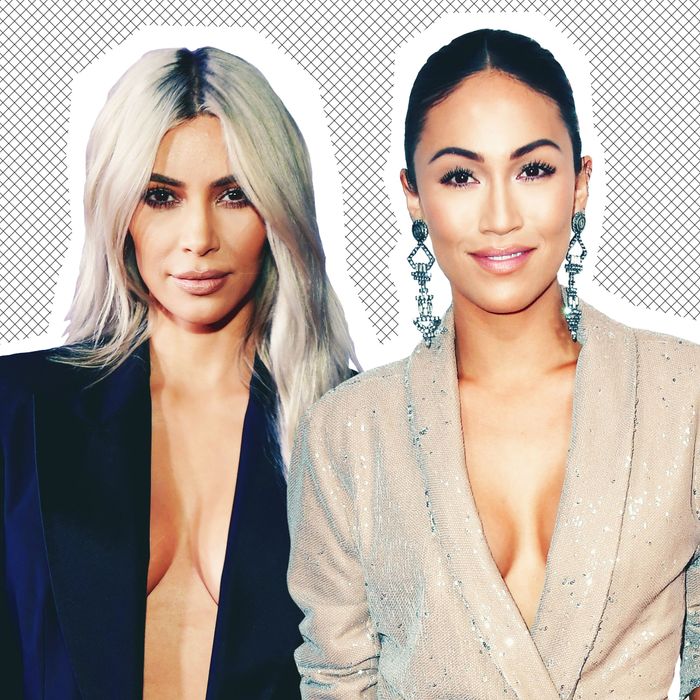 Kim Kardashian and Stephanie Shepherd.
Welcome to You Know What I Heard, the Cut's weekly celebrity gossip column about the peregrinations of the rich and famous. Have gossip? Email me at allie.jones@nymag.com, send me a message on Twitter, or contact me on Signal (ask for the number).
Shockwaves rippled through Calabasas on Friday when Us Weekly reported that Kim Kardashian had fired her friend and longtime assistant Stephanie Shepherd. Steph Shep, as she's known on Instagram, was an integral part of the Kardashian brand: She appeared on Keeping Up With the Kardashians (with her own story lines!) and managed the production of several Kim-themed products. She was close friends with many people in the family, especially Kourtney Kardashian. What happened?
According to one of Us Weekly's sources, Kim and Shepherd's relationship had been on a "downward spiral" since Shepherd was profiled by Refinery 29 back in May. Shep didn't say anything negative about her boss in the interview, but she was candid, explaining how she got hired, what kind of gifts Kanye West gives for Christmas, and what it was like for Kim after the Paris robbery. The profile and "other stuff happened on top of that that left a bad taste in Kim's mouth," the Us Weekly source said.
People, meanwhile, reported this week that Kardashian fired Shepherd because she couldn't keep up with her increased responsibilities. "Kim made a decision to let Stephanie go," a source told People. "She was a good assistant but when Stephanie wanted to transition into a larger role with Kim's brand and businesses, it just didn't work. Kim gave her the chance but after a short period of time it became clear that Stephanie just didn't have the knowledge to take on a role like that. Kim made an executive decision to part ways." According to TMZ, Shepherd left her job in September.
Despite her professional exit from the Kardashian clan, it looks like Shepherd is still dating West's friend and former manager Larry Jackson, who is currently head of content at Apple Music. In the Refinery 29 interview, Shepherd revealed that Jackson is actually the second friend of West's that she's dated. Here they are dressed up for Halloween.
Another interesting coupling? Olivia Munn and Will Forte. E! News noticed that the two spent a lot of time together at HBO's Night of Too Many Stars event in New York this past weekend. Forte and Munn walked the red carpet together, and Munn posted photos of the two of them hanging out inside the venue on her Instagram Stories. Munn was wearing a long, sheer black dress, and Forte was wearing his big, crazy Last Man on Earth beard.
According to E! News, the pair spent the night together, after stopping by Saturday Night Live and the after-party at Vandal downtown. E! mapped it all out, in incredible detail:
Later in the night, Munn and Forte were spotted exiting the Vandal nightclub, a source told E! News. They got into the same SUV and were later spotted entering a hotel together around 5 a.m.




The eyewitness said that Munn was seen at the hotel's front desk, while Forte stood a few feet behind her. They walked to the elevator together. The two had no luggage.
Here's a photo of them at the front desk of the unnamed, midtown hotel: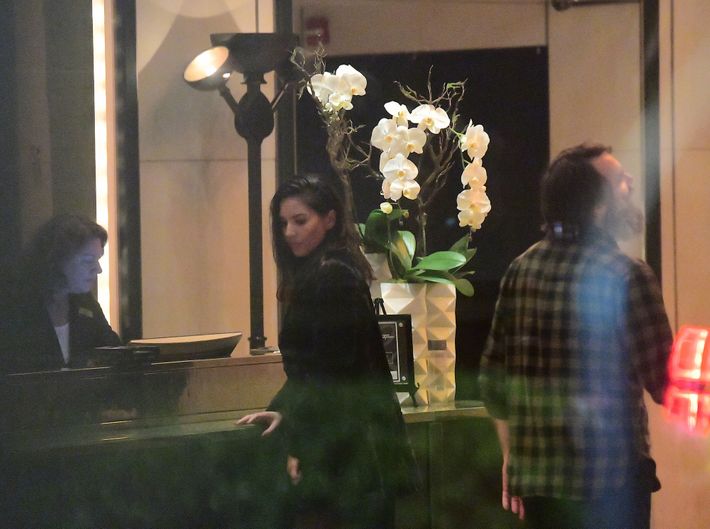 The two had no luggage.
Both Munn and Forte have been single for a while: Munn broke up with Green Bay Packers QB Aaron Rodgers in April, and Forte was last linked to January Jones in 2015. Before all of that, though, it looks like Munn and Forte had at least one date: They attended Seth Meyers's wedding together in Martha's Vineyard in 2013.
Munn and Forte weren't the only celebrities going on low-key dates this week. Dakota Johnson, who has been rumored to be dating Coldplay's Chris Martin (among others), was spotted in the sound booth at the band's concert in Argentina. And Leo DiCaprio, who last hung out with 19-year-old model Juliette Perkins, was photographed at dinner with 22-year-old model Sarah Snyder. If that name sounds familiar, it's because she last dated Jaden Smith.
One small blessing from this week:
"I wish J.Lo all the luck in the world."
Finally, I recommend reading this Variety cover story on James Franco, if you haven't already. In it, Franco talks about his newish girlfriend Isabel Pakzad, a 24-year-old USC grad student. Earlier this year, he said, he took her to the hospital for a throat infection. That sort of caring was new for him.
"There was one instance," he told Variety. "This old girlfriend was visiting me in New York. I had come out here for school. My cat had scratched her in the eye. I had so much work to get done for the next day, I didn't take her to the hospital. I had my assistant take her. That moment haunted me so much. What kind of selfish, self-centered boyfriend are you?"
So … he used to be a jerk, but he's changed? There are other curious stories involving young women in Franco's past, of course. As promotion for The Disaster Artist picks up this month, it will be interesting to see what surfaces.
Thank you all for gossiping this week, and don't forget to email me at allie.jones@nymag.com, send me a message on Twitter, or contact me on Signal if you'd like to chat.