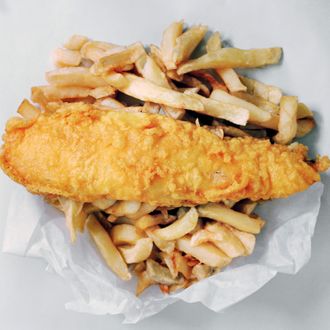 Fish and chips (not pictured: drama).
Photo: James Ross/Getty Images
An activist in the U.K. was recently the victim of a horrendous crime at a pub in Liverpool: her fish and chips order came with only six fries. Now, Tina Doherty is speaking out to ensure such a portion-related injustice never happens again.
According to the Liverpool Echo, Doherty, 53, was served the meal (if you can even call it that) at a local pub one night after bowling with three friends. But after receiving only six fries — or as the Daily Dot points out, honestly just five and a half — with her fish and peas, the woman sent a picture of the injustice to her husband Kevin, who urged her to step up and complain about the atrocity.
The pub bosses have since apologized to Doherty and offered her a free meal, but Kevin is still upset. He told the Echo:
"I don't know how anyone could justify or explain that as a portion of chips. It looks like a toddler's meal and even they would be able to polish off more than five chips."
Metro has dubbed Doherty's heroic stand as a "campaign of justice," and honestly we agree — and are truly inspired.