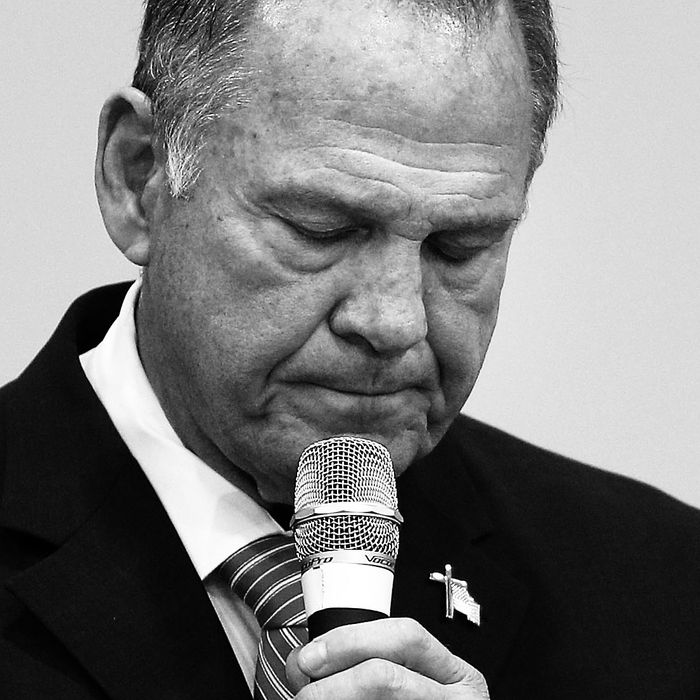 Roy Moore.
Photo: Jonathan Bachman/Getty Images
Three more women have come forward accusing Republican Senate candidate Roy Moore of sexual harassment. Two women told the Washington Post that Moore had harassed them at the mall, while AL.com reports that he groped another woman in 1991, after Moore was married.
Tina Johnson met then-attorney Roy Moore when she was 28. She was unemployed, soon to be divorced, and preparing to sign over custody of her 12-year-old son to her mother. She told AL.com that Moore started acting inappropriate as soon as she walked in the room.
"He kept commenting on my looks, telling me how pretty I was, how nice I looked," recalled Johnson. "He was saying that my eyes were beautiful."




It made her uncomfortable. "I was thinking, can we hurry up and get out of here?"
She told AL.com that he continued to harass her, at one point getting so close to her face that she could smell his breath. He reportedly asked suggestive questions about whether or not her young daughters were as pretty as her, and wanted to know what color eyes they had. Then he became more physical.
At one point during the meeting, she said, Moore came around the desk and sat on the front of it, just inches from her. He was so close, she said, she could smell his breath.




According to Johnson, he asked questions about her young daughters, including what color eyes they had and if they were as pretty as she was. She said that made her feel uncomfortable, too.




Once the papers were signed, she and her mother got up to leave. After her mother walked through the door first, she said, Moore came up behind her.




It was at that point, she recalled, he grabbed her buttocks.




"He didn't pinch it; he grabbed it," said Johnson. She was so surprised she didn't say anything. She didn't tell her mother.
Johnson, who approached AL.com earlier this week to tell her story, said she wishes she had slapped Moore that day, but did not out of surprise and discomfort. She said she has not spoken with Moore since that day, nor has she spoken to any of the five other women who have accused him.
Another new accuser, Gena Richardson, told the Post that Moore persistently asked her for her number. He then tried to contact her at school.
A few days later, she says, she was in trigonometry class at Gadsden High when she was summoned to the principal's office over the intercom in her classroom. She had a phone call.




"I said 'Hello?'" Richardson recalls. "And the male on the other line said, 'Gena, this is Roy Moore.' I was like, 'What?!' He said, 'What are you doing?' I said, 'I'm in trig class.'"




Richardson says Moore asked her out again on the call. A few days later, after he asked her out at Sears, she relented and agreed, feeling both nervous and flattered. They met that night at a movie theater in the mall after she got off work, a date that ended with Moore driving her to her car in a dark parking lot behind Sears and giving her what she called an unwanted, "forceful" kiss that left her scared.
Becky Gray also told the Post she was harassed by Moore at the mall when she was 22 years old and working in the men's department of Pizitz.
"I'd always say no, I'm dating someone, no, I'm in a relationship," says Gray, now 62, a retired teacher and a Democrat who supports Moore's opponent in the Senate race. "I thought he was old at that time. Anyone over 22 was just old."




Gray says he was persistent in a way that made her uncomfortable. She says he lingered in her section, or else by the bathroom area, and that she became so disturbed that she complained to the Pizitz manager, Maynard von Spiegelfeld. Gray says he told her that it was "not the first time he had a complaint about him hanging out at the mall." Von Spiegelfeld has since died, according to a relative.
Four other women have said that Moore pursued them between 1977 and 1982, when they were teenagers or young women working at the mall. ABC reports that eight women in total have come forward. Moore's campaign did not respond to the Post's or AL.com's requests for comment, but Moore has denied engaging in any sort of inappropriate sexual behavior.
This post has been updated to include two additional accusers who also came forward Wednesday night in the Washington Post.