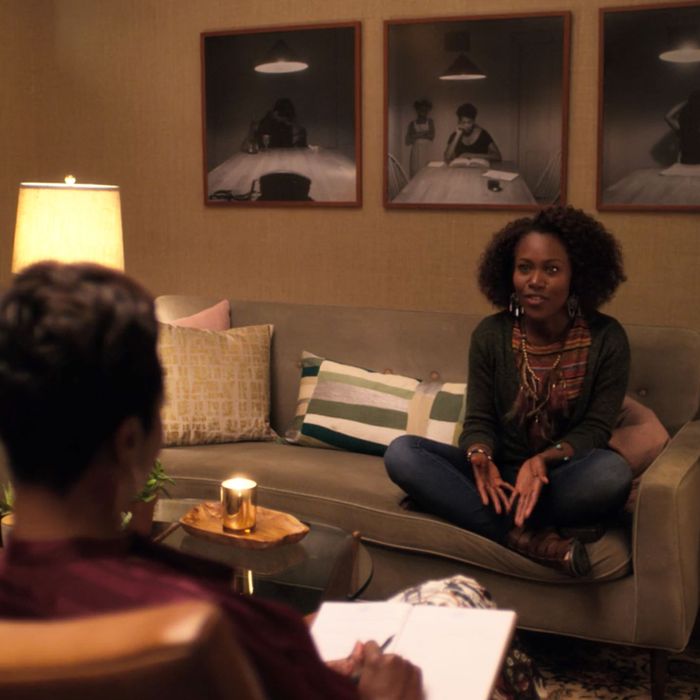 It takes Nola Darling — protagonist of Spike Lee's Netflix reboot of She's Gotta Have It — a while to go to therapy. The audience can see right away that some time on the couch might make Nola at least 10 percent less insufferable, or at the very least help her pick better boyfriends and stop losing her keys, but it isn't until Darling (DeWanda Wise) is dealing with the emotional fallout after a catcaller attacked her while she was walking home one night, that she actually considers it. And only once she's already tried to overcome her trauma by going to a psychic, visiting a tarot card reader, and getting a Yoruba cleansing. After these approaches don't work out, she finally books a session with Dr. Jamison.
Watching Nola take a seat in Dr. Jamison's office, I felt a similar burst of joy as I did when Molly decided to go to therapy in season two of Insecure. After a season's worth of behavior so frustrating that it began to feel a lot like aggression against the audience, Molly wound up in the Nancy Meyers–esque office of a wonderfully wise and understanding black therapist with great taste in caftans. Two examples is not quite "three's a trend," but it's enough to suggest that pop culture has figured something out: TV therapy — it's not just for Tony Soprano.
There was a therapist in the original version of She's Gotta Have It. However, first-generation Dr. Jamison was a sex therapist whose only advice I remember now was saying that "the beautiful sex organ is between Darling's ears, not between her legs." Darling stops going after one session.
The relationship develops more fully in the 2017 version. Nola Darling attends therapy faithfully and has teary breakthrough after teary breakthrough. It's corny, yes, but you too would cry in the presence of Dr. Jamison, who is, at least aesthetically, the black female therapist of dreams. Her office looks like Lisa Bonet's living room, with candles and Carrie Mae Weems prints. (Her hourly rates must be wild.) Her walls are adorned with diplomas from Spelman and Columbia — so she's down, but also Ivy League. She's got a stylish short haircut and collection of statement necklaces, and her leather couch that probably feels as soft as her "but how does it make you feel?" voice sounds.
What's the benefit of having therapy featured so prominently on these shows? Well, first, it's an acknowledgment that — just like Tinder or brunch — therapy is an ordinary part of women's emotional lives, and worth exploring onscreen. While we're making shows that feature black female protagonists and all their problems (and suffering through plotlines about infuriating, self-sabotaging habits), it's refreshing that shows are also willing to address what it takes to overcome those problems and infuriating plotlines. And there's the secondhand bonus of listening in on someone else's therapeutic experience, whether it's a friend who parrots back everything they learned in this week's session, or Dr. Caftan teaching Molly all about magical thinking. In the case of Dr. Jamison and Nola Darling, an important takeaway: therapy is probably more effective than a store-front psychic, but don't take advice from a therapist who takes payment in the form of paintings.