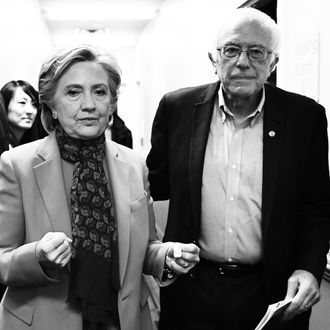 Hillary Clinton and Bernie Sanders.
Photo: JEWEL SAMAD/AFP/Getty Images
Two women who worked on opposing sides of the 2016 Democratic presidential primary say that fellow workers sexually harassed them, Huffington Post reports. Lilian Adams, who was 19 at the time of the alleged incident, was working for Hillary Clinton, while 18-year-old Zoey Jordan Salsbury was volunteering for Senator Bernie Sanders's campaign.
Adams started out at as an intern in October 2015 at the Clinton campaign's Brooklyn headquarters, where she assisted senior staff on the digital organizer team. In May 2016, she relocated to Colorado and began here work as a paid organizer. It was during this time that she experienced harassment from another campaign worker, which she said started out as homophobic remarks related to her bisexuality and escalated into intimidation.
"He made multiple comments about my body, told people we were dating, would constantly try to get me to drink (I was 19), try to force me into situations where we were alone, encouraged me not to wear bras, etc.," Adams told Huffington Post.
In August 2016, she asked her superiors to take action, and her harasser was consequently fired. Just a few months after the fact, though, Adams discovered that the campaign had rehired him — just in another state.
Around the same time, Salsbury was serving as the president of American University Students for Bernie — a volunteer position — during which she regularly corresponded with a college-aged intern in Sanders's campaign, who she alleged sexually harassed her. She said that he made sexual advances toward, but because the campaign lacked a clear grievance policy, she didn't know how to report the harassment. She also didn't think that anyone would listen to her, a young volunteer.
Only just this month did she post about the incident on social media, after which a lawyer responded to her on behalf of Sanders's campaign. She told Huffington Post that the call, which she interpreted as one that "you make when you're trying to feel out if someone has the interest and/or standing to bring a lawsuit," made her feel like "[she] was being blamed."
While the Clinton campaign did not respond to comment before publication, Sanders said, "It is critical we listen to those sharing their stories, recognize no workplace is immune from these problems, and address them in a serious manner." His campaign also stated the intent to provide volunteers with a handbook detailing the process for reporting harassment, a document that was previously only been distributed to campaign employees and interns.