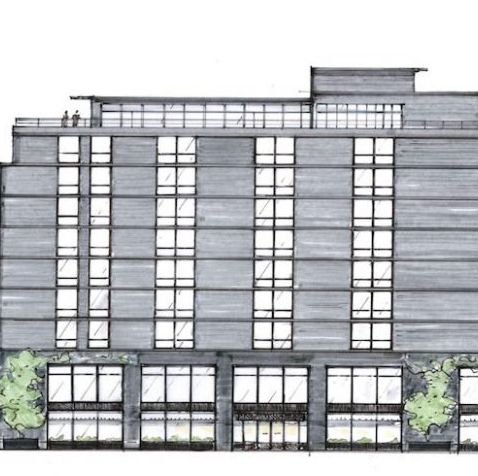 A rendering of the upcoming Eaton Workshop.
Rendering By: Gachot/Courtesy of Eaton Workshop
Early next year, just a few blocks north of the Trump International Hotel in Washington, D.C., Katherine Lo's Eaton Workshop will open its first location. The Workshop is the newest iteration of the Eaton Hotel brand, which Lo's father, Hong Kong hotel and real-estate billionaire Ka Shui Lo, asked his daughter to "reinvent" three or four years ago. The result is "a new global brand merging hospitality with progressive social change."
What does that collection of millennial buzzwords mean? According to its website — whose curious selection of imagery includes a picture of a breaching humpback whale with the word "HUMAN" stamped across it, and a photograph of the Vietnamese monk who self-immolated himself in 1963 beneath the word "PROGRESS" — the Eaton Workshop "invites activists, artists and entrepreneurs from around the world to instigate meaningful and positive initiatives on both a local and macro scale, as well as to hang out, indulge and follow their bliss."
The Eaton will have 209 rooms "modeled after European pied-à-terres," Lo told the Washingtonian, as well as other amenities necessary for resistance, like a radio station, a recording studio, a speakeasy, and a wellness center that offers yoga and crystal healing.
Lo said the new and improved Eaton "[takes] cues from countercultural movements that have changed the world for the better, from the Beatniks and East Village Radio to the Vietnam War protests and this year's Women's March."
Ah, yes. Because who can forget the essential role "European pied-à-terres" and "crystal healing" played in the resistance movements of yore?