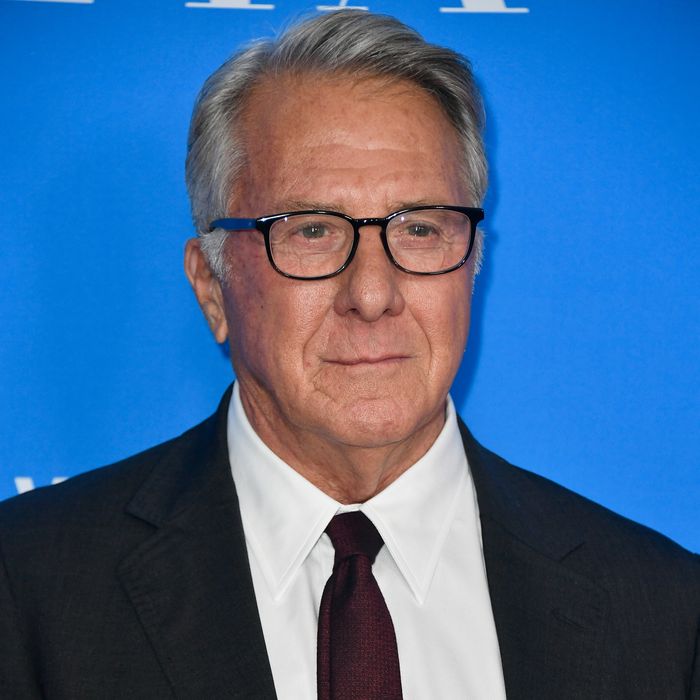 Dustin Hoffman.
Photo: Frazer Harrison/Getty Images
Television writer and Genius co–executive producer Wendy Riss Gatsiounis came forward on Wednesday with allegations against Dustin Hoffman. Riss Gatsiounis told Variety that the actor sexually harassed her in 1991 when she was in talks with Hoffman and Tootsie screenwriter Murray Schisgal to adapt her play A Darker Purpose for the silver screen.
After a mostly professional first meeting (Schisgal allegedly asked Riss Gatsiounis if she was in a relationship), the playwright agreed to revise her pitch with Hoffman in mind to play the lead. During her second meeting, a few weeks later, Hoffman allegedly did not seem interested in discussing her work. She claims that Hoffman, who is nearly 30 years her senior, asked her, "Wendy — have you ever been intimate with a man over 40?" She added, "I'll never forget — he moves back, he opens his arms, and he says, 'It would be a whole new body to explore.'" Riss Gatsiounis alleges that Hoffman then requested she go clothes shopping with him at a nearby hotel, and that Schisgal, who was also present, urged her to go with the older actor.
Only after she repeatedly said "no" did the two give any indication about their plans for her script. Riss Gatsiounis claims that Hoffman left and that Schisgal said, "'Look, we're not really interested in your play, because it's too film noir-ish."
Riss Gatsiounis is the second woman to come forward with allegations against Dustin Hoffman. Earlier on Wednesday, Anna Graham Hunter, a former production assistant, claimed that Hoffman sexually harassed her on the set of 1985's Death of a Salesman. She was 17 at the time.