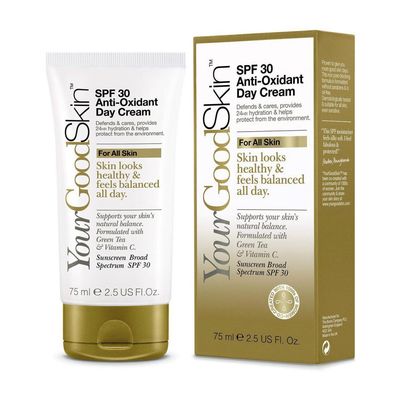 For half a decade now, the British pharmacy Boots (which is owned by Walgreens) has been testing skin-care products with 2,500 women. The result is YourGoodSkin, the brand's first new skin-care line since its award-winning "No7" range debuted 20 years ago. YourGoodSkin has 23 items, from cleansers to moisturizers to targeted treatments. In a clinical trial, its hero product, "Balancing Skin Concentrate," gave subjects smooth, even, oil-free, well-hydrated skin within 28 days. But while that's certainly impressive, my favorite pick from the brand is its sunscreen.
Sunscreen formulas these days are less janky than their predecessors, but drugstore options still don't blend well. YourGoodSkin's Day Cream, however, is simply great. On the hydration front, the lotion melts into skin with the heft of a serious cream; my skin felt soft and smooth all day long. It is in no way a "mattifying" formula and perhaps not ideal for the balmy dog days of summer, but I can't think of a better, more affordable moisturizer to use for the current weather climate and the winter days to come.
YourGoodSkin's Day Cream is powered by an SPF factor of 30, though it won't leave an ashy-white cast on skin. It has a subtle ambiguous "lotiony" fragrance, but I stopped noticing the scent within 20 minutes of my morning application. It includes a dose of vitamin C to help with hyperpigmentation and green tea to fight blotchy skin, but don't buy it for those ingredients — there are far more effective serums elsewhere. Do, however, buy it for its face-protecting properties. For $13, it's worth it.
If you buy something through our links, New York may earn an affiliate commission.