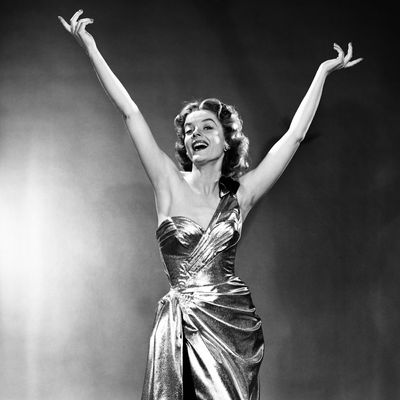 Photo: Debrocke/ClassicStock/Getty Images
So you're going out on New Year's Eve. Brave choice! Now's the time to make a decision about your hair. It's too late to book a salon appointment, but not too late to buy some festive accessories and do it yourself. Here are 17 New Year's Eve hairstyles that are easy enough to master at home.
Secure a ribbon clip above a low bun and boom! You're done.
A Hair Knot You'll Actually Want
Tie two French braids together in knot at the nape of your neck. Tie a second knot two inches below the first knot and secure the ends with an elastic band.
For Hair That Does All of the Talking
Under a high bun, clip a few letter pins together to tell everyone how you really feel.
Draw a side part and clip a funky barrette just above your ear on the side with less hair. Pick a color that deeply contrasts your hair shade for maximum impact.
When You Only Have Hairpins Around
Make a pin-patch! Apply one patch (which is seven pins) on one side of your hair, or line your hairline with four patches for an avant-garde headband.
A Style for the Commitment-phobe
Attach bangs for hair that's ready in a literal snap.
Curly, straight, long, or short: Headbands are a classic style that suits all hair. The velvet material in this Jennifer Behr version feels particularly adult. Just make sure to leave an inch or so of hair in front of the band for a chic execution.
Divide your hair horizontally in two even sections. Tie the top section in a ponytail at the crown of your head. Tie the bottom section in a ponytail directly underneath the first ponytail; the two ponies fake fuller, more voluminous hair.
Create a deep side part, but don't stop there: Using the side part as a starting point, braid one cornrow down the part and stop when you reach the crown of your head.
The Elegant Yet Easy Look
Draw a side part and pull your hair into a low bun. Using a brush with stiff bristles, brush hair until it is smooth and flat. Spread a dime-size amount of gel onto the top of your hair to prevent stray strands from sticking out.
So you want more than just a ponytail? Wrap several inches of string (any string) around your ponytail to give the style a slightly futuristic feel.
Even if you don't have a full head of dreadlocks like Sasha Lane does, you can still make this look your own. Frame your face with two thin braids or twists. Snap metal cuffs around the braids, allowing about an inch of space in between each cuff.
Turn a Bad Hair Day Into a Good One
With a hat! It's the oldest trick in the book, but a beret somehow makes it feel new again.
Like the "bad hair day" option above, but slightly more whimsical. Follow Rihanna's lead with a pretty print.
The Dignified Lady Option
Gather hair into a low ponytail and then randomly add pearl pins to the back. It looks complicated but takes minimal effort.
The Hair You'll Want to Kirakira
Carefully place bits of gold leaf in your hair part. Spritz the part with hairspray to ensure the pieces will last the night.
Toss on a wig in a wild color. These things aren't just for Halloween, you know.
If you buy something through our links, New York may earn an affiliate commission.