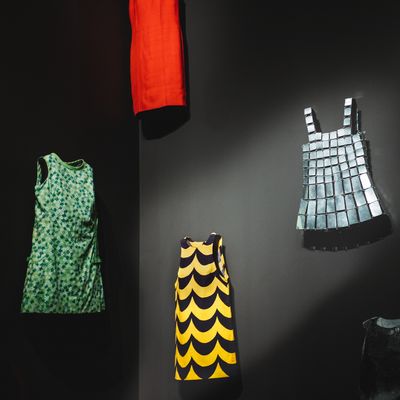 A view from inside of MoMA's "Items: Is Fashion Modern?"
Photo: Biel Parklee.
Andy Warhol frequented the Museum of Modern Art not for just the art, but for the people. He liked to stand at coat check and photograph the visitors' clothes. Timed to MoMA's exhibit "Items: Is Fashion Modern?" this fall, artist Emily Spivack recreated Warhol's hobby as the anonymous website "An archive of everything worn to MoMA from November 1, 2017, to January 28, 2018." She explained the premise at an artist's talk at the museum last night: Until January 28 of next year, anyone can text what they're wearing while visiting MoMA that day. The site streams submissions anonymously on a landing page.
It's a "time-lapse depiction of who we are at this moment in time," Spivack said, "with more raw data, less doctored than a selfie." T Magazine's features director Thessaly La Force interviewed Spivack about the project. Read on for their own lists of what they wore to MoMa last night, as told to the Cut, followed by our 16 favorite submissions from the site since its start. The project is part of MoMA's Artists Experiment with the Department of Education.
"These are leather pants I got on a trip in Norway. It was a big splurge and I wear them all the time." —Emily Spivack at MoMA, November 30, 2017
"Dress that a friend gave to me after she got a fancy job and shopped all the time — I was unemployed. And a beret. And boots that feel too tight on my feet." —Thessaly La Force at MoMA, November 30, 2017
"Velvet mock neck T from Austin Tx Goodwill (velvet is happening), black pants, black loafers from Madewell that were so uncomfortable I had to take to cobbler and say 'Cobble them.'"—8:42 p.m., November 30, 2017
"Hand me down Chanel sweatshirt that looks like I made it myself, used tights, a used mini skirt, red rain boots that remind me of Julie Christie's in 'Don't Look Now,' period panties (gross, but not Victorian), and a strapless bra that smells like Chloe perfume. You're welcome, America!" —8:31 p.m., November 30, 2017
"We are both wearing black jeans and black Converse. We are both wearing sweaters. His is black and mine is white. We always match (everyday for over a year)" —2:21 p.m., November 30, 2017
"Onesie Week waddup! Today we're doing the sleeveless jumpsuit in a beige rayon I love, all crinkly w floral embroidery in the same beige. Topped with a yellow scarf bc I forgot this bra peeks through the neckline woops. Also black work shoes bc I hurt my foot again" —11:28 p.m., November 28, 2017
"Steel toed Harley Davidson boots that I found on the street corner, dirty blue socks, black jeans with one hole on the left knee (I didn't buy them already ripped), a belt that might fall apart, a tshirt with a penis joke on it, a denim jacket that I stole from a house party two years ago, my crooked glasses and a dirty beanie covered in dog hair" —November, 28 2017
"A Never Trump T shirt. Little good it did me." —1:38 p.m., November 25, 2017
"black on the outside, gold on the inside" —10:29 a.m., November 22, 2017
"Polka dots and kicks." —3:45 p.m., November 21, 2017
"NYC Women's march t shirt" —2:27 p.m., November 20, 2017
"Black cords and black shirt because I'm ~edgy~" —7:57 p.m., November 18, 2017
"Camel polo coat, skinny navy blue jeans, black docs and polka dots socks, brown turtleneck, chiffon black hijab, leopard readers, very chic." —2:05 p.m., November 17, 2017
"1930's camel hunting coat from England. Blue trousers, paired with an equestrian style Justin Boot. Ralph Lauren beige turtleneck and one gold ring. Hair is natural, curly. A light tinted chap stick." —1:55 p.m., November 14, 2017
"Jeans and sweater with four coats tied around waste/neck (dad wear)" —1:34 p.m., November 13, 2017
"Comfortable ugg slides, black jeans, a way-too-hot sweater. Why must it always be hot in buildings when cold outdoors." —11:56 a.m., November 13, 2017
"Chance the rapper hat. Super dry jacket. Patagonia vest. Ray ban glasses. Joggers. And checkered vans inspired by Justin Bieber" —1:09 p.m., November 11, 2017
"Blue jeans, blue hoodie, blue socks, blue t shirt, blue eyes :)" —12:17 p.m.,November 11, 2017