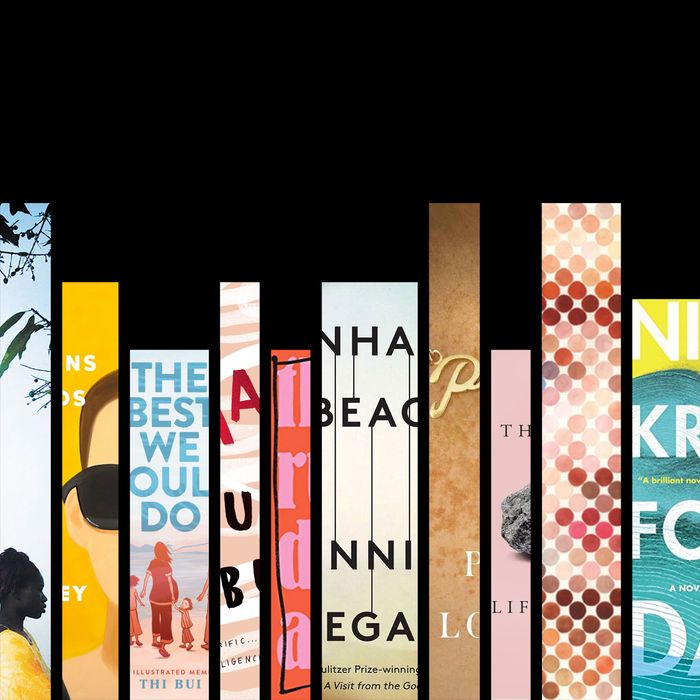 Each month in our book club column, Cut staffers pick favorite books they read that month. Now, as the year comes to an end, we're drawing on our past book club selections — as well as other literary features we ran on the site — to highlight books by women that we read this year. From fiction to short stories, memoirs to graphic novels, here are some of our favorites. (Check out all the books we've recommended so far here.)
Elif Batuman's semiautobiographical novel was one of the most-buzzed-about books of the spring, and it's not difficult to see why. Following narrator Selin as she navigates the world — from her freshman year at Harvard to a village in the Hungarian countryside — and her first unrequited love is often awkward, always thoughtful, and entirely hilarious. I was genuinely sad to part ways with her at the end. — Gabriella Paiella, senior writer
Why would a teenager forced to marry an LRA child soldier choose to stay with him? How do young women living in Somalia use basketball to escape the violence surrounding them? New Yorker writer Alexis Okeowo's moving book examines these questions and many more as she uses the stories of everyday Africans to highlight the small but meaningful ways people across the continent are fighting extremism. — Jessica Roy, news editor
This debut short-story collection from Graywolf Press was longlisted for the National Book Award even before its release, and it went on to be a finalist. I've never read anything like it. Each story examines a woman's life and some kind of violence inflicted on her body, while the narrator holds a certain power in her own mind. It's commentary on society's violence against women in a fresh, provocative way. My favorite of the sci-fi fantasies is titled "Especially Heinous: 272 Views of Law & Order SVU" — it's 272 paragraphs, each written like an SVU episode in just a few sentences, which go on for 12 "seasons" of Machado's own surreal crime show. — Catie L'Heureux, associate managing editor
The origin of this book was "Thanksgiving in Mongolia," a New Yorker piece that won a National Magazine Award. The memoir is even better. "In the last few months, I have lost my son, my spouse, and my house," she begins. "The future I thought I was meticulously crafting for years has disappeared, and with it have gone my ideas about the kind of life I'd imagined I was due." I love every single precise, gorgeous sentence but also the way she paints her shifting thoughts on her place in the world as a woman — in her career, in love, in the middle of loss and heartbreak. She built the life we tell ourselves we want, and then she lost everything.
— C.L.
"Patricia Lockwood's new book is named Priestdaddy, and the first thing you must know is that it absolutely lives up to its title. It's a wildly entertaining memoir about her family — especially her dad, a married Catholic priest — her upbringing, and the time she and her husband had to move home for a spell. Lockwood is notably hilarious (and notably perverse); in Priestdaddy, her humor and poetic descriptions are both impressively prolific, every sentence somehow funnier than the one you just read and on and on and on. I am happy to say that I will remember one particular passage about explaining feeder fetishism to an Italian seminarian for the rest of my life." — G.P.
Thi Bui's debut graphic novel — a memoir about her family's immigration from Vietnam to the United States during the Vietnam War — had me weeping openly on the New York City subway (a great place to cry). The Best We Could Do is about love and family legacy — how we inherit our parents' lived experiences, and pass them along to our own children. "In the dark apartment in San Diego, I grew up with the terrified boy who became my father," Bui writes (and also beautifully draws). "Afraid of my father, craving safety and comfort. I had no idea that the terror I felt was only the long shadow of his own." — Aude White, communications manager
In Manhattan Beach, Jennifer Egan spins a grand, poignant story set in World War II, where our protagonist Anna is one of the women working at the Brooklyn Navy Yard. It's clearly meticulously researched and, coupled with Egan's deft prose, this makes for a vivid and unforgettable novel. — G.P.
I picked up this novel by a 26-year-old Irish writer to escape the ongoing onslaught of Trump news. On that level, it delivers — absolutely no one threatens nuclear war in this book — but it's also just an insightful look at what it's like to be young, smart, and deeply confused about friendship and love. The narrator dates a married man, spends all of her free time with her ex (who is now her best friend), and consistently stumbles over her own ambitions. It's like an Ask Polly letter in the form of a novel, in the best possible way. —Izzy Grinspan, senior editor
Nicole Krauss's first novel in seven years follows two separate yet thematically connected strands: First, there's the story of a wealthy 60-something New Yorker named Jules Epstein, who decides to divest himself of all his worldly possessions, and move to Israel. And then there's the story of a successful 30-something novelist called Nicole, floundering in a failing marriage and struggling with writer's block, who also travels to Israel upon finding that she no longer believes in the things that once held her together. Like her previous novels, Forest Dark concerns itself with questions of Jewish identity and narrative, memory, and inherited trauma. But it's also much more intimate than her previous books, a foray into auto-fiction in the vein of Rachel Cusk or Karl Ove Knausgaard — and just as spellbinding. — Anna Silman, senior culture writer
Abandon Me's publisher marketed this book as one for fans of Leslie Jamison and Maggie Nelson, which sounds like a great way to set readers up for disappointment – but remarkably, Melissa Febos's narrative lives up to the comparison. This sensual, raw personal book examines love and closeness as forces that aren't just exhilarating, but gross, maddening, and destructive. I don't often mark up books that aren't theoretical or political, but I found myself reaching for a pen to underline poignant phrases that made me forget to breathe while reading. "We are attracted to the people who can open our wounds," she writes at one point; I suspect that's why I picked up this book. — Amanda Arnold, weekend editor
Williams's collection of short stories are about women of all ages living in this day and age. She's able to capture scenarios from bad dates that leave you feeling a distinct type of regret, to big romantic trips that you're trying to distill to a single Instagram photo. It's clever, quick, and readable on a morning commute. This book helped me find humor and helped me feel like I'm not alone in otherwise stressful social-media situations that I run into all the time. – Emily Sundberg, Instagram editor
Julie Buntin's debut novel begins with a dead girl, but its mysteries don't progress in the ways you might think. Instead, Buntin's novel burrows inside the mind of the girl who lives, in sections describing both her teenage life in rural Michigan and her present-day existence as a sometimes-brooding professional in New York. The novel's past sections will fill you with rich longing for the kind of faith and fascination friends once inspired, while the present sections will make you crave solitude and a weekday Martini. If you can swing it, I recommend meeting a good friend in a dark bar to discuss this book. — Jen Gann, parenting editor
This short book took me back to reading Scary Stories to Tell in The Dark at camp and scaring myself so much I couldn't walk to the bathroom alone at night. Schweblin tells the story of Amanda, a woman on her deathbed in a clinic in rural Argentina. She's having a conversation with this incredibly creepy child, David, about how she wound up sick and nearly dead. It's part surreal ghost story and part political critique. As you meander toward an end, the questions pile up: What happened to David? What happened to Nina? What are the worms? Who is talking? What the hell did I just experience and why do I need a hug? It's a beautifully hallucinatory and dreadful experience. Enjoy! — Allison Davis, senior culture writer
This book — by novelist and food writer Rachel Khong — is written as a series of sparse, thoughtful journal entries by a woman who's recently broken up with her fiancé and moved back home to help care for her dad, a onetime college professor who now has Alzheimer's. It's packed with quietly funny observations and tender moments, and the last bit destroyed me before I realized what was happening. —G.P.
The second book in Rachel Cusk's planned auto-fiction trilogy is a spare exploration of aging and domesticity. When Heidi Julavits profiled Cusk this spring, Sheila Heti explained why she preferred Transit to the previous volume, Outline: "What I like about Transit is that you can see everyone except the narrator — which is really true of life, that we see everyone around us but never ourselves. And yet nothing would appear without this void that is ourselves. Transit really revealed the strangeness of that to me." I'm eagerly anticipating the final book in spring 2018. — Molly Fischer, features editor
If you buy something through our links, New York may earn an affiliate commission.