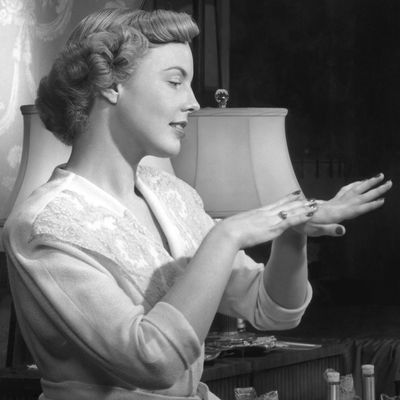 Photo: George Marks/Getty Images
It seems simple: If you have dry hands, put on some hand cream. But what if you do that and still have chronically dry, rough, lizard skin? We took the question of everlasting, can't-stay-moisturized hands to some experts, who explained the secret is a mix of practice and the right products. Here are their tips for ensuring your hands stay forever smooth and supple — never cracked, coarse, or craggy.
1. If you're painting your nails, don't be lazy and skip the base coat. Celebrity manicurist Sabrina Gayle says the base coat has a two-fold benefit, including its role as a moisturizer. Not only does a base coat sustain your polish, but it also shields the nail bed from further damage and dryness.
Lather, Rinse, Moisturize, and Repeat
2. Apply hand cream after you wash your hands, every single time. Yes — every time. Washing your hands cleans them, but soap and water also removes the natural oils in your skin. Celebrity manicurist Casey Herman says you can use any cream in a pinch, even heel or foot cream.
3. But also, hot water dehydrates skin, so when you're washing your hands, use tepid, lukewarm water. If you have an automated faucet at work, the temperature may be beyond your control. But what you can do is moisturize your hands immediately while they're still a little wet to lock in the moisture. Your ideal moisturizing window is five minutes post-hand-washing, so the clock starts soon.
4. Nails — which are made up of flattened dead keratin (the same material in your hair) can get dry too. Gayle explains, "Moisturizers can make them flexible, supple, and less likely to split." In cold weather, your cuticles can tear and fray like sweater yarn. Worse, hang nails can get caught and bleed.
Manicurists recommend cuticle oil, which is specially formulated with smaller molecules, making it easier to penetrate into that slim area between your nails and skin. They also frequently contain Vitamin E, an ingredient known to strengthen nails. If you don't have cuticle oil, just make sure you massage any hand cream into your cuticles and nails too — don't just do your fingers and palms.
5. If you want to be really extra, you can also use a rich hand cream that contains urea — a natural humectant that seals in moisture — and then put on some gloves.
If you want to use gloves you already own, pick cotton ones with a looser, open knit. Gayle adds, "You can wear these overnight or for 20 to 30 minutes while watching a Netflix TV show or reading your favorite novel." If you're going to sleep in gloves, avoid wearing gloves made with fleece or you'll be waking up at night with sweaty, clammy hands.
The Best Expert-Picked Products for Soft Hands
Herman says, "I'm a big fan of these moisturizing gloves, which are infused with a collagen hand mask. They're pre-cut at the fingertip so you can still multitask. Pro-tip: put the unopened pack in a cup of warm water before you put them on! It makes you feel like you're having a luxury spa treatment."
Gayle likes this strengthening base coat. She says, "[Of] Essie's nail care range, one of my favorites in particular is Essie Nail Millionails Intensive Care Treatment. This product is formulated with iron strength and a protective fibre shield, preventing breakages, splitting, and peeling."
This one of the highest-rated nail oils on Ulta, with reviewers calling it the "best nail oil ever," containing a potent blend of three oils plus Vitamin E. Its abundance of moisturizing oils soothes fragile nails and makes them less likely to break. Gayle loves this one, and recommends putting it on once a week or more.
Reviewers praise these gloves for two reasons: the moisturizing, and they help prevent nail biting. Gayle adds, "These gloves have a moisturizing gel lining with olive and grapeseed oils. They are also enriched with olive oil and Vitamin E, which are important ingredients for hydration and softening your palms. Go to sleep in these snug-fitting gloves, and wake up with soft hands."
If you buy something through our links, New York may earn an affiliate commission.