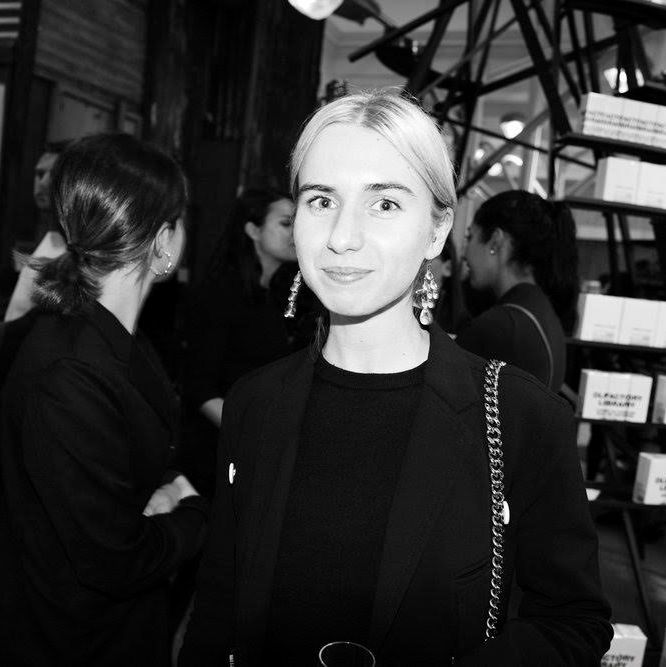 Isabella Burley.
Photo: Flo Kohl
What have you done in the past five years? Twenty-seven-year-old wunderkind Isabella Burley was appointed editor-in-chief of British cool-maker fashion magazine Dazed & Confused and enlisted as editor-in-residence to revive the iconic label Helmut Lang. How'd she do it all — and so fast? First of all, she started young. Born in Southeast London to a German mother and Kiwi father, Burley's first job in fashion was on the retail floor at American Apparel when she was 16. Soon thereafter, she presciently decamped for Rei Kawakubo's fashion hub Dover Street Market, where she developed a real taste for the world of style. "I think that was really my education," Burley says. "I worked there for five years. Just seeing all of the amazing people that would come, and the way that fashion wasn't just about clothes."
After graduating from high school, Burley enrolled in a fine art foundation where she "lasted about two months and absolutely hated it," the editor remembers. From there, a relationship with an art director led to a magazine internship, where she worked as a fashion assistant, before Burley discovered her true love, writing. "I think my first-ever feature was an interview with the artist Cosey Fanni Tutti. I was 18, 19, and had no idea what I was doing, but the interview was really exciting," Burley says. "I think that's when I realized meeting people and interviewing them is an amazing way to understand or unpack someone's world and what they're about. It's a very intimate thing in a way. It's storytelling."
Burley's freelance career went humming along from there, until, almost five years ago, Dean Mayo Davies, an old friend from her DSM days, was leaving his fashion features editor job at Dazed and put Burley forward for the position. Her rise to the top was quick — about two years into her work there, Dazed needed a new editor-in-chief, and they wanted someone with their feet firmly planted in the fashion world. Burley was the natural choice. A few of the editor's favorite coups since then include a 25th-anniversary cover of Pamela Anderson shot by photographer Zoe Ghertner and a feature on Lana del Rey in conversation with Courtney Love. "Having an initial idea, seeing it through, and then seeing it finally come out in print is such a satisfying feeling," Burley says. "Especially when you're dealing with icons."
And what of the added responsibility of the Helmut Lang oversight? "It's definitely been a challenge," Burley admits, but "working with Shayne and seeing the reaction from this show and being at that stage where there's a lot of projects about to come out is really exciting." (The brand's most recent collaboration, a capsule in partnership with the artist Walter Pfeiffer, dropped in October; Shayne Oliver's collection debuted last week.)
Below, Burley spoke to the Cut about her favorite gay-bar hoodie, her Bravo addiction, and the enduring influence of ex-boyfriends. Read on for the full interview.
How do you thank people for a gift?
I love writing notes to people, whether it's like on a Post-it or postcards, but they're probably not in exchange for a gift. I just sort of do it.
Color or no color on your nails?
I always wear the same blue color gel. The closest thing I can probably compare it to, there are these amazing Gillian Anderson images where she's in a full blue latex catsuit. If you Google "Gillian Anderson blue latex catsuit" it will come up; it's like that cyborg blue.
Mood lighting or natural light?
Probably natural light in the mornings. But in the evenings mood lighting. My friend had these amazing Apple lights that change color. You can have a red-lit room, which is kind of beautiful. I like the idea of having a red light bulb in my house at some point.
What are some coffee-table books that you'd be proud to display? One of the things I treasure the most is Yayoi Kusama's amazing art periodical magazine called The Orgy, and I managed to get a copy of that about a year ago. The cover is absolutely insane. When we did Traci Lords for the Helmut Lang campaign, I had her sign my cover of Details magazine, which is the Sex Issue. And when I interviewed Pamela Anderson, she signed one of my Playboy issues. Also the Cookie Mueller Drugs book with Glenn O'Brien. I also got two Araki Polaroids recently — one is a nude, one is of a dinosaur. I feel like one day I'll definitely open a bookshop because I think I care about books more than I do about fashion. It's so important to disconnect and read. I try and read on every flight I take, at the moment I'm reading Hilton Als White Girls and The New Fuck You edited by Eileen Myles published by Semiotext(e). I just finished Charlie Fox's This Young Monster. Whenever I feel overwhelmed I like to turn off my phone and go to hunt for books. If I'm in New York it's Mast Books. If I'm in London, it's Donlon or Skoob books (my little brother used to work there).
Heels or flats?
Both. From around age 13 I was obsessed with wearing heels. Maybe I was 11, and I had these huge foam rainbow-like platform sandals. Even when I worked at Dover Street, I'd always be in the most ridiculous heels. Now I think I may be a bit more sensible. I just got these new like Maison Margiela Tabi heels. They're like Mary Janes with like a little strap around the ankle. And I like Prada ones. I think Simone Rocha does a really good flat with a bit of a heel. You want to feel like confident and powerful and sexy, and I'm also quite short so that probably helps.
What would you never wear?
I think you can never say never.
What's a trend that you like right now?
I hate all trends really. I have quite a uniform: It's a pair of jeans or black trousers, and then an oversize black jumper or my Flaming Saddles hoodie. That's probably what I wear to the office most of the time, with a pair of Simone Rocha shoes. I like a good coat — I got this Proenza one which is kind of a black, stiff matte leather with a white shearling collar, probably the most expensive thing I've ever bought. But underneath that I'm quite casual.
If you were a car, what kind of car would you be?
I don't know how to drive but it would be fun to own a limousine!
No make up make up, or actually no make up?
Actually no makeup. I wear M.A.C mascara on a good day and Eyeko on my brows and that's literally it. The mascara ends up smudged around my face.
What's the secret to throwing a good party?
People who make you laugh. And alcohol probably doesn't hurt either.
What's one way that your taste has changed since your teen years and one way it's stayed the same?
I was a pedal-pusher, boob-tube 11-year-old. I've definitely grown out of that alongside the rainbow platform. I went through very intense ways of dressing that changed very dramatically. I was such a goth for a minute, I was a bit indie, I was a bit Spice Girls … I think you have to experiment when you're young. And then at some point you sort of develop a bit of a uniform. But you shouldn't be too tied to it. I think there's way more important things to life than clothing.
What's your guilty pleasure?
Probably really bad reality TV. It's so embarrassing, because it's honestly the only thing at the end of the day that like clears my head. It ranges from every single Real Housewives to WAGS Miami to Million Dollar Listing. 90 Day Fiancé's amazing. That needs to win an Oscar. Teen Mom as well.
What are some of your favorite accounts to follow on Instagram? Definitely Hilton Als. Helmut Lang, obviously. Dazed. I'm trying to get off Instagram a bit. I think it's sort of consumed us all.
What's the last show you binge-watched?
Anything that plays on Bravo pretty much, though I also do watch more intellectual things like documentaries. Aside from bad reality TV, I'm really into re-watching shows I watched as a kid or a teenager. Right now it's The X-Files and Goosebumps.
What's your favorite pair of jeans?
I have this pair of patchwork Junya Watanabe jeans that I really love. The materials are quite funny — they basically burn the top of my thighs, so I have burn marks permanently on my legs because of them. But I still keep wearing them, which is probably a bit ridiculous. I'm literally wearing them right now. I'm not sure what that says about me, but whatever — no pain, no gain. I've also always liked old Levi's, but I'm not a massive jeans person.
T-shirt?
Probably ones that I stole from ex-boyfriends that I eventually had to give back to them.
Pajamas?
Most of the time I sleep in this black hoodie that I got from this gay bar in Hell's Kitchen called Flaming Saddles. It's kind of like Coyote Ugly–meets … I don't even know what it meets, but it's amazing. It's a bit of a tradition that during Fashion Week in New York we go there. Somehow I've accumulated all of these Flaming Saddles hoodies that I literally live in.
Candy?
I love chocolate. I just don't have like one specific one I guess. I like Twizzlers. American candy I'm kind of into.
Fragrance?
I don't actually wear a scent myself anymore. I think scent is like such an evocative, powerful thing that I have such strong memories associated with different ones. Like old boyfriends or friends who, you know, always carried a certain fragrance. But I kind of like the idea of not having a specific scent myself.
Linens?
I'm in between places right now, so I don't really have my own set of sheets. So I guess hotel sheets, that's sort of what I'm living off at the moment.
Lip balm?
I literally think the lip balm I use is one is on that was given out for free on a plane. I think it's Cowshed actually, but I'm pretty sure it was from a Virgin flight or a Delta flight.
Pen?
I found this amazing old stationary shop in the flower market on Columbia Road, and they have these Japanese pens called Magic Pens that were first made in the '60s. My friend bought one for me as a belated birthday present. They're sort of like the original Sharpie, but much thinner.
Candle?
In the Helmut office, I have a tobacco candle from Malin + Goetz.
But I sort of secretly love the Mrs. Meyer's. Maybe it's the lavender one that really reminds me of an old boyfriend in New York.
If you buy something through our links, New York may earn an affiliate commission.