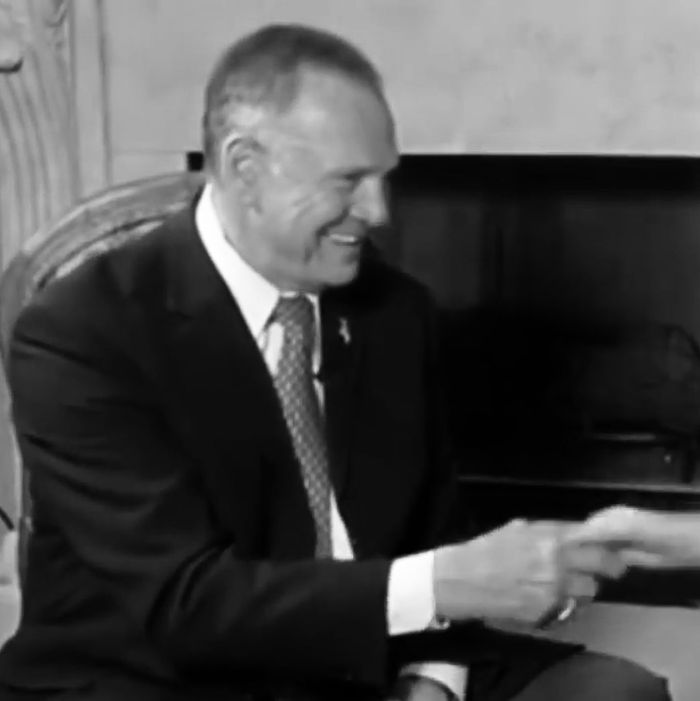 Roy Moore and Millie March.
Photo: Courtesy of YouTube/America First Project
Displaying a truly impressive commitment to bad taste, a Trump super-PAC arranged for a 12-year-old girl to interview Alabama GOP Senate candidate Roy Moore, who is accused of sexually harassing and abusing teenage girls and young women in the '70s and '80s.
The America First Project, a pro-Trump advocacy group and super-PAC founded by former Breitbart staffers, brought Millie March to interview Moore at the Alabama GOP headquarters. March, 12, gained national attention for her vocal support of Trump during the 2016 campaign.
"We decided that we were going to bring Millie to Alabama, after everything that's happened in this Alabama Senate race up until this point," America First Project's Jennifer Lawrence says at the beginning of the video, which was posted on Sunday, adding that they wanted to bring the young girl "to show there is a wide range of people who support Roy Moore."
March first talks to Moore's campaign manager, Rich Hobson, who, when asked what age range is supporting Roy Moore, answers: "I wish I could say the 11- to 12-year-olds."
In her interview with Moore, March asked whether he supports a border wall with Mexico (he does) and what he thinks the characteristics of a "really, really good senator" are ("following the Constitution.")
Currently, eight women have accused Moore of sexual misconduct, including Leigh Corfman, who says she was 14 when Moore brought her to his house in the woods when he undressed her and touched her sexually.
The Alabama special election takes place on December 12.
Watch the full video below.