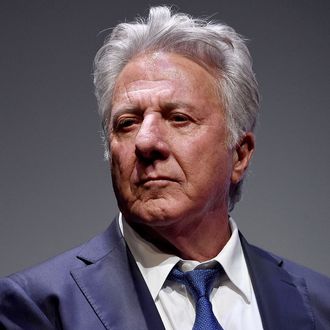 Photo: Jamie McCarthy/Getty Images
An actress from the 1984 Dustin Hoffman–starring Broadway revival of Death of a Salesman has accused Hoffman of sexual harassment. In a first-person essay for The Hollywood Reporter, Kathryn Rossetter alleges that Hoffman groped her, slipped his hands under her costume to touch her inner thighs, and asked for foot massages throughout the show's run.
Hoffman was a mentor and advocate for Rossetter's career, she recalls, but would allegedly harass her in the wings or in his dressing room. "One night in Chicago, I felt his hand up under my slip on the inside of my thighs. I was completely surprised and tried to bat him away while watching the stage for my cues. After the show he was busy with the producer and director so I had no access to him to address it," Rossetter wrote. "It then happened almost every show. Six to eight shows a week. I couldn't speak to him in the moment because I was on a live mic. He kept it up and got more and more aggressive. One night he actually started to stick his fingers inside me. Night after night I went home and cried."
Rossetter writes that the alleged misconduct began when Hoffman left something in a hotel room he had near the theater, and asked that Rossetter stop by the room with him to pick it up. Once inside, he asked for a back massage. Later in the show's run, he often had his dresser find her to give him foot massages: "Whenever possible, I hid and tried not to be found.
But the boss was relentless. Dustin would whisper, 'higher, higher,' trying to get me to move up his pants legs toward his genitals. I didn't do it. I would stop at his calves," Rossetter wrote.
In a photograph taken from after-parties during the production (which THR included in the essay), Hoffman can be seen grabbing Rossetter's breast. She describes another photo printed in Playboy that shows Hoffman grabbing her breast, as she grabs his genitals. "In that moment I understood how women abused for many years by husbands or boyfriends will pick up a gun or a knife and suddenly attack back," Rossetter wrote. "I also knew I had snapped and what I had done was awful. I was terrified and humiliated. My pathetic attempt at fighting back could have horrible repercussions. After all, I was not a jokester, or famous or powerful. I went home and cried for hours."
Hoffman's representative declined to comment on Rossetter's allegations, but put THR in touch with others who worked on the Broadway revival and who said they didn't see any of the harassment she described.